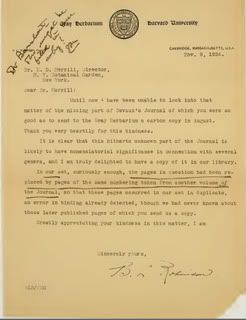 While selecting books for scanning, The New York Botanical Garden's LuEsther T. Mertz Library will often find treasure in between the pages of centuries-old tomes: pressed leaves and flowers, interesting or revealing marginalia, bookmarks, personal notes, and, yes, even cash.
Its collection overlaps with other BHL members, and contributing institutions often hold runs of the same journal, though not every copy is the same. An interesting example of this is the Mertz Library's copy of
Journal de botanique appliquée
 à l'agriculture à la pharmacie, à la médecine et aux arts(t.3, no. 3-5, - t.4, no.1-2 1814).

This issue contains an important bibliographic anomaly discovered by J.H. Barnhart, which can be found on pages 193-240. The section did not appear in copies available, for example, at the Gray Herbarium at Harvard University, until the early 1930s - an omission noted in a 1934 letter from B.L. Robinson, Harvard, to E.D. Merrill, who served as director of NYBG from 1929 to 1935.

The letter itself was tipped in to the volume by the Garden's Library staff and was scanned intact for BHL (see the "third" text page).

B.L. Robinson wrote, in part:

"It is clear that this hitherto unknown part of the Journal is likely to have nomenclatorial significance in connection with several genera, and I am truly delighted to have a copy of it in our library. In our set, curiously enough, the pages in question had been replaced by pages of the same numbering taken for another volume of the Journal, so that these pages occurred in our set in duplicate, an error in binding already detected, though we had never known about these later published pages of which you send us a copy."

The letter also offers a glimpse into scholarly cooperation and collaboration from that period. Today B.L. Robinson would have been able to look online for the missing pages, as this journal issue - and his letter - are now available in BHL.

It's not a five-dollar bill, but, alas, an interesting discovery.

-Kevin Nolan, New York Botanical Garden

This week's book of the week, Journal de botanique appliquée à l'agriculture, à la pharmacie, à la médecine et aux art, t.3 no. 3-5 - t.4 no. 1-2 (1814), was contributed by The New York Botanical Garden's LuEsther T. Mertz Library.