Biodiversity Heritage Library and Encyclopedia of Life Launch!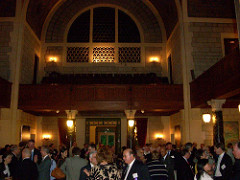 2007-05-09-dscn0229
Originally uploaded by
martin_kalfatovic
.
The BHL officially went live today with the launch of the Encyclopedia of Life. After a press event at the National Press Club (Washington), EOL, BHL, friends, and supporters gathered at the National Academy of Sciences in Washington to celebrate the official launch of the project.
Please view the EOL website (www.eol.org).
The EOL demo pages featured BHL content related to Polar Bears, Rice, the yeti crab, and the death cap mushroom.