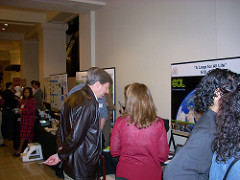 2008-03-01-dscn2644
Originally uploaded by
martin_kalfatovic
The Biodiversity Heritage Library and the Encyclopedia of Life shared a table at the Congressional Family Night held at the Smithsonian's National Museum of Natural History.
The event (March 1, 2008) showcased a wide range of scientific endeavors engaged in by Smithsonian staff and was attended by members of Congress, their staff, and families.
Here, Cristián Samper, Acting Secretary of the Smithsonian and EOL steering committee member looks on as Gil Taylor (Smithsonian Institution Libraries) and Dawn Mason (EOL) demonstrate the recently launched EOL species pages.