Book of the Week: A Call to Garden!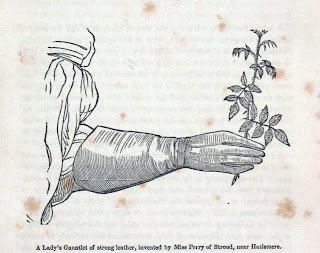 Spring is in the air, and that means blooms are just around the corner! And this, of course, means that all you gardeners out there can dig your potting tools out of the shed and get ready to get your hands dirty. We thought we'd help by highlighting one of the many valuable gardening guides in our collection. As we sifted through our collection, one book in particular caught our eye. It seems that gardening isn't just a modern pastime (not that this was ever supposed), but in fact it was a popular activity for women of the nineteenth century. Many guides to "ladies' gardening" were published during that time, highlighting the different ways to stir and measure soil, sow seeds, and prune overzealous growth. Case in point: Gardening for Ladies. This 1851 publication provides all of the instruction a lady of nineteenth century America could ask for in regards to gardening, starting with the basics. Indeed, the work took a decided view of "begin at the beginning," supposing no "previous knowledge of the subject," as their European counterparts, they claimed, were so apt to do. So, before you dig down into the soil, take a look at this week's book of the week, Gardening for Ladies. Even if you aren't a nineteenth century lady (and if you are and still intend to garden, more power to you!), you still might learn something!
This week's book of the week, Gardening for Ladies (1851), by Mrs. Jane Loudon, was contributed by the New York Botanical Garden.