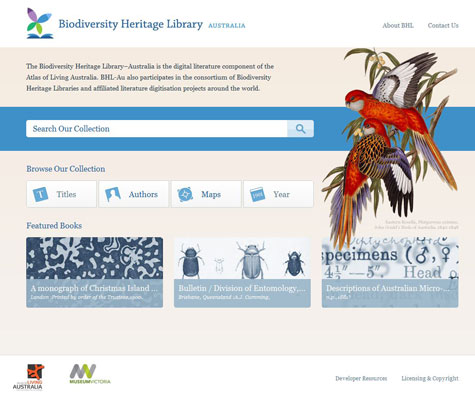 BHL-Australia Screenshot
The newest addition to the BHL global family, BHL-Australia, has now launched. BHL in Australia is the digital literature component of the Atlas of Living Australia (ALA), a national project that aims to make biodiversity information more accessible and useable on line. It is a partnership between CSIRO, Australia's national science agency, the Australian natural history collections community and the Australian Government.
The Australian node project is being managed through Museum Victoria, based in Melbourne. Dr Elycia Wallis, the BHL Australia node team lead said "We are so pleased to have an Australian BHL node up and running. Now the fun part of developing new tools and functionality can start so that we can share these back to the global BHL community." The Australian node has taken the core BHL code and reworked it with a redesigned user interface. Designer Simon O'Shea and developer Michael Mason at Museum Victoria wanted to concentrate on providing the core functionality of BHL as well as giving an Australian feel to the site design by using many beautiful images of Australian native species.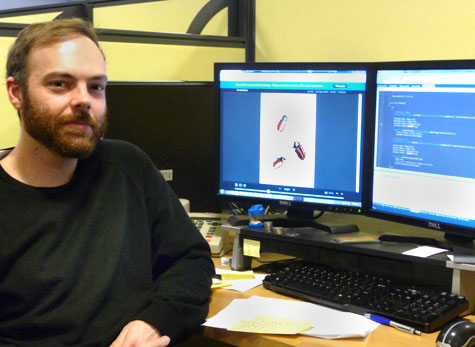 Online developer Michael Mason
Source: Museum Victoria
New Australian scanning operations are just getting underway but we expect that, with many thousands of references to Australian species already in BHL references, Australian scanning will be a targeted activity. Museum Victoria, with new book-scanning equipment, will be leading the development of new scanning projects starting with the complete archive of Memoirs of Museum Victoria containing the first scientific descriptions of many Victorian animal species.
Quick links: