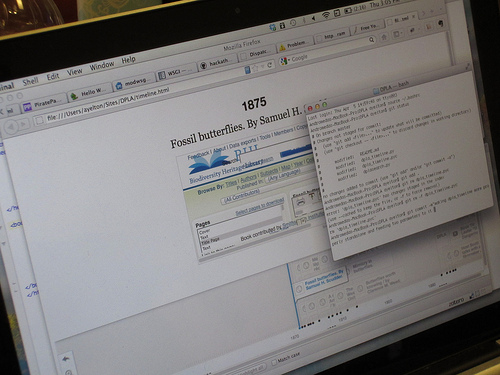 BHL is one of the first key data sets that is being used in the test bed for the Digital Public Library of America (DPLA). Not sure what the DPLA is? Well, it's a bold initiative to create a large scale digital library for the United States and the world.
Why is BHL involved in DPLA? Well, BHL is all about access, so as many platforms as we can distribute BHL is important. Also, Chris Freeland and I share duties as co-chairs of the DPLA's Technical Aspects Workstream. Our work with DPLA has brought together a number of BHL threads, including our work with the Internet Archive (a provider of content to DPLA) and  Europeana (associated with DPLA and a key partner for our global BHL member, BHL Europe).
Also, BHL content will be an important part of DPLA and, for the purpose of the launch of the initial DPLA platform, BHL records were a key data set. About 20 hackers, coders and associated geeks joined the fun. In addition to the invited hackers, the DPLA Tech Dev team (see members below ).
Notes from the meeting can be found on Pirate Pad). Alessandra Morgan also did a great blog post for the DPLA blog. A quick quote:
The DPLA technical development team and Technical Aspects workstream hosted the first DPLA Hackathon yesterday, bringing together a group of approximately twenty programmers, developers, and hackers to begin testing the prototype DPLA platform and building apps on top of it. The hackathon will continue as a virtual event; everyone is invited to build something using the DPLA platform. Materials can be found at the DPLA Hackathon Github, and notes from yesterday's event can be found on PiratePad. Technical questions regarding the DPLA Platform can be directed at the dev team, which can be reached at dev@dp.la.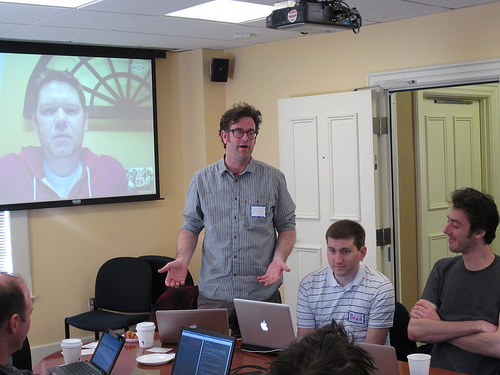 Rachel Frick (Digital Library Federation) and Margy Avery (MIT Press) joined us for the day as observers from the Content and Scope workstream of the DPLA. Maura Marx and Rebekah Heacock (from the DPLA Secretariat) were also in attendance.
The Dev core team at DPLA consists of:
Nick Caramello, Pod Consulting
Daniel Collis-Puro, Berkman Center for Internet & Society
Paul Deschner, Harvard Library Innovation Lab
Sebastian Diaz, Berkman Center for Internet & Society
Kim Dulin, Harvard Library Innovation Lab
Matt Phillips, Harvard Library Innovation Lab
David Weinberger, Harvard Library Innovation Lab/Berkman Center