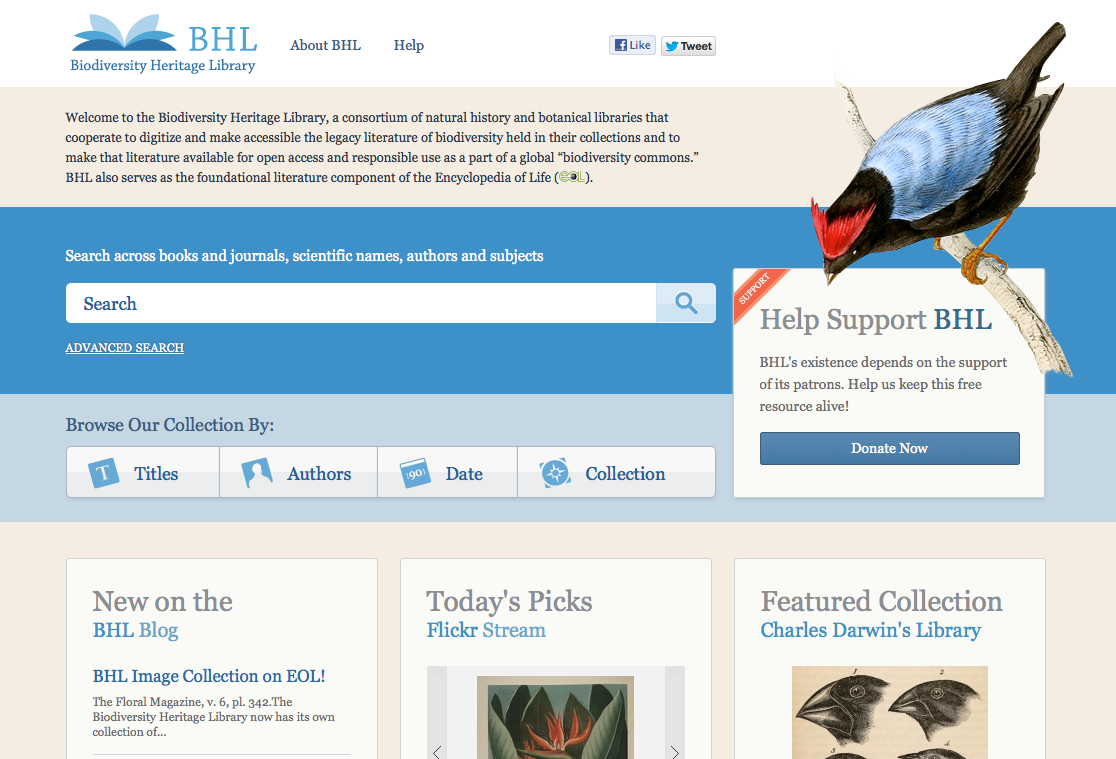 The Homepage of the New BHL! Click image to enlarge.
Today the Biodiversity Heritage Library released a new user interface, including an updated website design, improved book navigation, and article-level access to collections. The new interface was informed by usability studies and is based on the design and functionality of the BHL-Australia portal.
Current Improvements Include:
Updated Design: The website's design has been upgraded to reflect the celebrated aesthetics of the BHL-Australia portal. 
Article and Chapter Access: The ability to search BHL by article or chapter titles has been implemented. To date, over 81,000 articles and chapters have been indexed and are searchable within BHL. Additional articles and chapters will become available as the collections continue to be indexed.
Open Data Enhancements: BHL's APIs, OpenURL interface, and Data Exports have been modified to include available article and chapter information.
Book Viewer Updates: The BHL book viewer has been updated, allowing users to view multiple columns of pages on screen at once and more easily navigate to a specific page within a book. Users can also view OCR text alongside page images, and, where the books have been indexed, users can navigate directly to the articles or chapters within using a new Table of Contents feature.
PDF Creation Improvements: The custom PDF creation process has been improved, allowing users to select pages for their PDF while in the book-viewer mode and more easily review the PDF before creation. Learn more about the new creation process in our Guide!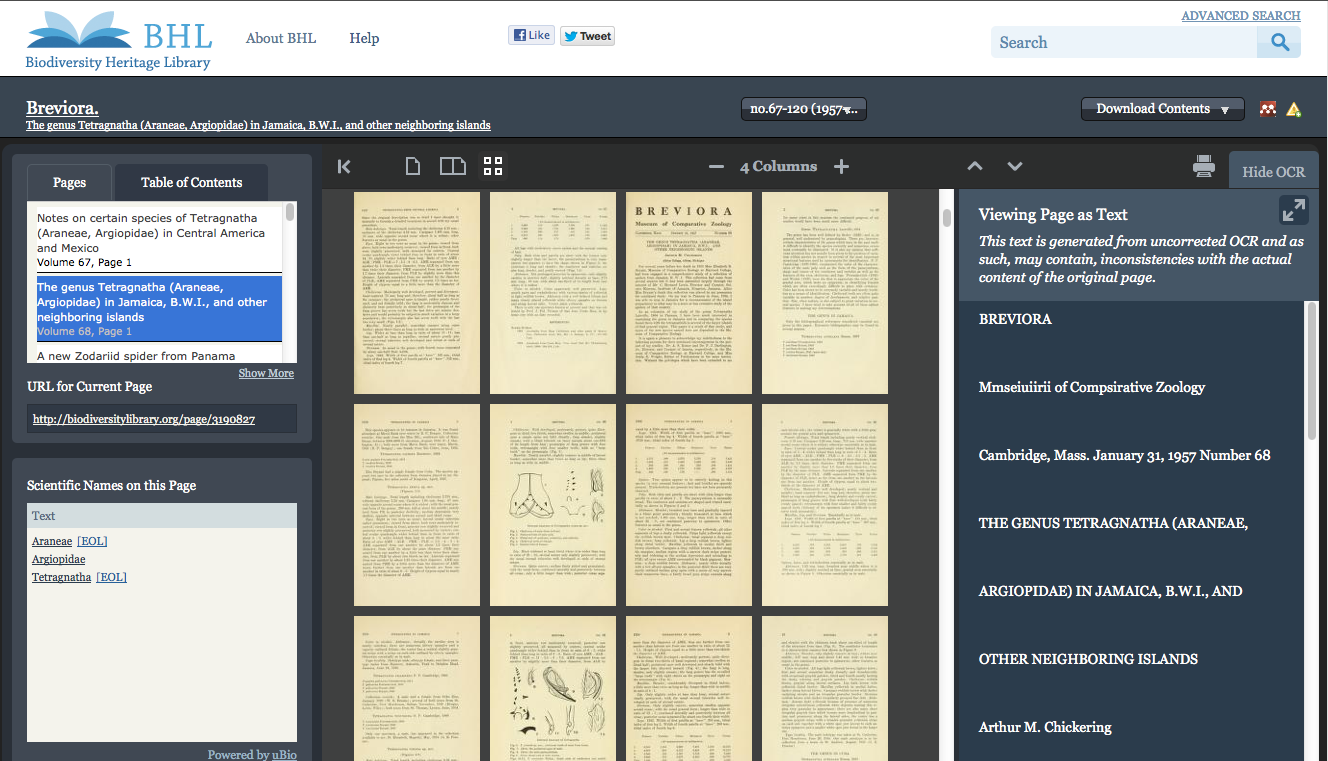 New and Improved BHL Book Viewer, with option to view multiple columns of pages at once and view OCR text alongside page images. Select books also have a Table of Contents feature which displays the articles/chapters identified within the text, with the ability for users to click on each to navigate directly to the corresponding part. Click image to enlarge.

New custom-PDF creation process, with ability to select pages for your PDF while viewing them and review your PDF before generation. Click image to enlarge.
Upcoming Improvements Include:
Improved Taxon Name Finding Algorithms: BHL will soon implement a new algorithm capable of identifying previously undiscovered taxon names throughout the BHL corpus. Test applications of this algorithm have already resulted in an increase of nearly 50 million names instances in BHL, translating to over 20 million unique names identified. These newly-identified names are currently available in BHL.
These developments follows BHL's December, 2012, milestone achievement of providing access to over 40 million pages and over 110,000 volumes of freely-available biodiversity literature.
Explore the changes to BHL in-depth in our Guide to the New BHL.
We'd like to send a special thanks to everyone who made the new BHL possible. To start, thanks to the BHL-Australia team for their contributions to the process. First, to those who designed and developed the original BHL-Australia portal on which our new website is based, we thank Simon O'Shea (Designer) and Michael Mason (Developer). Secondly, to the BHL-Australia staff that worked with the US staff to merge the two UIs, we thank Simon Sherrin and Ajay Ranipeta (Developers) and Simone Downey (Designer – design based on original design by Simon O'Shea). And finally, a special thanks to Ely Wallis, BHL-Australia Director and Chair of the Global BHL Executive Committee, who selflessly supported the dedication of her staff's time to this process.
Secondly, thanks to all of the members of the BHL TAG (Technical Advisory Group), including William Ulate (BHL Technical Director, Missouri Botanical Garden), Joe deVeer (Harvard-MCZ), John Mignault (The New York Botanical Garden), Joel Richard (Smithsonian Libraries), Jenna Nolt (United States Geological Survey), Francis Webb (Cornell University), Keri Thompson (Smithsonian Libraries), and Chris Freeland (Washington University). Furthermore, thanks to the Missouri Botanical Garden for hosting the BHL Technical Team, whose hard work made this vision a reality!
Thirdly, we would like to thank everyone who helped alpha and beta test the new site to ensure that our users' experience would be the best that it could possibly be. Specifically, thanks to Rod Page, Pat LaFollette, and Francisco Welter-Schultes, BHL superstar users, for the valuable user-perspective input they provided.
Finally, we'd like to give a standing ovation to BHL's Lead Developer, Mike Lichtenberg (Missouri Botanical Garden), who has dedicated countless hours over the past year to creating, with the support of all mentioned above, the new Biodiversity Heritage Library!
Big News Across the Pond: Launching BHL-Europe
Coinciding with the launch of our new portal, the BHL-Europe portal is also officially launching today. Providing access to material scanned from 92 content providers in Europe and the United States (including a subset of the BHL-US/UK corpus), the BHL-Europe collection currently comprises over 6,000 items, constituting over 1 million pages, of open access biodiversity literature, with more content being added daily. BHL-Europe's content is also available through the Europeana portal. And, while you're exploring BHL-Europe, be sure to check out Biodiversity Library Exhibitions (BLE), online exhibitions from BHL-Europe featuring books, images, stories and factoids about such topics as expeditions, spices, and poisonous nature.
Congratulations to all of our colleagues at BHL-Europe on the exciting launch of your new portal! Click here to learn more about the BHL-Europe launch.
We hope you'll be as excited about all of these changes as we are! Visit the new and improved Biodiversity Heritage Library today! Explore the improvements in the "Guide to the New BHL." Also, be sure to check out the new BHL-Europe portal and their online exhibitions! Tell us what you think of our improvements by sending us feedback, writing to feedback@biodiversitylibrary.org, or leaving a comment on this post.