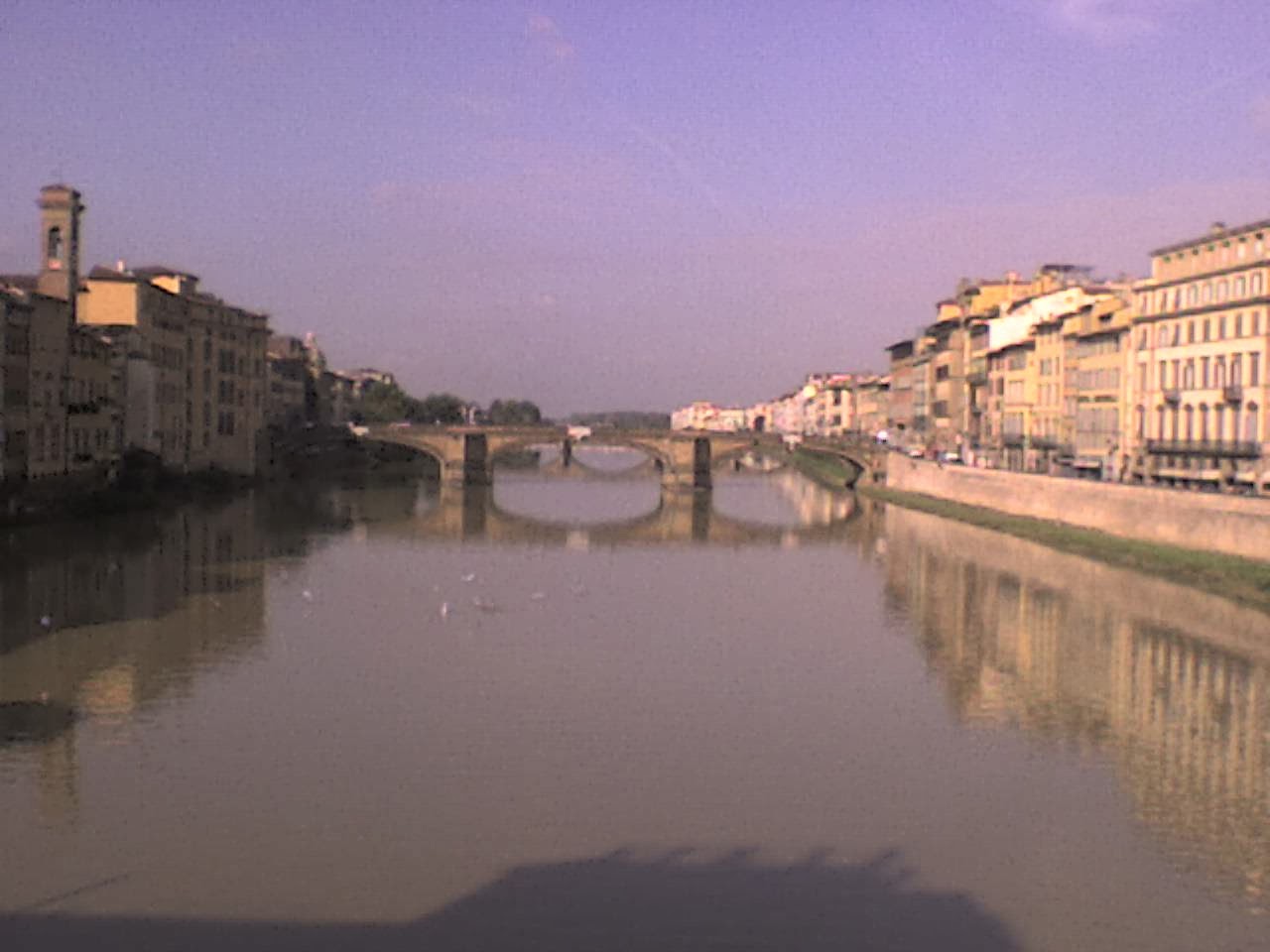 Arno River in Florence, Italy
I also had the luck to attend the TDWG Annual Conference in Florence, Italy this past October/November 2013.  This year's topic was "Virtual Communities for Biodiversity Science", a very relevant topic for BHL and one notable difference of this year's meeting, compared to the last three years I have attended, was the numerous Symposia and Workshops organized by several communities within biodiversity informatics.
Definitely a big pool of topics for choosing what to attend, from sustainability issues on International e-Collaborations to several talks on tools, methods and experiences with Data Quality. Some sessions presented proposals to document Darwin Core, another wanted to cover the minimum information standard for biological collections beyond the Darwin Core while still another stated further requirements for the Darwin Archives star schema .  There were expositions of interesting experiences in crowdsourcing websites and coordinating their communities and even a symposium and small hackathon to crowdsource the construction of a common vocabulary for biodiversity.  The list goes on and on and makes for an excellent up-to-date resource to read about the latest and greatest in biodiversity informatics!
BHL hosted its own Symposium: "Crafting the future of a Global Biodiversity Library for diverse community's needs: the case of scientists." The panel discussed how the needs of the scientific community have guided BHL's approach, not only this past year, but also how we're looking to address those needs in the future.  Make sure to read the insightful presentations linked from the previous post by our BHL Program Director, Martin Kalfatovic.
BHL's Trish Rose-Sandler admiring the frescoes on
the walls of the first courtyard of Palazzo Vecchio,
designed in 1453 by Michelozzo
Nevertheless, for me, the most prominent and distinctive characteristic of this TDWG Meeting, besides the delightful scenery outside, was probably the Meta-Workshop of current advances and concrete proposals in the Semantics for Biodiversity.  The many colleagues involved put together a very informative set of talks, even considering those newbies to the topic, opening with an introductory video and a Primer Session, followed up by presentations on Technologies, Formal Models and Interoperability with Semantics from the Genomic and Environmental fields. It will be really exciting to see how much all these projects will have advanced by our meeting next year in Kenya!  One in particular that I would like to note is the advancement of EOL's Traitbank, which is opening doors to many possibilities for determining what we might be looking at in TDWG, EOL & BHL during the next years!
If you missed any of the presentations or want a complete panorama of the Semantics for Biodiversity, just take your time to go through the presentations available at the TDWG site.
And last, but not least, we were very pleased, as always, to share at TDWG with our scientific and technical colleagues who support BHL in so many ways.  We met several of those friends from institutions and projects BHL has collaborated with this year, such as: BioStor, Zoobank, Kew Gardens, IPNI, Index Fungorum, Plazi,  Karlsruhe Institute of Technology,  Pensoft, Vibrant, EOL, GBIF France, Canadensys and many others that I should include here and whose technical contributions keep making BHL what it is.
To all of you: Ci vediamo l'anno prossimo in Kenya!