BHL Technical Advisory Group meets at the Missouri Botanical Garden
For the 2014 BHL Technical Meeting, the BHL Technical Advisory Group (TAG) met at the Missouri Botanical Garden (MBG) (2-3 April 2014) with William Ulate (Technical Director) and Martin Kalfatovic (BHL Program Director). Also joining the meeting were the BHL tech team based at MBG (Trish Rose-Sandler and Mike Lichtenberg), Carolyn Sheffield (BHL Program Manager), Bianca Crowley (BHL Collections Coordinator, by phone), and Connie Rinaldo (BHL Executive Committee Vice-Chair, by phone).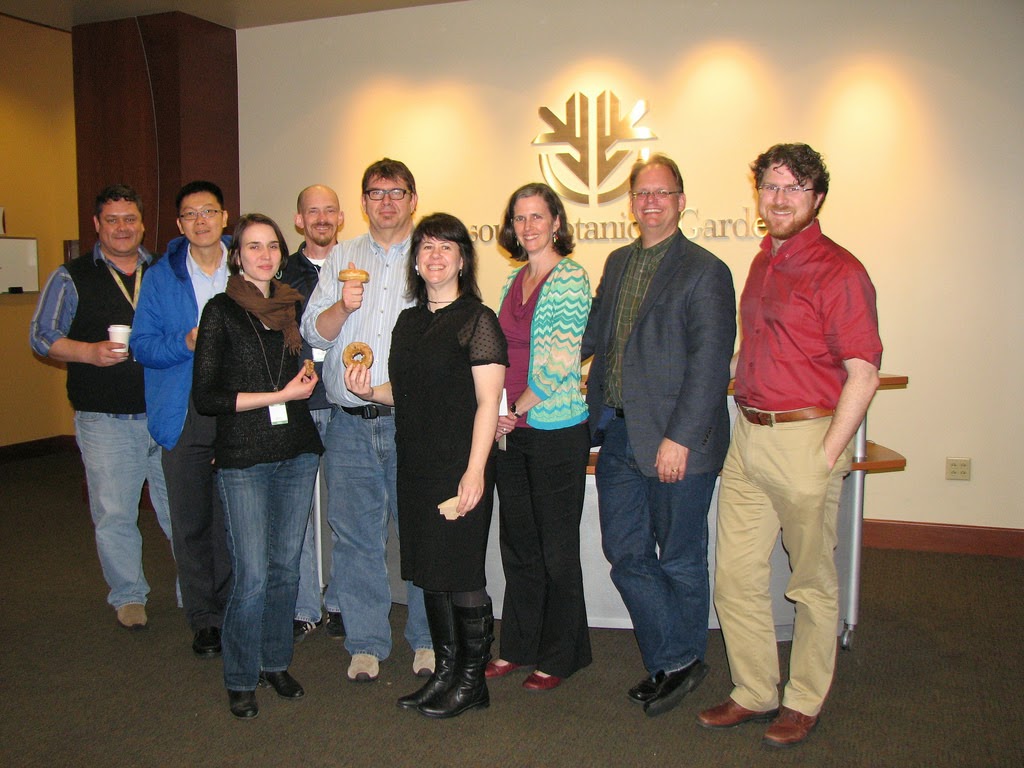 From left: William Ulate, Siang Hock Kia, Carolyn Sheffield, Mike Lichtenberg, John Mignault, Keri Thompson, Trish Rose-Sandler, Martin Kalfatovic, Joel Richard. Not pictured: Chris Freeland, Connie Rinaldo, Joe de Veer, Bianca Crowley)
The group met to review BHL technical development priorities, staffing and communications concerns, and related topics.  Over the course of the two-day meeting, the group discussed priorities in terms of both core BHL technical operations as well as special projects that BHL participates in.  Core operations include things such as server and website maintenance for biodiversitylibrary.org.  The Tech Team also works closely with the BHL Secretariat and BHL Staff to review user feedback related to technical issues as they arise as well as suggested improvements to BHL functionality.  For example, one area for technical development that has come to the top of the list is full text searching and we're excited to share that work is getting underway to make that a reality.
In addition, the Tech Team is also actively involved in three grant-funded projects to enhance BHL: Art of Life (NEH), Purposeful Gaming & BHL (IMLS), and Mining Biodiversity (IMLS via the Digging Into Data Challenge).  BHL also participates in technical discussions with the larger biodiversity community.  This past December, William Ulate (Technical Director) and Joe DeVeer (TAG Member) virtually attended the iDigBio CITScribe Hackathon in Gainesville, Florida.  In February, Ulate and TAG Member John Mignault participated in the NESCent-EOL-BHL research sprint.
All in all, the Tech Meeting was an opportunity to review several aspects of BHL's technical direction, identify priorities, and strategize communication workflows for existing and new priorities.