Announcing Garden Stories: A Week Long Event for Garden Lovers
Spring is coming! Get your trowels ready!
We're excited to announce BHL's spring event, "Garden Stories," which will occur March 23-27, 2015.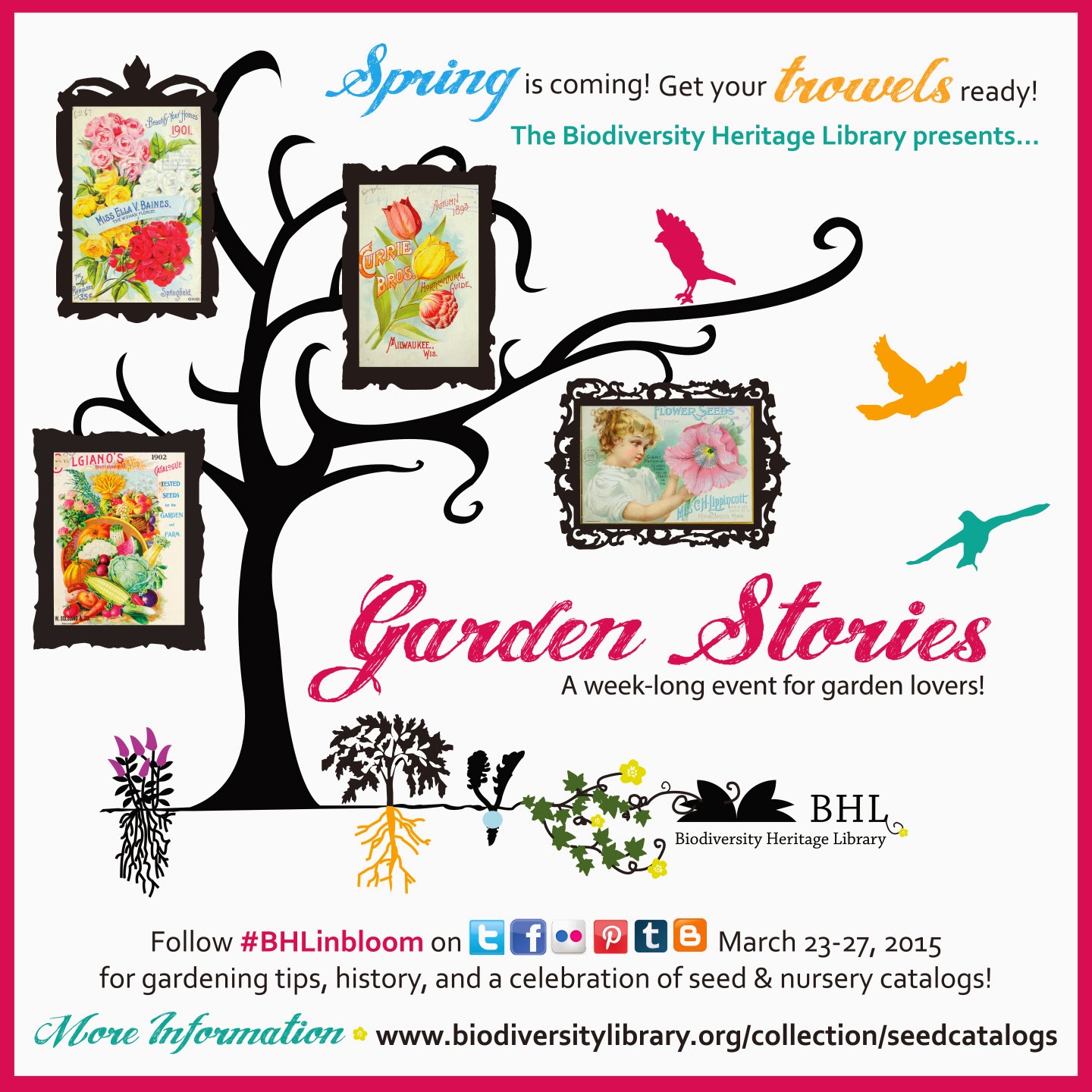 "Garden Stories" is a week long social media event for garden lovers. The campaign will explore the fascinating world of gardening, from the rise of agriculture to the home garden and the mail order gardening phenomenon.
Celebrating the history, science, and art of gardening, content will be published via the BHL Blog, Twitter, Facebook, Flickr, and Pinterest, with additional posts through the Smithsonian Libraries' Tumblr. Posts will include gardening tips, history, and plant factoids, including daily blog posts highlighting topics such as the role of women in the American horticultural industry; the importance of seed lists and catalogs in the development of new cultivars; heirloom gardening; marketing and artistic revolutions in the gardening industry; and technological and garden fashion and design changes over time, using the over 13,000 seed and nursery catalogs in BHL to help tell these stories and provide this information. All content will be tagged with #BHLinbloom.
See this page for more information: http://www.biodiversitylibrary.org/collection/seedcatalogs
We will kick off the campaign with a TwitterChat on Friday, March 20, from 1-2pm EST. During the chat, we invite you to submit your gardening questions for experts to answer. Botanists and horticulturalists at BHL partner institutions, including Smithsonian Gardens, Smithsonian Libraries, National Museum of Natural History, Missouri Botanical Garden, Chicago Botanic Garden, and Cornell University's College of Agriculture and Life Sciences are participating to answer questions and provide gardening tips and resources. Follow along and join in using #BHLinbloom.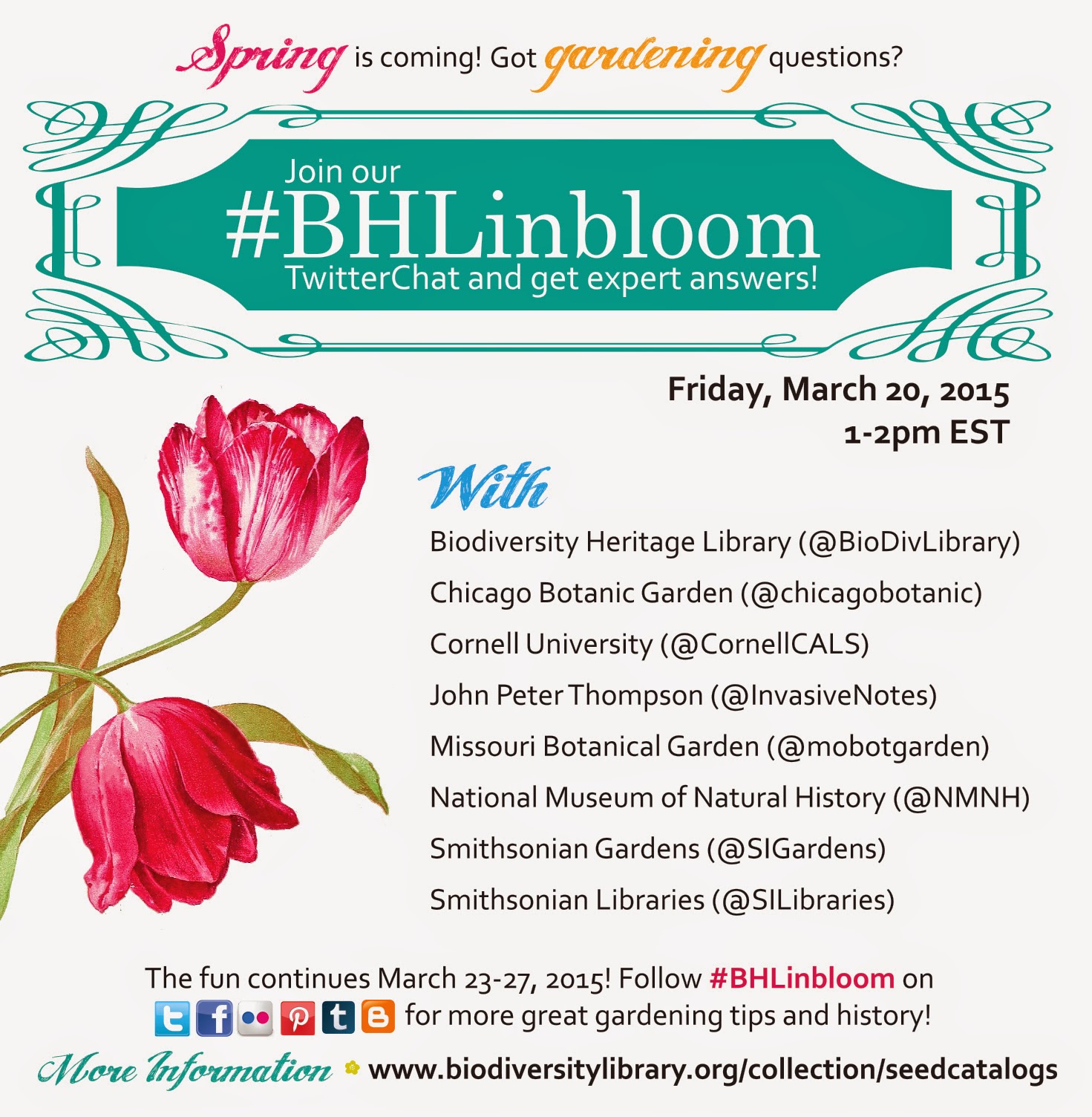 We're also featuring a Garden Stories t-shirt offered through T-Fund during the campaign. Proceeds will be used to digitize more books for BHL. Our goal is to sell enough shirts to digitize 5,000 pages. The shirt will be available starting on March 20th. Stay tuned on our blog and follow the campaign hashtag for more information.
Finally, during the campaign we'll also be inviting you to help us improve access to seed and nursery catalogs by transcribing select catalogs as part of our Purposeful Gaming project. Stay tuned for more information and get your citizen science hats ready!
We hope you will join in the fun and help us spread the word about the campaign and TwitterChat. If you have gardening resources, historical information, or seed catalog collections, share them with the hashtag #BHLinbloom during the campaign and we'll retweet and repost.
So, if you want to have some gardening fun this spring, get your garden gloves out and follow #BHLinbloom on our blog, Twitter, Facebook, Flickr, Pinterest and Tumblr, March 23-27, 2015, and join our TwitterChat on March 20 at 1pm EST!

See stunning art from seed and nursery catalogs in the BHL Flickr!