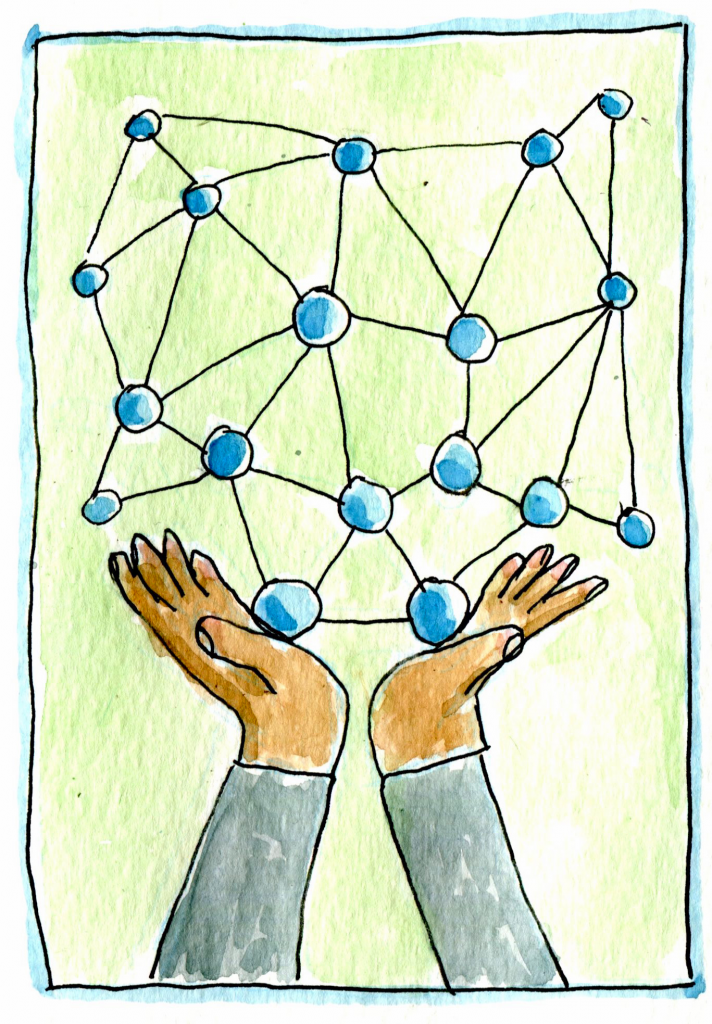 We are excited to announce that BHL has been named a joint-winner of the inaugural Digital Library Federation (DLF) 2016 Community/Capacity Award, along with the American Archive of Public Broadcasting (AAPB)!
During the month of June, DLF member organizations voted on an impressive list of 16 nominees to determine the award winner. In a tie-vote, the DLF community selected BHL and AAPB as the first-ever winners of the Community/Capacity Award.
According to the DLF website, the DLF Community/Capacity Award honors "constructive, community-minded capacity-building in digital libraries, archives, and museums: efforts that contribute to our ability to collaborate across institutional lines and work toward larger goals and a better future, together." The award recognizes community spirit, generosity, openness, and care for fellow digital library, archives, and museum practitioners and the publics and missions those practitioners serve.
This year's 16 nominees, which were solicited via an open call, included organizations, projects, and individuals from a vast array of disciplines. You can see the list of nominees here: https://www.diglib.org/archives/11856/.
BHL and AAPB will be recognized during an award ceremony at the 2016 DLF Forum, which will be held this November in Milwaukee, Wisconsin. A BHL representative will be present at the ceremony to accept the award on BHL's behalf.
We are honored to be selected alongside the American Archive of Public Broadcasting from amongst this outstanding group of nominees as a DLF Community/Capacity Award winner! Thank you to everyone who submitted nominations and voted on the award winners. We extend our congratulations to AAPB, salute each of our fellow nominees, and thank DLF for creating this opportunity to showcase the power of collaboration for community and capacity building and the advancement of libraries and librarianship.
Lastly, we want to congratulate each member of our BHL family. We believe this award recognizes not only the outstanding work and dedication of each BHL consortium participant and staff contributor, without whom BHL would not be possible, but, more importantly, the BHL family's collaborative spirit and collective efforts to make a positive and powerful impact on the library and science communities. By working collaboratively, we can accomplish what cannot be accomplished individually, and together, we will continue to enhance library communities and practices and ensure that everyone, everywhere has free and open access to the world's biodiversity knowledge.
Learn more about AAPB, BHL, and DLF
The American Archive of Public Broadcasting 
The American Archive of Public Broadcasting, led by WGBH and the Library of Congress, has coordinated a national effort to preserve and make accessible significant historical content created by public media and are preserving at-risk public broadcasting before its content is lost to posterity. To date, more than 40,000 hours of content contributed by more than 100 organizations across the country have been digitized. The entire collection is accessible on location at WGBH and the Library of Congress. Together, WGBH, the Library, and participating organizations have made more than 12,000 programs available online for research, educational and informational purposes, becoming a focal point for discoverability of historical public media content. Learn more.
The Biodiversity Heritage Library 
An international consortium of over two dozen organizations, the Biodiversity Heritage Library (BHL) stands out not only in service to its partners, but also in its collaborative approach to making open access, often rare and unique biodiversity content available to 120,000+ monthly users worldwide. A signatory of the Bouchout Declaration, BHL's commitment to open access extends beyond placing scanned pages on its website. Content is available via Internet Archive, Digital Public Library of America, and Europeana; over 100,000 scientific illustrations via Flickr; and BHL's suite of APIs brings data directly to users. To build capacity among partners, BHL also provides intensive digitization workshops, reaching participants from across Sub-Saharan Africa, Mexico, the U.S., and beyond, and supporting participation by institutions large and small. Learn more.
Digital Library Federation
The Digital Library Federation is a robust and diverse community of practitioners who advance research, learning, and the public good through the creative design and wise application of digital library technologies. DLF serves as a resource and catalyst for collaboration among its institutional members, and all who are invested in the success of libraries, museums, and archives in the digital age. DLF serves its parent organization, the Council on Library and Information Resources, as the place where CLIR's broader information-community strategies are informed and enriched by digital library practice. DLF connects CLIR's vision and research agenda with our active practitioner network, and brings the insights of the DLF community to bear. In addition, we partner closely on key CLIR initiatives related to DLF's mission, in order to provide advice and expertise to CLIR from the digital library community, as well as connections and opportunities for our members. DLF currently includes 151 institutional members. Learn more.