Page Frights Is Coming This October!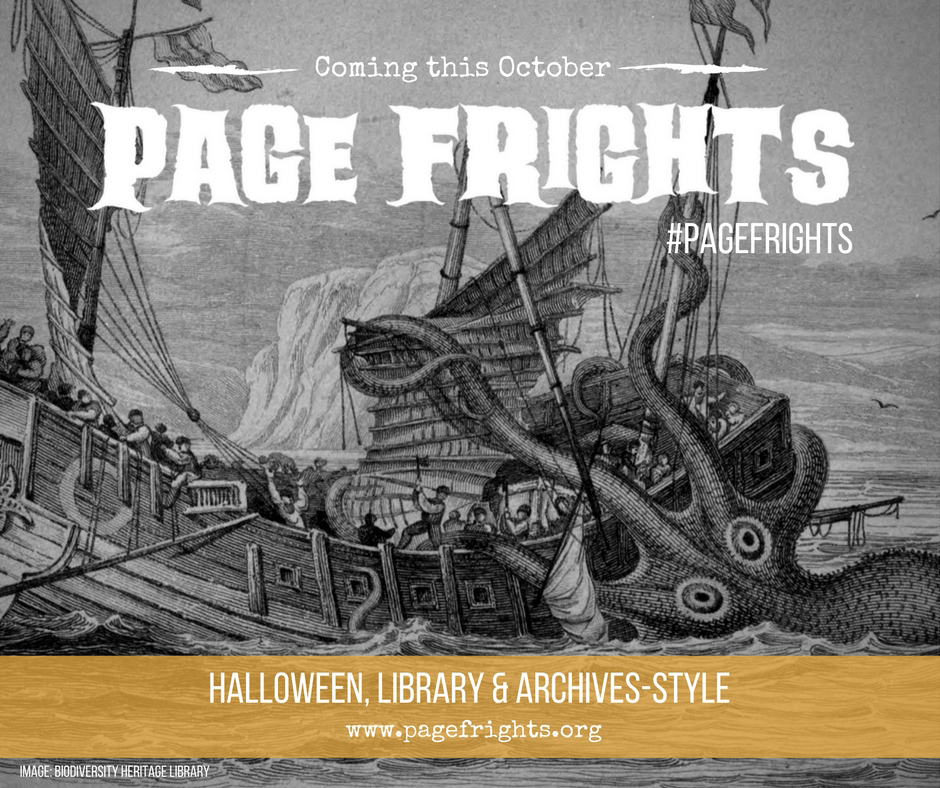 Get ready for a ghoulishly good time this October…Page Frights is coming!
From 1-31 October, libraries, archives, and other cultural institutions around the world will be gearing up for Halloween by sharing spooky, creepy, or otherwise frightening books and images from their collections on social media using the hashtag #PageFrights. Follow along and join the conversation on Twitter, Instagram, Facebook, Tumblr, and other social media sites. Visit pagefrights.org to learn more.
We'll also be inviting you to carve pumpkins using patterns inspired by #PageFrights content. Participating institutions will create pumpkin carving patterns based on images from their collections, and these patterns will be freely available to download from the Page Frights website starting in October. We encourage you to share your carved pumpkins on social media using the #PageFrights hashtag.
Finally, we're joining the Digital Public Library of America (DPLA) GIF IT UP fun and encouraging you to create GIFs based on #PageFrights images. GIF IT UP is a challenge to find the best GIFs created from copyright-free heritage materials found in DPLA, DigitalNZ, Trove, or Europeana. BHL serves as a digital content hub for DPLA. Learn more on the Page Frights website.
Page Frights was inspired by the 2015 #creepyarchives campaign launched by the Medical Historical Library at Yale University. #PageFrights is spearheaded by the Biodiversity Heritage Library, The New York Academy of Medicine, the Medical Historical Library at Yale University, and Smithsonian Libraries. Visit the website to see a full list of participating institutions to date.
If you're an institution interested in participating in Page Frights, we'd love for you to join us! Find out how you can join the Page Frights fun.
So be sure to follow #PageFrights on social media starting this October and visit the website for more great content…if you dare!!