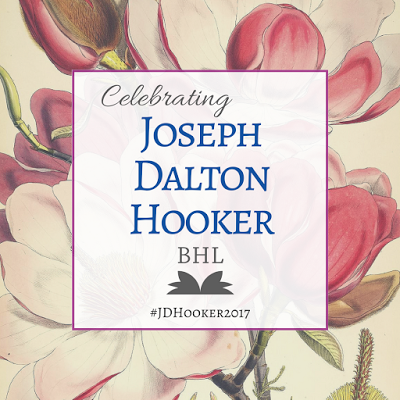 Sir Joseph Dalton Hooker was one of the most important botanists of the 19th century and Kew Gardens' most illustrious Director (1865-1885). To celebrate the bicentenary of his birth this year, BHL is joining the Royal Botanic Gardens, Kew to highlight Hooker's works and contributions as part of the #JDHooker2017 campaign.
To coincide with the opening of a new exhibit at Kew's Shirley Sherwood Gallery, BHL is featuring Hooker's publications and related artworks in our online book collection and Flickr albums. Learn more about the BHL collections here.
Learn more about Kew's exhibit, which opened on 25 March, in the post below. Then, be sure to follow #JDHooker2017 on social media as we celebrate Hooker's life and works.
We hope you'll also join us again the week of 26-30 June 2017 as we continue our celebrations as part of a larger campaign in conjunction with The Making of Modern Botany conference at Kew Gardens, hosted on 30 June 2017.
Joseph Hooker the 'King of Kew'

By Rebecca Carter 
Gallery Assistant, The Shirley Sherwood Gallery of Botanical Art 
Royal Botanic Gardens, Kew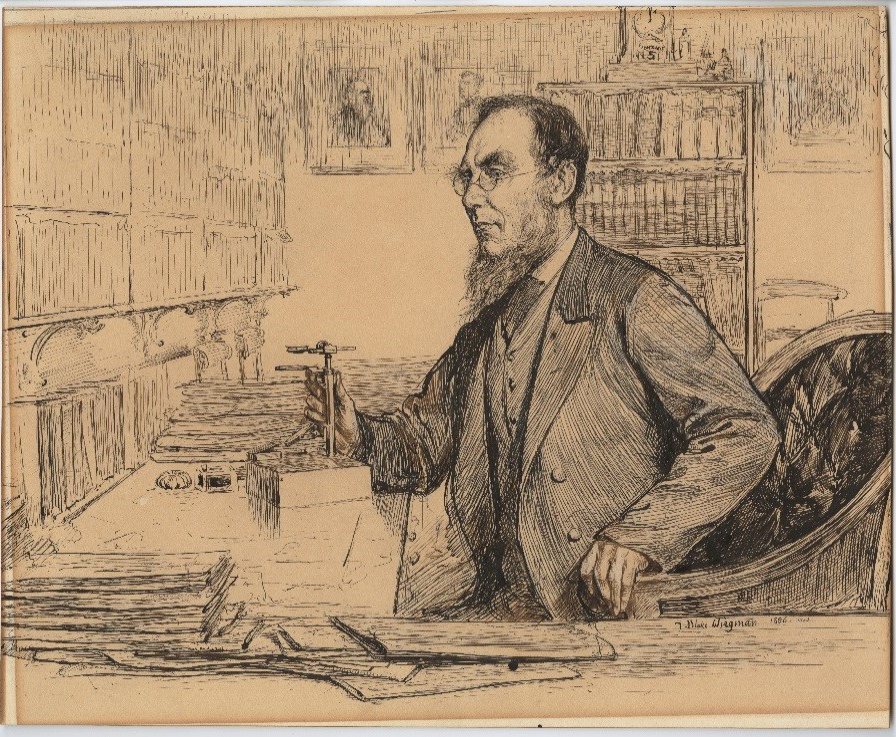 Sir Joseph Dalton Hooker, pen and ink on paper (1886) by Theodore Blake Wirgman.
Sir Joseph Dalton Hooker (1817-1911) was a highly respected botanist and relentless explorer, who is regarded as the founder of modern botanical classification. He held the position of Director at the Royal Botanic Gardens, Kew, for twenty years, adding thousands of specimens to its collection.
To mark the bicentenary of his birth, the Shirley Sherwood Gallery has curated an exhibition exploring his extensive travels and contribution to the field of botany. The collection at Kew contains numerous artifacts, sketches and paintings relating to Hooker's incredible life and professional journey, of which a proportion is showcased in this exhibition. By showing a diverse selection of work, the exhibition looks to uncover the impact Hooker had on the botanical world, as well as discovering what made Joseph Hooker the 'King of Kew'.
The title of the exhibition, Joseph Hooker: Putting plants in their place, refers to Hooker's belief that specimens should be collected and then classified scientifically. He also proposed that plant's habitats should be better understood and that there should be a place and opportunity to elevate the scientific status of botany to the same scholarly status as other sciences such as physics.
Kew was at the very heart of Hooker's career and through his travels and publications he transformed Kew from a rather run-down royal pleasure garden into the world-class scientific establishment it is recognized as today.
The public at the time met with Hooker's desire to protect Kew's role as a serious scientific institution with apparent antipathy; it was reported in newspapers that Londoners were outraged to find the gates to the Gardens locked in the mornings on bank holidays. This public outcry led to Hooker clashing with politicians and the public several times and ended with him conceding to early openings. On display in the exhibition are cartoons and notices from contemporary newspapers, exploring this fascinating history whilst Hooker was Director of Kew.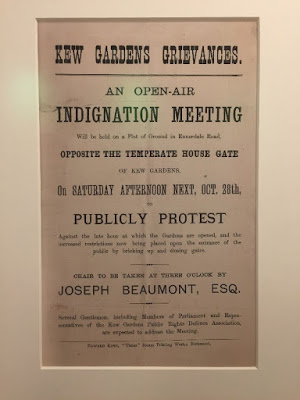 Kew Gardens Grievances notice from The Times, published October 1879, facsimile print.
Today, Kew is a leading centre for scientific botanical research and it is partly down to Hooker's explorations that this foundation was set. On 30 September 1839 when he was 22 years old, Hooker set off on his first voyage. He was the youngest crew member on Her Majesty's Discovery Ship Erebus, serving as the ship's assistant surgeon and the expedition's botanist.
On his many travels he drew and collected plants, naming many previously unknown-to-science plants and trees. Hooker named many plants after botanists and friends as a way of thanking and acknowledging fellow scientists. For example, Hooker named the Tasmanian gum tree Eucalyptus gunnii after his friend the collector Ronald Campbell Gunn. Hooker also had plants named after himself, such as the New Zealand 'golden wand' Bulbinella hookeri which was named by his friend and New Zealand missionary William Colenso.
Hooker didn't confine his drawings to plants. He also sketched houses, animals and landscapes. Our favourite pieces on display in this exhibition depict his time in the Himalayas. The selection of sketches below reveals detailed drawings of a variety of views of Lacham valley and Lamteng village.
Hooker's good friend and talented artist Walter Hood Fitch drew the middle sketch at the top, which is a re-work of Hooker's original drawing. Fitch often sketched Hooker's drawings, preparing lithographs for botanical books such as his Rhododendrons of Sikkim Himalaya (1849-51).
The intricate sketch of the village and landscape shows that Hooker was also thinking about the habitat and the environment the native plants were exposed to. His drawing of a Yak also demonstrates an understanding of local culture and way of life. Yaks were the most important domesticated animal in the Himalaya and the detail in this sketch is exquisite.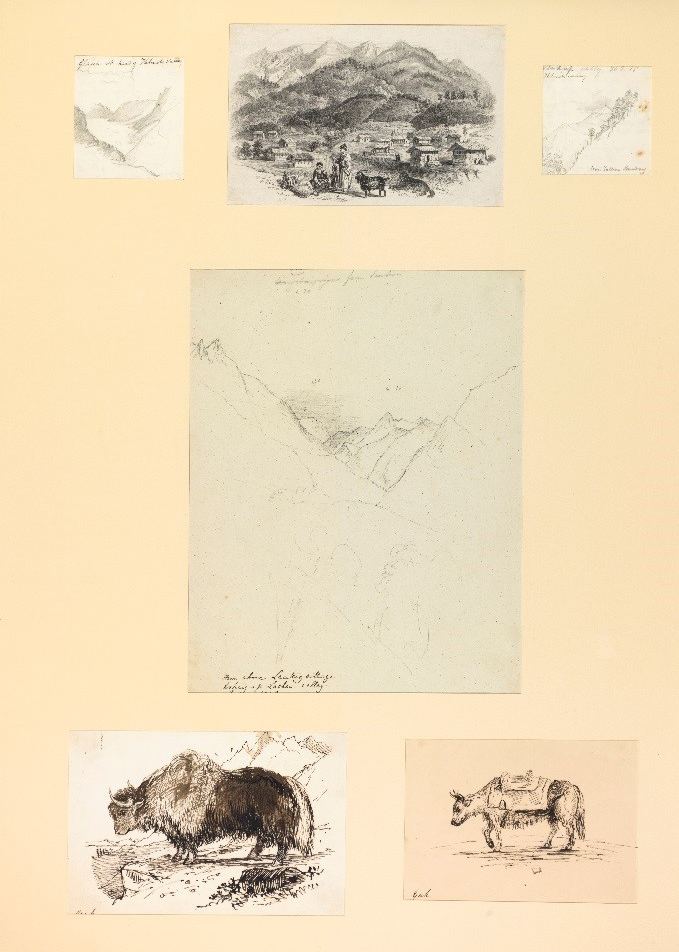 From above Lamteng village looking up Lachem valley, (1848) Joseph Dalton Hooker, pencil, pen and watercolour on paper, with lithograph.
The galleries at Kew have more than one reason to be grateful for Hooker's influence as Director of Kew. In 1879, Marianne North wrote to Hooker offering to build a gallery in which to display her botanical artwork. Hooker gave North permission, and the Marianne North Gallery was duly built in a mixture of classical and colonial style, finally opening in its finished form in 1886. Without Hooker's permission, Kew would not have this significant collection of Victorian botanical art, which serves as an important catalogue of the world's plants. Alongside the 833 paintings on display, North also collected samples of wood from the countries she visited. The unusual way in which the gallery was curated is unique to Kew, and it is always a breath-taking experience.
In summary, Joseph Hooker: Putting plants in their place looks at a range of fascinating artifacts and paintings to explore the professional journey of Joseph Hooker as second Director of Kew. It primarily looks at how Hooker revolutionized botany to a scientific status and examines his influence on Kew's transformation from a simple pleasure garden to the scientific centre of research it is known for today.