Introducing the New and Improved BHL Blog
Welcome to the new and improved BHL blog!
To provide you with a better user experience, we've updated the design, navigation and functionality of the BHL blog. Continue reading to learn more about our new features.
Subscribe to the Blog
To stay up-to-date with all the latest posts, subscribe to our blog to receive each new post via email.
Improved Navigation

Our new top menu makes it easy to navigate to different types of content, including news, featured books (including our popular Book of the Month series), user stories, campaigns (like Monsters are Real and Garden Stories), and technical updates.
Additionally, to reduce scrolling and provide a cleaner interface, each post will display an excerpt with the option to "continue reading" to view the full post.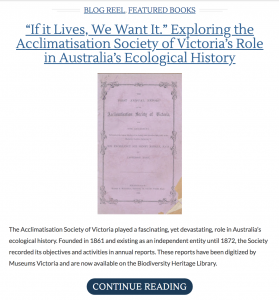 Homepage Content Highlights

It's easier than ever to stay up-to-date with our latest news, book highlights, and user stories thanks to our new featured highlights on the blog homepage. Check back regularly to see what's new at BHL!
Subscribe to Your Favorite Topics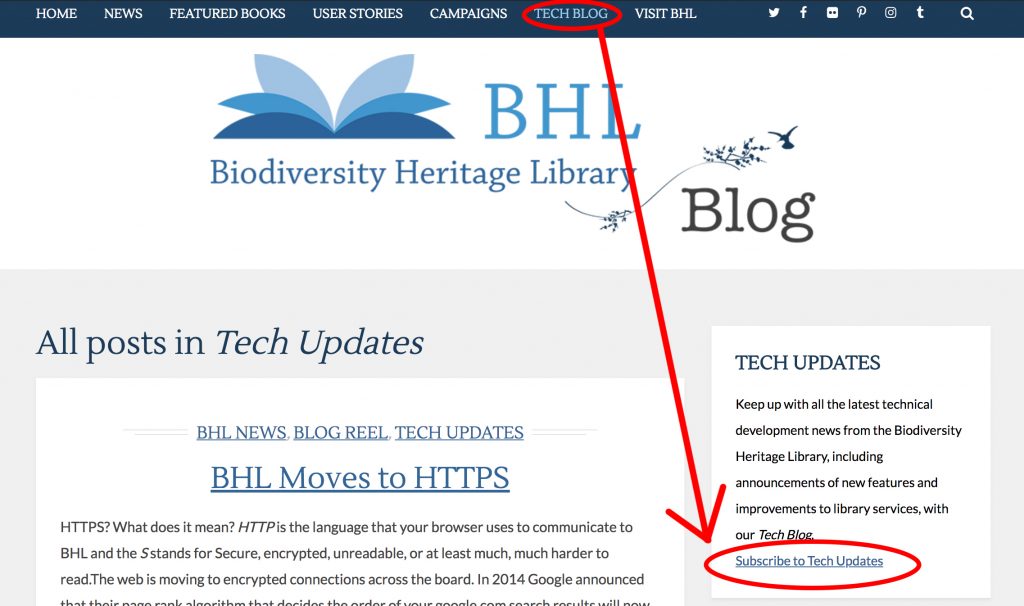 Interested in particular topics, like technical updates or book highlights? With our new RSS feeds, you can easily stay up-to-date with the content that matters to you.
Simply navigate to your favorite topics using the top menu and click the "subscribe" link on the right-hand side to subscribe to that topic's RSS feed.
Note: You will need an "RSS feed reader" to use this service.
Share and Connect via Social Media

With our new social sharing buttons, it's easy to share any post via your favorite social platform.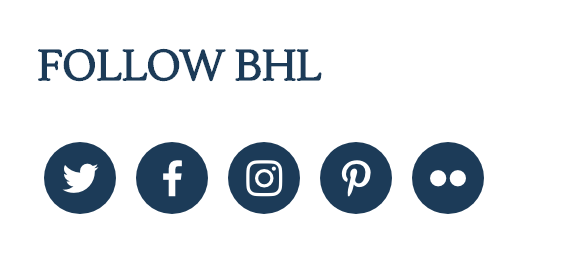 Plus, be sure to check out our social profiles and feeds in the sidebar to stay connected with BHL and explore treasures from our collections.
Questions or Comments?
We're excited about these improvements to our blog, and we hope you are too! If you have any questions or comments, don't hesitate to contact us.