BHL at the Joint Society for the Preservation of Natural History Collections (SPNHC) and Biodiversity Information Standards (TDWG) Conference in Dunedin, New Zealand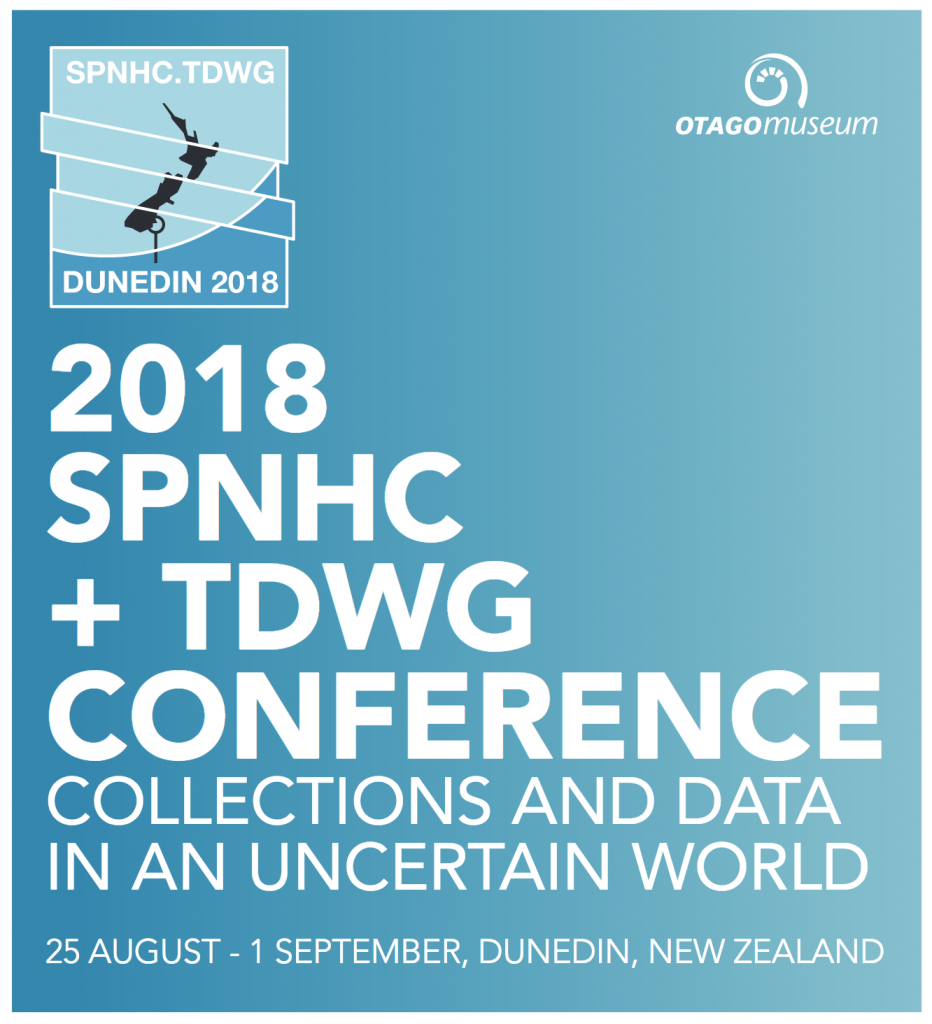 On 25 August – 1 September 2018, BHL representatives from around the world traveled to Dunedin, New Zealand to attend the joint Society for the Preservation of Natural History Collections (SPNHC) and Biodiversity Information Standards (TDWG) conference. Hosted by the Otago Museum and the University of Otago, the conference represented several firsts, including the first joint meeting of these two organizations plus the first SPNHC meeting in the Southern Hemisphere.
With the theme "Collections and Data in an Uncertain World", the conference was an opportunity for bioinformatics and natural science collections professionals to exchange ideas and expertise as they explored the myriad intersections between collections and the data generated from them. BHL, an institutional member of TDWG, was proud to be a conference partner for this important event.
Explore the full conference program.
Keynotes
In addition to over seventy sessions featuring multiple speakers in several concurrent tracks, the conference also included many fascinating keynote addresses (including one from Dr. Elycia Wallis, Member representative for BHL Australia).
Explore the abstracts for each keynote address below:
BHL Symposium
BHL hosted a symposium at the conference, "Strategies for Improving Research Efficiency and Delivering Biodiversity Data through Digital Library Collections", organized by Carolyn Sheffield (BHL Program Manager, Smithsonian Libraries) and moderated by Constance Rinaldo (Librarian of the Ernst Mayr Library, Harvard and Chair of the BHL Executive Committee).
The Symposium consisted of four talks, covering topics including citizen science, linking specimen records to literature, DOIs, and recent efforts to improve search efficiencies in BHL, from full text search to extracting georeference data. Explore the abstracts for each talk in the links below:
The Symposium was attended by about 100 people and was well-received. The session stimulated lively discussion regarding the lack of regulations around assigning DOIs to legacy literature, the ethics of publishers assigning DOIs to versions of out-of-copyright publications locked behind paywalls, and the need for museums to release collections-related data and images openly so that they may be reused for citizen science or on such platforms as Wikipedia (a point eloquently emphasized by Siobhan Leachman as part of a memorable Q&A exchange that was heralded and much-discussed throughout the remainder of the conference).
Conference Impact for BHL
As a conference partner, BHL hosted a table during the event, which provided a valuable opportunity for representatives to talk with attendees. While most had already heard of BHL, the library was still new to some. The BHL brochure and cards were also very popular, with all supplies of each (including over 250 cards) being distributed by the end of the conference.
Rinaldo also presented a poster, "Museum, Library and Archives Partnership: Leveraging Digitized Data from Historical Sources", with co-authors Linda S. Ford (Museum of Comparative Zoology, Harvard) and Joseph deVeer (Ernst Mayr Library, MCZ, Harvard) discussing projects to digitize specimen ledger pages/cards and field books and link them to relevant specimen records in order to enhance discoverability of hidden data and promote cross-discipline research with interrelated historical resources. In particular, the poster highlighted work to digitize ornithologist William Brewster's notebooks and correspondence, make these available via BHL, and ultimately cross-link the data with the related specimen records. You can see the poster via Dropbox.
The conference also enabled representatives to learn more about BHL's impact on research. Many attendees shared examples of how BHL has empowered their own research, with several agreeing to share their experience as part of the BHL User series (so be sure to follow the series to learn more!).
Several attendees were also inspired to explore ways that they could contribute to BHL, such as by uploading field notes from their institution, working with the API to add literature links to collections databases, or encouraging their institutions to join BHL.
Excursions
BHL representatives had a chance to enjoy New Zealand's amazing landscapes, culture, and wildlife through a variety of excursions.
Costantino enjoyed a tour of the Otago Peninsula, where she saw New Zealand sea lions (Phocarctos hookeri), believed to be the world's rarest sea lion, and yellow-eyed penguins (Megadyptes antipodes), an endangered species endemic to New Zealand.
Several BHL representatives also enjoyed a visit to the Orokonui Ecosanctuary, which is home to a wide variety of New Zealand flora and fauna, including kiwis, jewelled geckos, fungi like stinkhorns, New Zealand pigeons (kererūs), kākās, tuataras, and takahēs.
About TDWG
Biodiversity Information Standards, also known as the Taxonomic Databases Working Group, is a not-for-profit scientific and educational association that is affiliated with the International Union of Biological Sciences. TDWG was formed to establish international collaboration among biological database projects. TDWG promoted the wider and more effective dissemination of information about the Earth's heritage of biological organisms for the benefit of the world at large. Biodiversity Information Standards (TDWG) now focus on the development of standards for the exchange of biological/biodiversity data.
About SPNHC
The Society for the Preservation of Natural History Collections (SPNHC) is an international society whose mission is to improve the preservation, conservation and management of natural history collections to ensure their continuing value to society.
Post with contributions from Carolyn Sheffield, Constance Rinaldo, Siobhan Leachman, and Nicole Kearney.