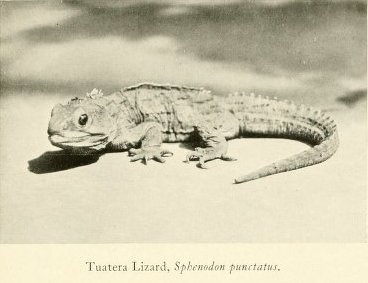 The Associated Press ran a story on March 20 with the headline, "Rare reptile found first time in 200 years" (see the MSNBC version).
The tuatara is a member of the order Sphenodontia and important to the study of the evolution of lizards and snakes. Thought to be extinct on the main islands of New Zealand, the discovery of this hatchling is great news.
You can find out more about the tuatara and the genus Sphenodon in over 2,000 pages of the Biodiversity Heritage Library. An illustration (above) of Sphenedon punctatus can be found in Reptiles and batrachians, by E. G. Boulenger (1914) contributed by Harvard University, Museum of Comparative Zoology, Ernst Mayr Library.