BHL and Our Users: Dr. Joshua Drew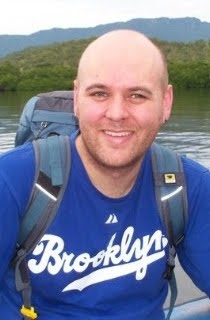 This week we feature Dr. Joshua Drew, a former a researcher at the Biodiversity Synthesis Center at the Field Museum of Natural History in Chicago. The Biodiversity Synthesis Group is a component of EOL "dedicated to advancing biodiversity science and the core EOL mission through…diverse meetings, workshops, research programs, and outreach." Our featured user's research focuses on coral reefs and the challenges of both protecting these reefs and discovering new species of coral reef fish. With this brief introduction, meet Dr. Joshua Drew.
Q: What is your title, institutional affiliation, and area of interest?
A: Postdoctoral Researcher, Biodiversity Synthesis Center, Field Museum of Natural History.
Q: How long have you been in your field of study?
A: I've worked as a marine conservation biologist since 2000.
Q: When did you first discover BHL?
A: During my Ph.D. at Boston University in 2008.
Q: What is your opinion of BHL and how has it impacted your research?
A: BHL is a very important part of my research for two reasons. First, as a researcher who is interested in discovering new species of coral reef fish, BHL provides me with easy access to taxonomic literature. This allows me to see the whole history of a species laid out before me. Secondly, much of my work is trying to understand how ecosystems used to look, and using those baselines to evaluate how current conservation measures are succeeding. Having access to historical literature is essential to characterizing what ecosystems used to look like, what species were present and what peoples' opinions of the health of the ecosystem were like throughout time. Since we don't often have old photographic evidence of reef ecosystems, I rely on the historical literature to get a glimpse of how these wonderfully diverse ecosystems used to look.
Q: How often do you use BHL?
A: It depends. When I'm working on a project, I'll use it intensively (two or three times a day); when I'm not actively working on a project, I still find myself accessing it once or twice a week.
Q: How do you usually use BHL (read the titles online/download whole PDFs/Select pages to download/etc.)?
A: For my taxonomic research, I will typically search for a specific name and see how our construction of that species has changed over time. For the historical ecology research I will often search for information about a specific place or places within a region. If I'm lucky, there will be multiple reports on that area throughout time and I can see how species assemblages have changed.
Q: What are your favorite features/services on BHL?
A: I like the ease of having access to the literature anywhere I have access to the Internet. For example, I was teaching a class last semester and it was great to be able to introduce my students to the primary literature with a few clicks on my iPad right in the middle of class.
Q: If you could change one thing about BHL, what would it be, or what developmental aspect would you like the BHL team to focus on next?
A: I think what you are doing is great; I simply would hope that you can further your collaborations with publishers to get more modern content into the BHL.
Q: If you had to choose one title/item in BHL that has most impacted your research, or one item that you prefer above any other in BHL, what would it be and why?
A: The Fishes of Samoa. Description of the Species found in the Archipelago, with a Provisional Check-List of the Fishes of Oceania (1906), by David Starr Jordan and Alvin Seale.
This book was one of the first comprehensive records in the Southwest Pacific, the area where I do most of my work. In it, Jordan and Seale give a great look into what these reefs were like before widespread development. Reading their words is like going through a time machine, and allows us a glimpse into a world that will probably never be again. Additionally, these authors describe for perhaps the first time, a biogeographic pattern of species distributions that still perplexes people to this day – that the islands of the Coral Triangle (PNG, Indonesia, and the Philippines) are much more diverse than those in the Southwest Pacific. People have tried to explain why this pattern exists for over a century, and addressing this question is one of the major challenges I am addressing using molecular systematics.
Thank you, Dr. Drew, for giving us a glimpse into your world and the important oceanic conservation work that you do. These "rainforests of the sea" support twenty-five percent of all marine species, and it is imperative that we work to protect these ecosystems and ensure that they are around for generations, and indeed, millennia, to come.
Learn more about Dr. Drew on his website: www.halichoeres.org.
If you would like to be featured on our blog, let us know by sending us feedback, posting on our Facebook page, or sending us a Tweet to @BioDivLibrary. 🙂