Original Publications at our Fingertips
Systematics is the branch of biology concerned with classification and nomenclature. It is sometimes used synonymously with taxonomy.
In their 1970 publication Systematics in Support of Biological Research, Michener et al. defined systematic biology and taxonomy as:
Systematic biology (hereafter called simply systematics) is the field that (a) provides scientific names for organisms, (b) describes them, (c) preserves collections of them, (d) provides classifications for the organisms, keys for their identification, and data on their distributions, (e) investigates their evolutionary histories, and (f) considers their environmental adaptations…Taxonomy is that part of Systematics concerned with topics (a) to (d) above.
Identifying species, their relationships and evolutionary hierarchies, is critical to saving biodiversity. Recognizing this, the White House Subcommittee on Biodiversity and Ecosystem Dynamics declared systematics a research priority essential to ecosystem management and biodiversity conservation and identified improvements in the organization of, and access to, standardized nomenclature as a priority within the field.
ITIS (Integrated Taxonomic Information System) was established to address this priority.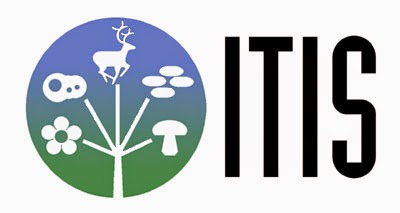 A partnership of federal agencies (including BHL members the Smithsonian, United States Geological Survey, and CONABIO), ITIS is a database containing reliable information on species names and their hierarchical classification, including the authority (author and, in the case of zoological names, date), taxonomic rank, associated synonyms and vernacular names where available, a unique taxonomic serial number, data source information (publications, experts, etc.) and data quality indicators for each indexed scientific name. Among other applications, ITIS classifications are used as a taxonomic backbone for the Encyclopedia of Life, to which BHL also provides primary source materials such as publications and illustrations.
Dedicated ITIS working groups ensure that the system is designed and continually developed to meet user needs and that the information contained within is valid, thorough, and regularly updated with classification revisions and new species information. Ensuring such a high level of data quality requires extensive research and access to a wealth of primary natural history information.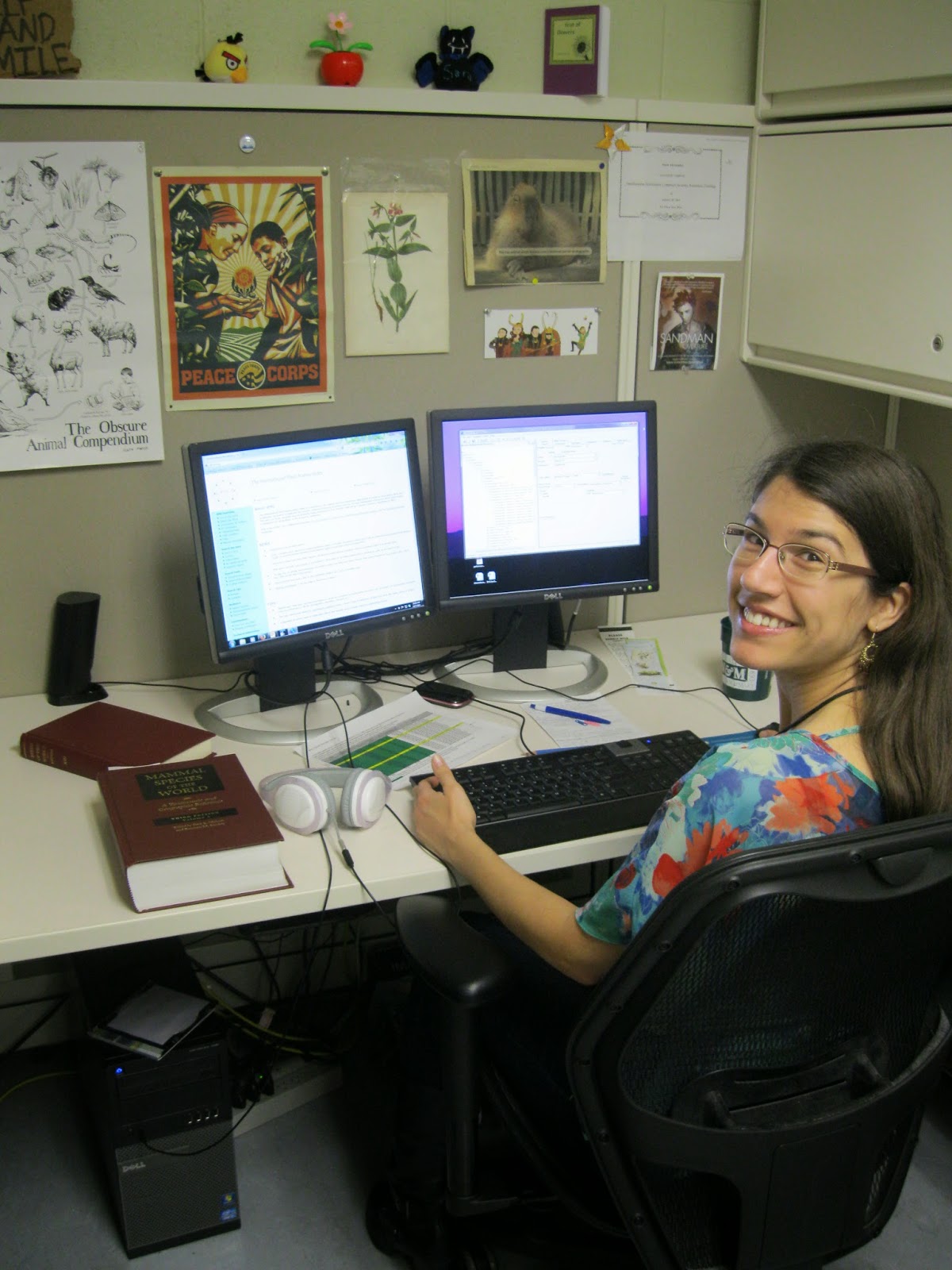 Sara N. Alexander, Data Development Specialist for ITIS.
Sara N. Alexander is a Data Development Specialist for ITIS, stationed at the Smithsonian National Museum of Natural History. With a background in taxonomic botany and the benefit of six years working for the National Herbarium, Alexander joined ITIS five years ago to work with botanical data and has since branched out to proofread zoological taxonomic files.
For her work, Alexander requires access to historic taxonomic information, which is contained within the pages of natural history literature…literature which is made freely available on the Biodiversity Heritage Library.
"I rely on BHL for my daily work; it streamlines taxonomic research immensely," applauds Alexander. "I am fortunate to have access to multiple libraries in the Smithsonian's National Museum of Natural History, but even so without BHL I would spend lots of time traveling back and forth to the libraries, scanning pages and making photocopies, waiting on interlibrary loans, and sending emails to taxonomic specialists. With BHL, not only do I have access to original and old literature, but I can easily include a stable and precise link in an email or on a website to allow coworkers to check the accuracy of my work, specialists to answer tricky questions without the burden of hunting down the physical literature themselves, and ITIS users to see the basis of our taxonomic information."
While she primarily uses BHL to locate the original publication of a name or to find accurate bibliographic information, Alexander has found many additional applications for and points of interest within BHL resources.
"I've even occasionally been able to use BHL to discover errors on other online resources on which I rely heavily," confides Alexander. "For example, I sometimes find a subspecific name published before 1975 that is not yet included in IPNI (The International Plant Names Index). I also enjoy getting 'sidetracked' on BHL to read early descriptions of 'exotic' animals and look at full-color plates and engravings."
When asked to give an example of her use of BHL, Alexander related a project that resulted in extensive augmentation of ITIS records with BHL data.
"For worldwide Chiroptera (bats) I was tasked with double-checking the use of parenthetical authorship (whether a name was originally published in the same genus or a different genus than the genus in which it is treated today), which necessitated finding the originally published name for over 2,000 species and subspecific names," recalls Alexander. "Many of these names were available through major checklists like Hall's 1981 The Mammals of North America, but others had to be tracked down individually. The now-loaded ITIS treatment of Chiroptera includes links to 72 literature sources accessed through BHL."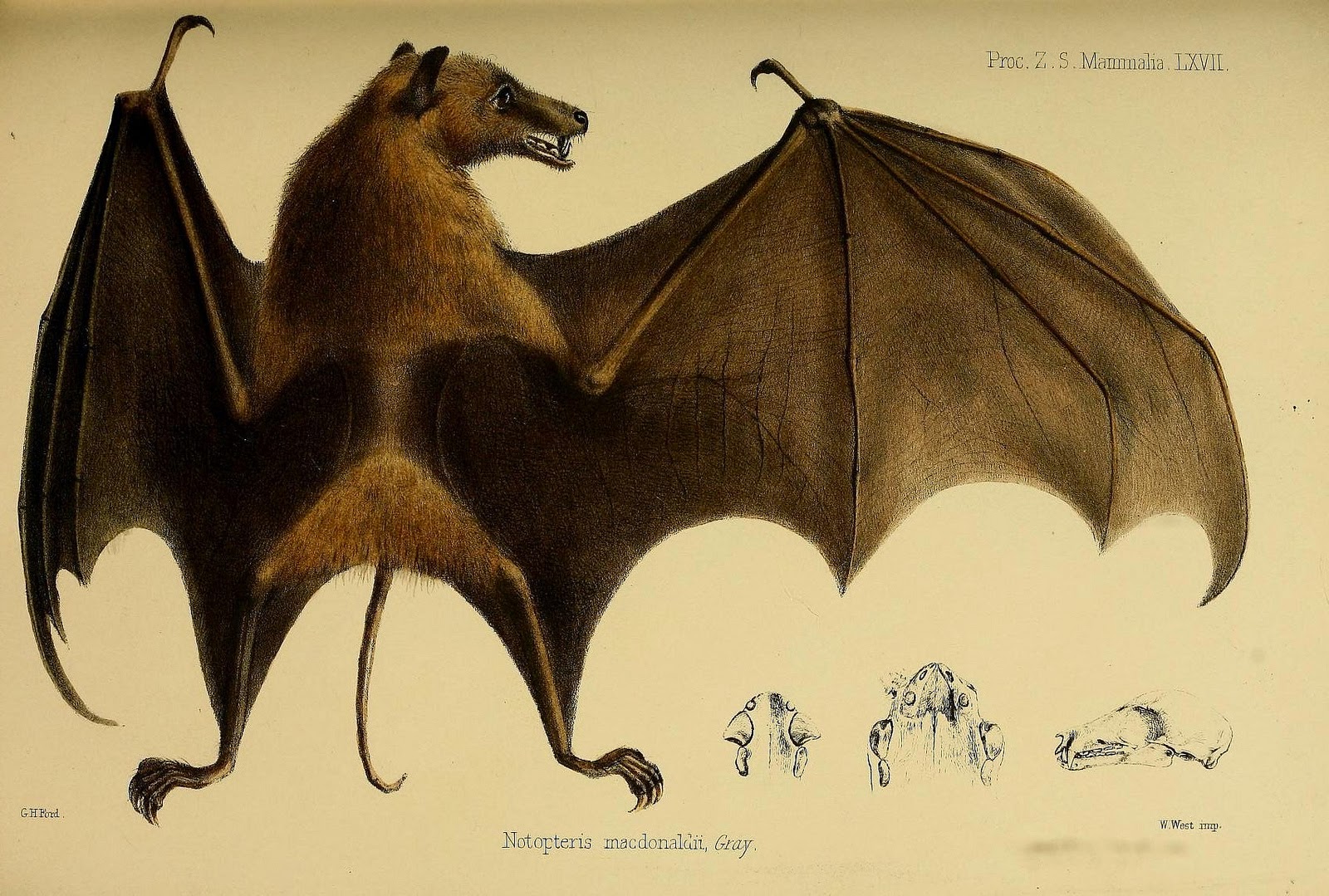 A member (Notopteris macdonaldi) of the Chiroptera, or bat, order, the ITIS treatment for which now includes 72 literature sources accessed through BHL, thanks to Sara Alexander. Proceedings of the Zoological Society of London. v. 1 Plates (1848-60). http://biodiversitylibrary.org/page/37028041.
As her work relies heavily on locating taxonomic names, BHL's recent initiatives to improve the quality of our OCR, as through the Purposeful Gaming and Mining Biodiversity projects, are of particular interest for Alexander.
"Correcting OCR, and allowing more scientific names to be accurately indexed, will make my work a lot easier. My ideal would be to be able to type in a scientific name and always find its original publication among the returned documents."
Through the work of dedicated contributors like Sara Alexander and collaboration among multiple agencies, ITIS is significantly advancing scientific research by providing a common framework for and widespread access to taxonomic data that is "fundamental to the description, conservation, and management of the nation's biodiversity." The application of BHL data within ITIS demonstrates once again the critical importance of historic, foundational biodiversity literature to modern scientific endeavors. BHL, ITIS, and other open, like-minded biodiversity initiatives are committed to ensuring that everyone, everywhere has the information they need to study, understand, and save the incredible biodiversity on our planet.
We hope you enjoyed this post. Interested in being interviewed for BHL? We'd love that! Email us at feedback@biodiversitylibrary.org.