This month, we're publishing a series of blog posts outlining the importance of biodiversity literature, made available for free and open access through the Biodiversity Heritage Library, to today's scientific research and conservation initiatives. With your help, we can help save biodiversity. 
The Science of Identifying Life on Earth
There are an estimated 8.75 million species on earth, of which almost 2 million have been described. Scientists classify about 18,000 new species per year, meaning that it may take hundreds of years to create a complete species catalog.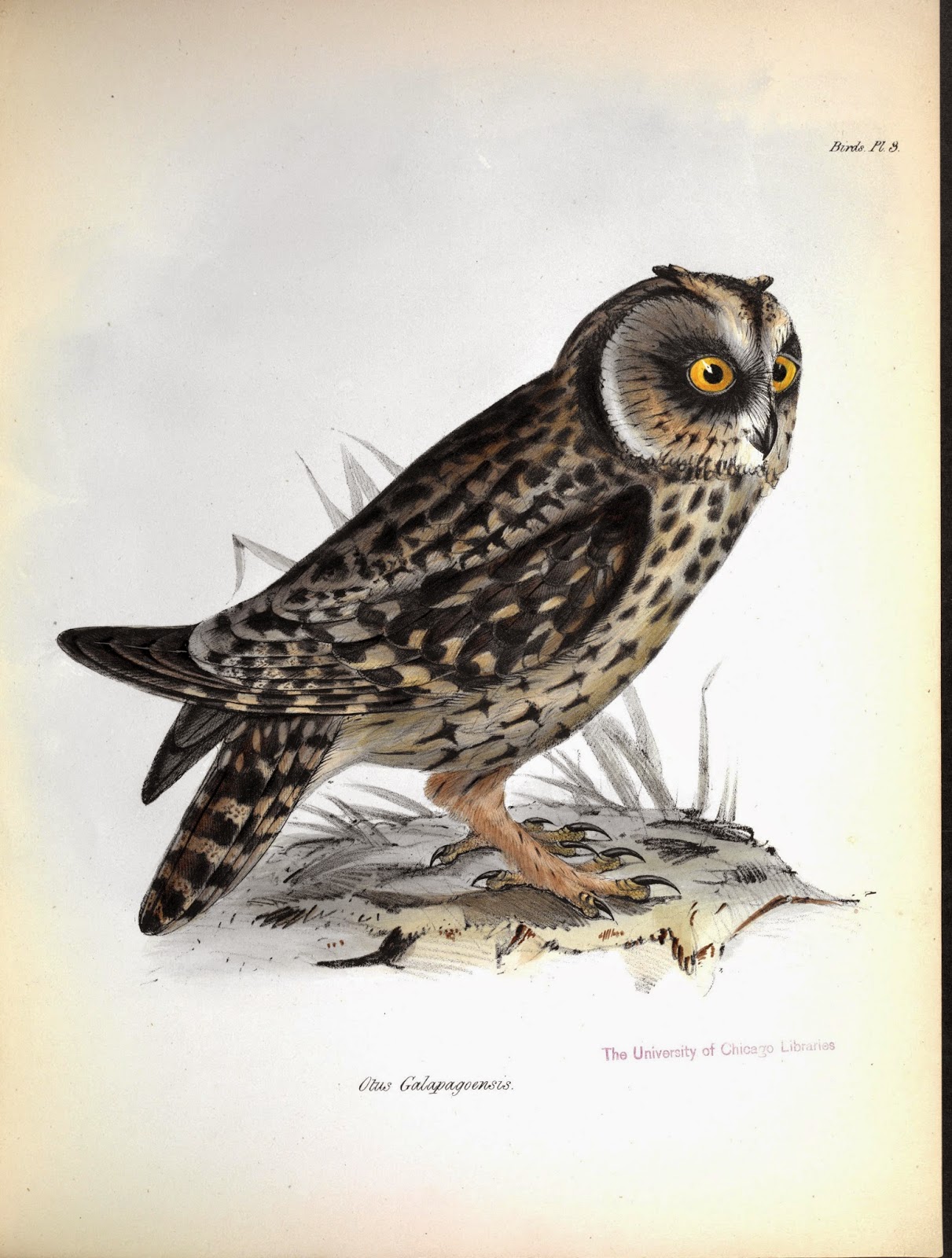 Short-eared Owl. Illustrated as part of Darwin's Zoology of the Voyage of the H.M.S. Beagle (1839-43), which presented identification and descriptions for the zoology observed and collected during one of natural history's most famous expeditions. http://biodiversitylibrary.org/page/40300038.
Early explorers documented their observations and data about the world's biodiversity in historic fields notes and published literature. These discoveries provide a foundation for modern scientific research and fueled the drive to systematically catalog life. The science of taxonomy classifies biological organisms using binomial nomenclature (which identifies organisms by genus and species) and hierarchies based on inferred evolutionary relatedness.
Taxonomists are charged with naming and classifying species, with a goal of one day identifying all life on earth. In order to name a new species, a taxonomist must first verify that the specimen has not yet been described by consulting museum collections, performing DNA sequencing, and reviewing the historic literature record. They may also need to ensure that related species or subspecies have not erroneously been classified as a single species by examining published treatments (species descriptions) and related type specimens.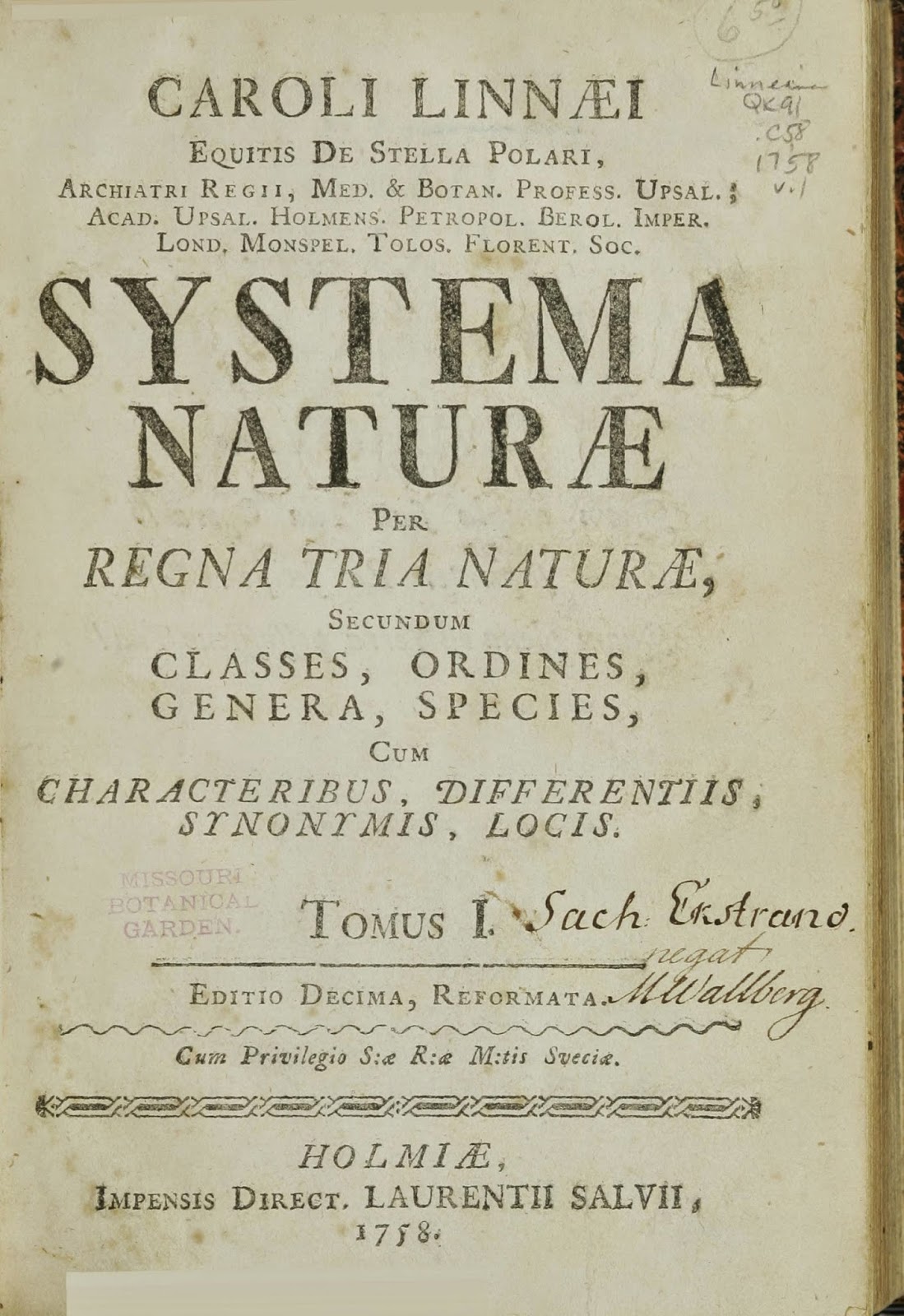 Linnaeus, Carl. Systema Naturae, 10th Ed. (1758-59). Considered the beginning of zoological nomenclature, in which Linnaeus introduced binomial nomenclature for animals. http://biodiversitylibrary.org/page/726886.
"Taxonomy is a science that keeps pace with the present but also draws upon the wealth of knowledge accumulated throughout its history," stresses Dr. Sandra Knapp, botanist at the Natural History Museum, London, within a History of Taxonomy exhibition at NHM. "The old literature is often just as important as the new," elaborates Dr. John Sullivan, an evolutionary biologist with the Academy of Natural Sciences, Philadelphia and Cornell University. "If we were to describe new species without knowing what [previously-documented species really are], we risk re-describing [them] under a different name and creating a synonym."
Morphology and behavior is also very important in determining taxonomic relationships for new and existing species. Historic natural history literature is saturated with such data, which, alongside original species descriptions, provides a critical foundation for ongoing classification work.
Thanks to the Biodiversity Heritage Library, this crucial historic literature is now online, allowing taxonomists to access it wherever and whenever they need to. "I tend to think of BHL as my personal ichthyology library," confided Dr. Sullivan. Before embarking on a trip to Africa to confirm the identity of a possible new fish, he downloaded the relevant taxonomic description from BHL. "I had it on my Kindle as I stood at the site," he recalls. "Even if I lived in a library that had these volumes on the shelf, it would take me longer to locate what I was looking for!"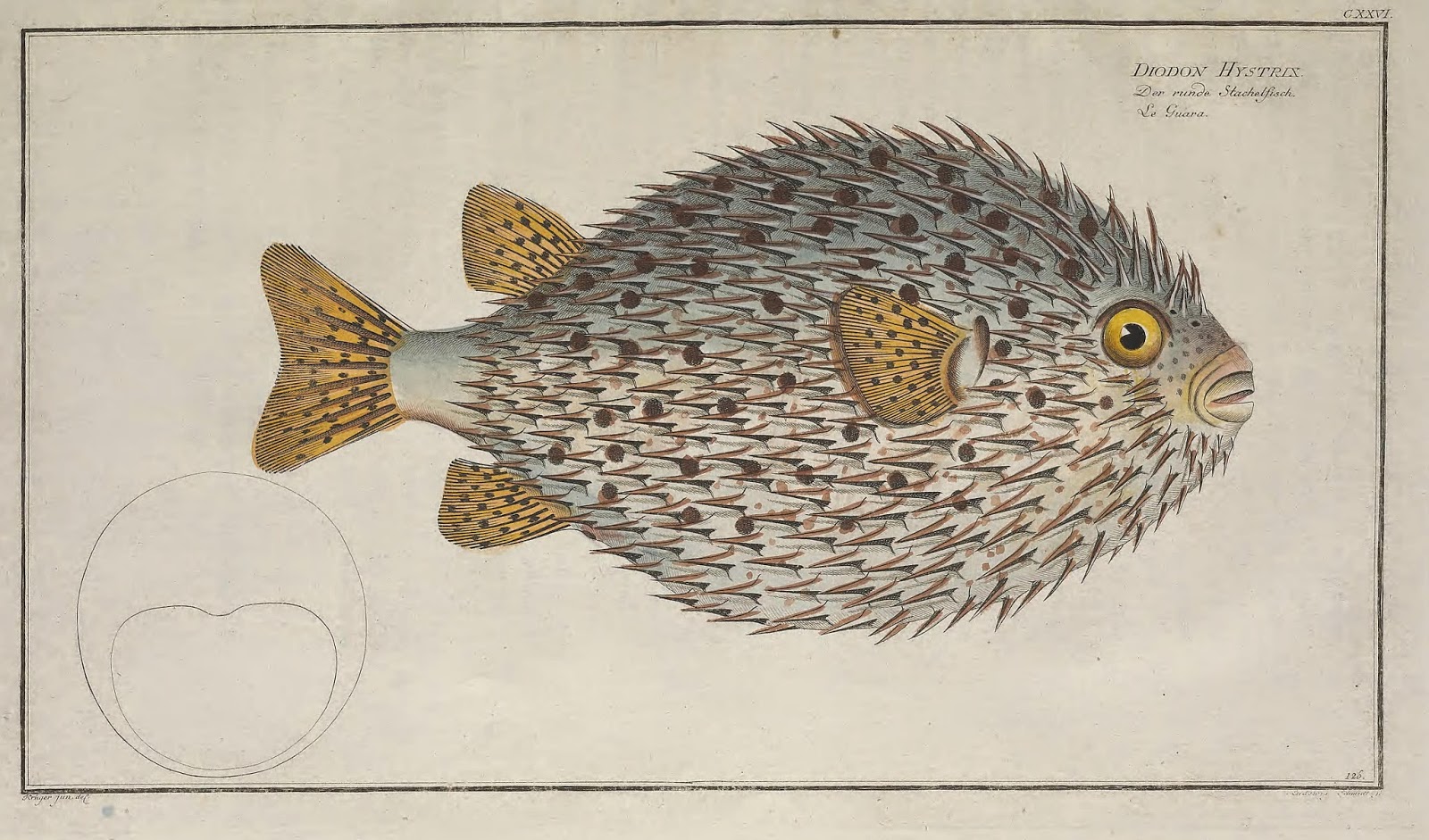 Spot-fin Porcupine Fish, from Ichtyologie, ou, Histoire naturelle, générale et particulière des poissons (1785-97), the French version of Marcus Bloch's Allgemeine Naturgeschichte des Fische, a compendium of all fish known at the time. This work alone described 267 species new to science. http://biodiversitylibrary.org/page/46076975.
Who Cares if we Identify all the Species?
But why is it important to document all life on earth? "Biodiversity is about the totality of things," explains Dr. Knapp in the NHM History of Taxonomy exhibition. By identifying species and the relationships between them, taxonomy aims to understand "how nature's wild, wonderful diversity is generated."
Today, that diversity is sorely threatened. More than 40% of the evaluated amphibian species, 30% of the evaluated invertebrate species, 21% of evaluated fish and reptile species, 26% of known mammal species, and 68% of the evaluated plant species are threatened with extinction. "It is key to identify species at risk so we can take action accordingly," emphasized Dr. Rafe Brown, curator in charge of Herpetology at the University of Kansas, in a 2014 National Geographic article.
The inherent problem, however, is that we can't know what species to protect until we know what species there are. We cannot predict how biodiversity loss will affect an ecosystem until we identify all the players in that ecosystem, their roles, and relationships. We must start by illuminating the unknown.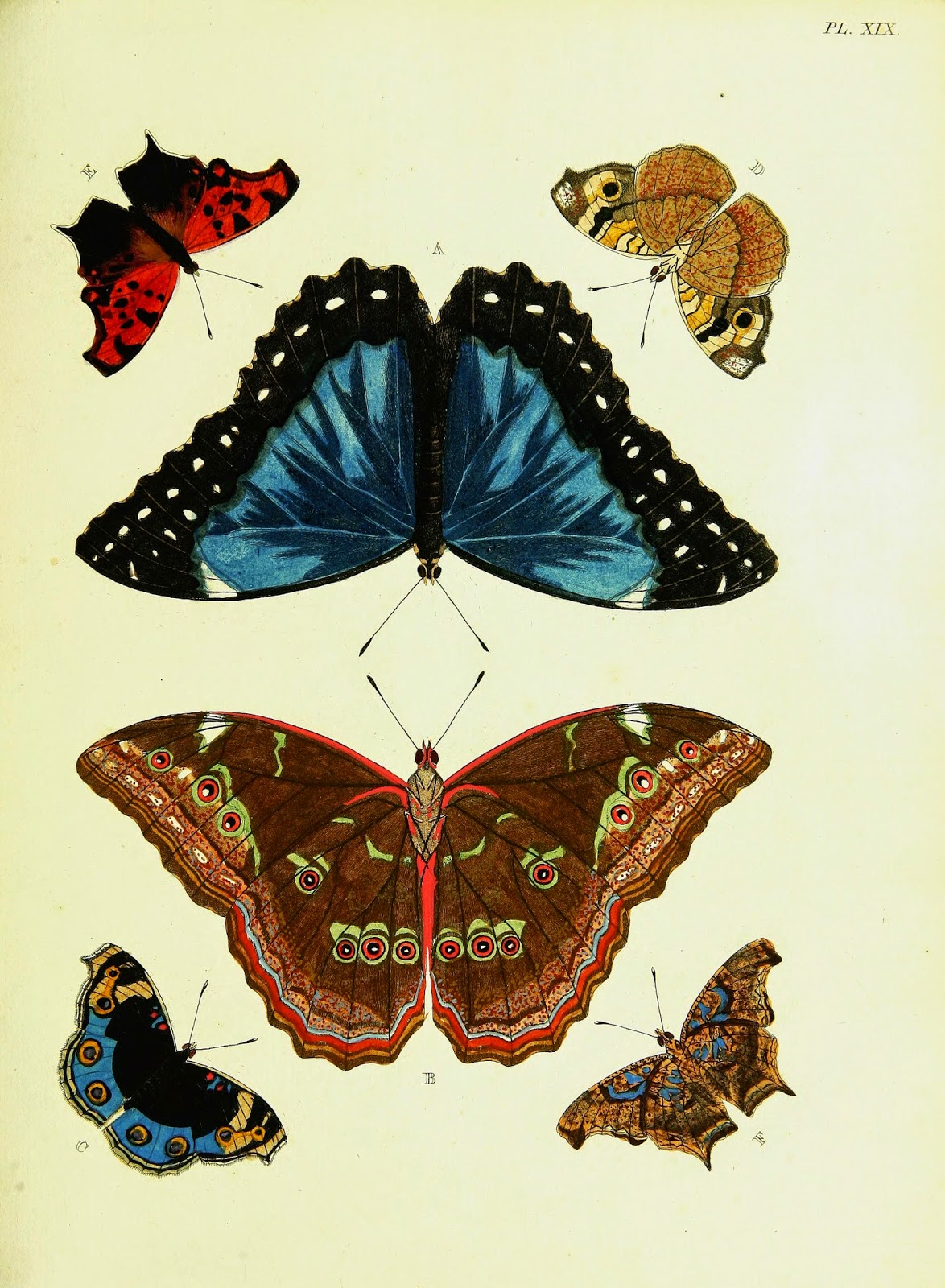 Butterflies from De uitlandsche kapellen voorkomende in de drie waereld-deelen, Asia, Africa en America (1779-82), by Cramer, Pieter. This is the first treatise on Lepidoptera to use the then-newly developed binomial classification system by Linnaeus. This work contains hundreds of "original descriptions" and many new-to-science Lepidoptera species. http://biodiversitylibrary.org/page/42111323.
A complete catalog of species can help scientists determine if conservation initiatives are focusing on and prioritizing the right environments and species or if efforts should be directed elsewhere. "We know we're losing biodiversity at a rate that is 1,000 times faster than we should be, and if we're going to stop that hemorrhaging of species, we have to know what the species are and most important, where they are. This is a vital first step in making decisions about where to act," explains Dr. Stuart Pimm, a conservation biologist at Duke University, in a 2012 Seeker article.
You can help!
Effective conservation and appropriate responses to environmental changes relies on a complete biodiversity picture. Obtaining a comprehensive species catalog hinges on the work of taxonomists, who in turn are dependent on the knowledge held within the pages of historic taxonomic literature.
We rely on donations from users like you to help grow our library and keep it free and open. As you think about your holiday giving, we hope you'll consider making a tax-deductible donation to help save biodiversity.
Learn more about the critical roles BHL and historic literature play in understanding past extinctions, supporting conservation, and saving Earth's biodiversity