Medicinal Botanicals at the College of Physicians of Philadelphia & Early Women In Science
Medicinal Plants and Illustrated Herbals in Philadelphia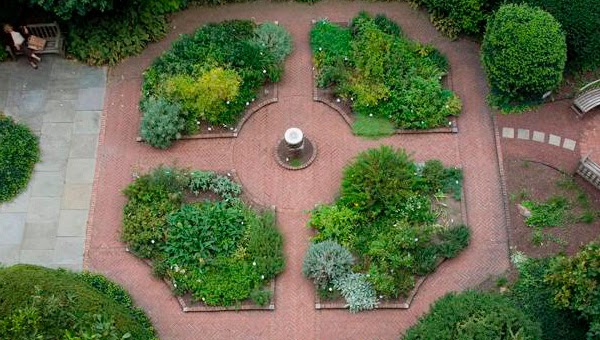 The Benjamin Rush Medicinal Garden at the College of Physicians of Philadelphia
Dr. Benjamin Rush, a founding Fellow of the College of Physicians of Philadelphia, first proposed that the College create a medicinal plant garden in 1787. The garden would not only provide medicinals for use by physicians, but would also be used as a pedagogic resource for the training of medical students.
Rush's vision did not come to fruition until the College moved to its current site at 22nd and Ludlow Streets in 1909. An adjoining property was acquired in 1911, and a garden was planted in memory of Wharton Sinkler, a vice-president of the College. This garden contained flowers, trees, and shrubs, typical of small city parks.
A medicinal plant garden was cultivated in place of the original garden 150 years after Dr. Rush first proposed its creation. In 1937, as part of its 150th anniversary celebrations, the College converted the garden, which was tended at first by a volunteer committee made up of wives of Fellows of the College.
Today, the garden is designed around four identical parterres, planted with more than 25 different medicinal species that would have been easily identified by Dr. Rush. Each plant is labelled with its usage, the common name, and the botanical name. Therapeutic or poisonous properties have been verified by modern pharmacologists and botanists. Interpretation, including signage and an audio tour, inspires and educates visitors to consider the role of herbals in current medical applications. Information about the medicinal garden can be found here and at "No Bones About It," a YouTube channel of the Mütter Museum.
The medicinal garden is complemented by a selection of early illustrated herbals that are in the collections of the Historical Medical Library of the College of Physicians. The earliest herbals include two editions of the Herbarius, one of the Gart der Gesundheit, and five editions of the Hortus Sanitatis, including the first edition, printed in 1491, which has been described as the largest herbal ever printed. Search the Library's catalog to learn more. To view a selection of digitized images from the herbal collection, visit the College's digital image library.
Early Women in Science
While men such as Dr. Rush and the Fellows of the College have contributed greatly to medical and botanical knowledge, there were trailblazing women contemporaries who engaged in the same endeavors. Many of these women had to fight societal beliefs that women should be confined to the domestic sphere in order to pursue the scientific fields of medicine or botany. In the Biodiversity Heritage Library's digital exhibit, Early Women In Science (created for the Biodiversity Library Exhibition with support from the Smithsonian Women's Committee), you will learn about women in scientific fields working prior to the twentieth century, including botanists who explored rough terrain across the United States and other countries in order to contribute to our knowledge of different plants.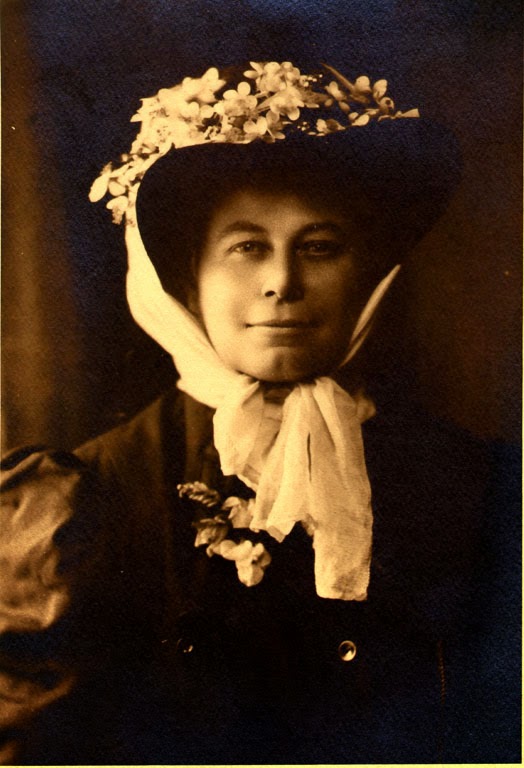 Alice Eastwood, Courtesy of the California Academy of Sciences Archives
Often these women identified many entirely unknown species. For instance, Alice Eastwood (1859-1953) hiked the High Rockies in Colorado collecting plant specimens, and continued collecting and identifying new specimens until her death; she ultimately contributed 340,000 specimens to the California Academy of Sciences Herbarium. Just as intrepid was Katharine Brandegee (1844-1920), who fought against criticism in order to enter the medical field (traditionally a job reserved for men). She obtained her M.D. from the University of California in 1878, and it was her study of medicinal plants while in the medical program that led her to ultimately take up botany as a career instead of medicine. To learn more about Alice, Katharine, and 14 other early women in science—including those who contributed to botanical (and thus medical) knowledge—please visit the digital exhibit, Early Women In Science.
Special thanks to Beth Lander and Robert Hicks, of The College of Physicians of Philadelphia, for contributing information about Dr. Rush, his medicinal garden, the College of Physicians of Philadelphia and their digital holdings, and the Mutter Museum.