Georgiana Molloy (1805-1843) Botanist, Western Australia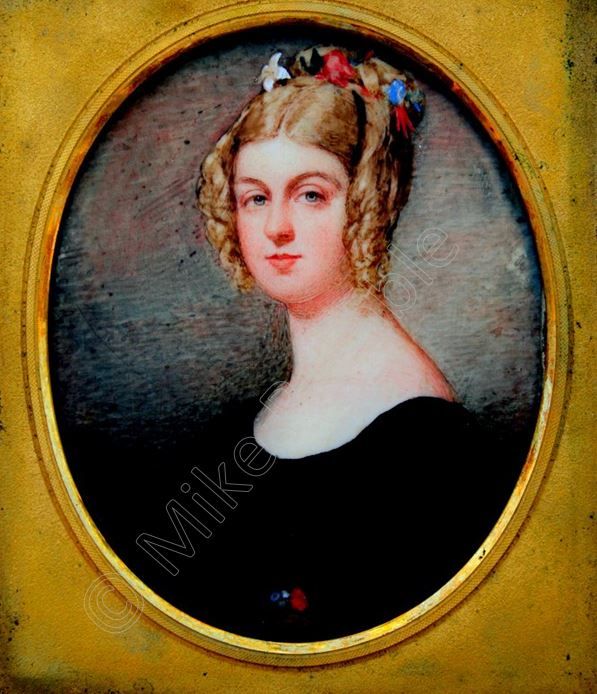 Georgiana Molloy, 1829 © Mike Rumble. With permission of Mrs Dorothy Margaret Blaasch née Richardson-Bunbury.
Georgiana Molloy arrived in the Swan River Colony (now Perth, Western Australia) in 1830 and was among the small group of British colonists who founded the settlement of Augusta in the far southwest. Today, she's remembered as the first internationally successful female botanist in Western Australia.
Specimens from two of her collections, including Type specimens, are archived in Kew Herbarium and Cambridge University Herbarium. Some of her letters and some diaries have also survived, held at the Cumbria Archive Centre in Carlisle UK and the JS Battye Library in Perth WA.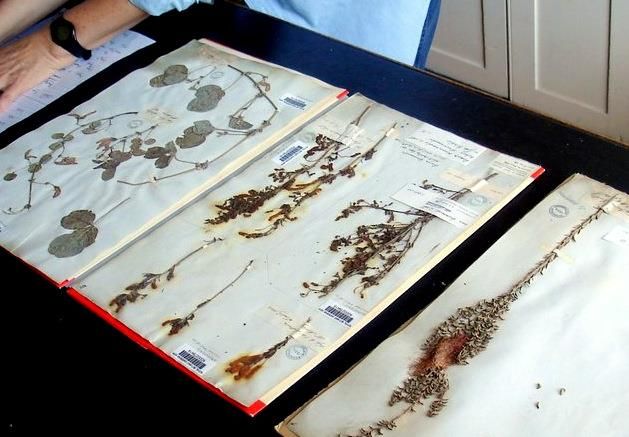 Georgiana Molloy specimens, Kew Herbarium © Mike Rumble.
Researchers unable to access these documents first-hand have been able to view some sources online for several years but things are changing. Libraries, herbaria and museums are increasingly digitizing new material as they acquire it. Other archives like the Biodiversity Heritage Library are making digital images of sources previously only available as microfilm or hard copy. Not only are many new items available now on a computer screen anywhere in the world, allowing you to look closely at a picture or photograph and transcribe from an original document, but also the sources are searchable. You don't just have to search the Web for something you're looking for in particular; using careful search techniques, you can find new sources you didn't even know about.
The botanical work of Georgiana Molloy comes to life vividly through the images that are now available. Combining the content of her diaries/letters with online sources makes it possible to trace some of her specimens from the day she collected them in the bush, through their journey from collector to collector, and on to their current resting place in a herbarium.
Georgiana grew up in the north of England near the Scottish border, and like other girls in her social circle, she collected dried flowers and enjoyed gardening. In 1838, her amateur involvement, already remarkably accomplished, was recognized when collector Captain James Mangles RN asked her to send him specimens of Western Australian indigenous plants. She was only collecting for Mangles for the last six years of her life and taught herself the necessary skills from books – and trial and error – but the specimens she sent to England were of superior quality to those of experienced male collectors doing the same, including James Drummond who was 'government naturalist' in Perth until 1832. Her expertise was recognized by the most eminent botanists and growers of the time.
Mangles sent Georgiana's specimens to (among others) Dr. John Lindley, Professor of Botany at University College, London, Joseph Paxton, head gardener of the Duke of Devonshire at Chatsworth House, the Royal Horticultural Society and the Baumann brothers of Bollwiller in France. He also sent her seeds to successful nurserymen including George Loddiges, known for the orchids he grew in a huge hothouse.
Lindley was fascinated by the flora of Australia and the orchids in particular. In 1838 he was about to write a new article on the topic and was looking for perfect specimens. The selection Mangles sent from Mrs. Molloy didn't disappoint.
'Your friend Mrs. Molloy is really the most charming personage in all South Australia & you the most fortunate man to have such a correspondent.
That many of her plants are beautiful you can see for yourself & I am delighted to add that many of the best are quite new. I have marked many with a X.' i
Paxton's opinion was the same. He said her collection was 'collectively, the best and contains more good things than I have before received from that interesting part of the world' and described her 'important collection of seeds' as 'far superior to any we have received at Chatsworth,' with many new and 'splendid things in the hortus siccus.' ii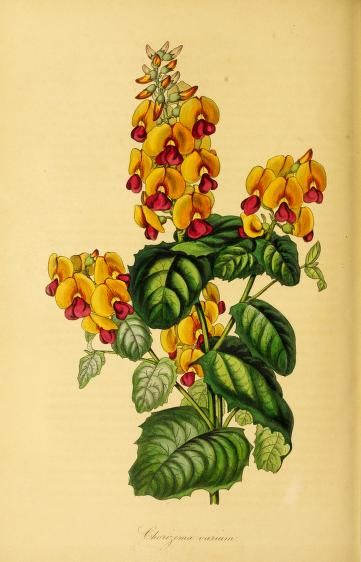 Chorizema varium. Paxton's Magazine of botany and register of flowering plants. V. 6, (1840). http://biodiversitylibrary.org/page/48267230.
Georgiana's life as a settler was one of hardship and tragedy, and for most of her 13 years in the colony she was nursing a baby. Her days were filled with farm work and domestic jobs from before dawn until late into the night, and yet she always found time for her botanical passion. A medical condition meant that she risked her life with the birth of each baby and soon after her seventh child was born she died, still desperately longing to successfully collect and send the seeds of Nuytsia floribunda and Kingia australis to Mangles. She was thirty-seven.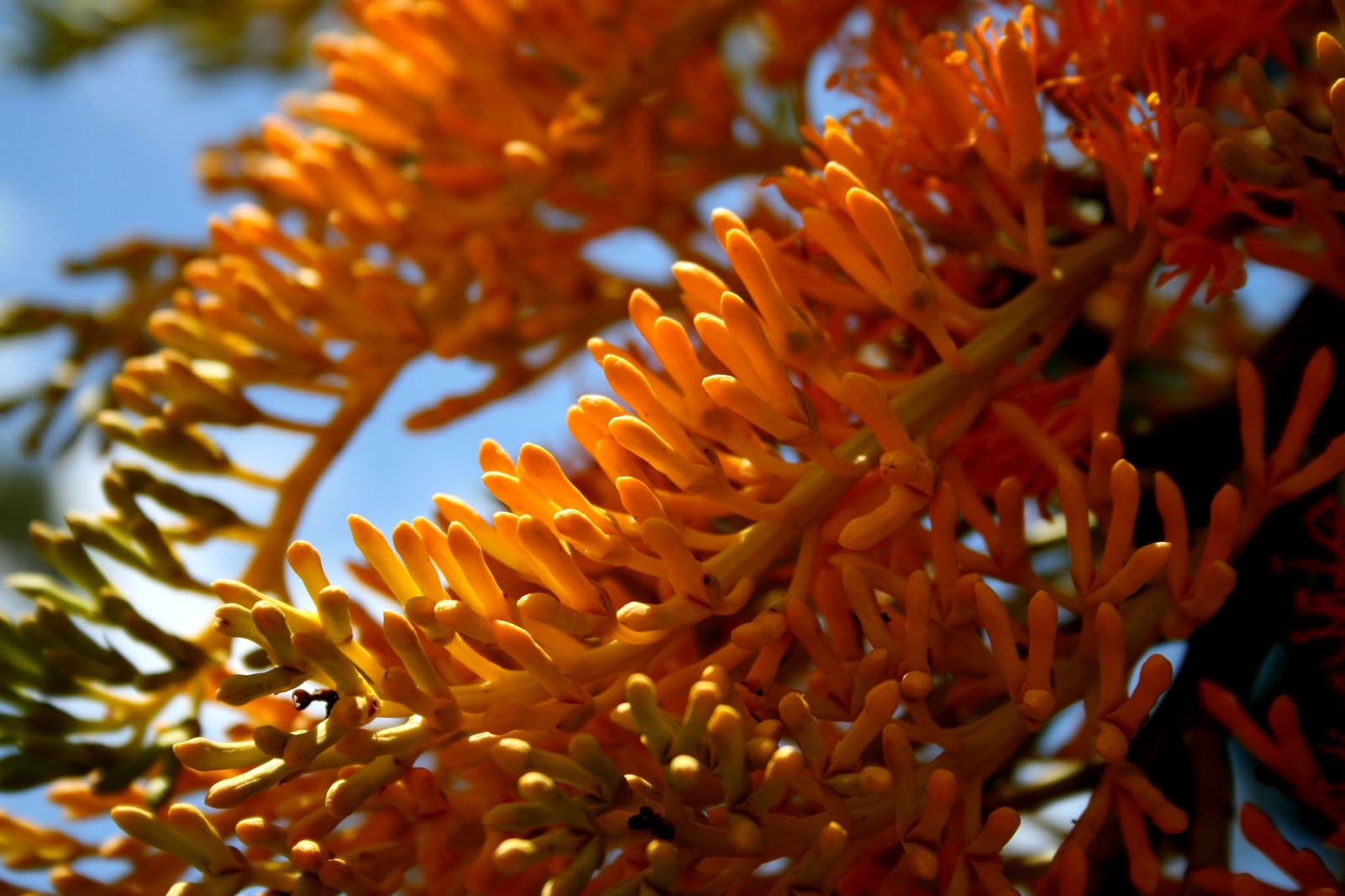 Nuytsia floribunda, Busselton WA © Mike Rumble.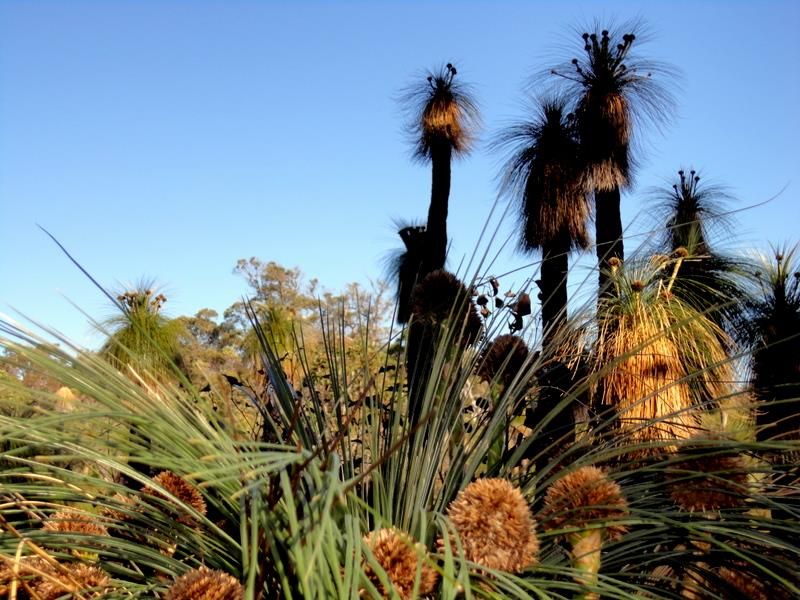 Kingia Australis, Molloy Island, WA © Mike Rumble.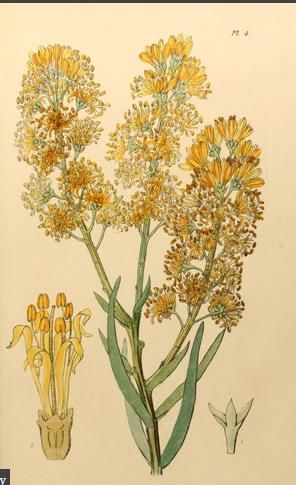 Nuytsia floribunda. Appendix to the first twenty-three volumes of Edwards's botanical register. (1839). http://biodiversitylibrary.org/page/6014085.
In her last years, she was referred to in several botanical and horticultural publications, including three mentions in the 'Notices of new plants' in Lindley's very successful Sketch of the Vegetation of the Swan River Colony.
Appendix to the first twenty-three volumes of Edwards's botanical register : consisting of a completealphabetical and systematical index of names, synomymes and matter, adjusted to thepresent stateof systematical botany, together with a sketch of the vegetation of the Swan River colony … / 
He wrote that Mrs. Molloy was 'a lady enthusiastically attached to the Botany of this remote region,' collector of Pultanaea brachytropis, a 'pretty little greenhouse shrub from Port Augusta,' Euthales macrophylla, 'a greenhouse perennial of the easiest culture,' and Eucalyptus calophylla, 'a beautiful plant.' Even though the professor wrote that her 'zeal in the pursuit of Botany has brought us acquainted with many of the plants of that little known part of the world,' her name was not included in his list of acknowledgements.
Mangles received recognition for Georgiana's Pentandria monogynia in the Floricultural Cabinet and Florists' Magazine 1841 but she was referred to as just 'a lady.'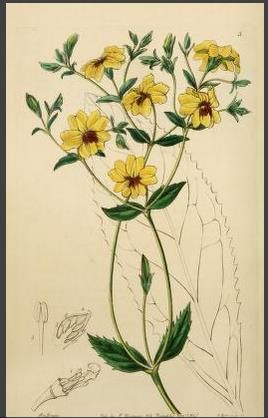 Euthales macrophylla. Edwards's botanical register. v. 27 (1841). http://biodiversitylibrary.org/page/6580583.
The botanist George Bentham later acquired Georgiana's collection from Lindley and deposited it with Kew when he took up office in 1854. His Flora australiensis was extremely successful, with thanks to Lindley (page 9) and Drummond (Page 10) but not Georgiana Molloy.
The online catalogues at Kew and Cambridge can be searched for 'Molloy' as 'collector' for digital photographs that reveal her skill and artistry. The most recently acquired Molloy journals at the JS Battye Library, partly written by Georgiana, are available online as images.
Although there were requests for plants to be named for her before and just after she died, she did not receive formal recognition as a botanist. The graceful, pink Boronia molloyae now bears her name.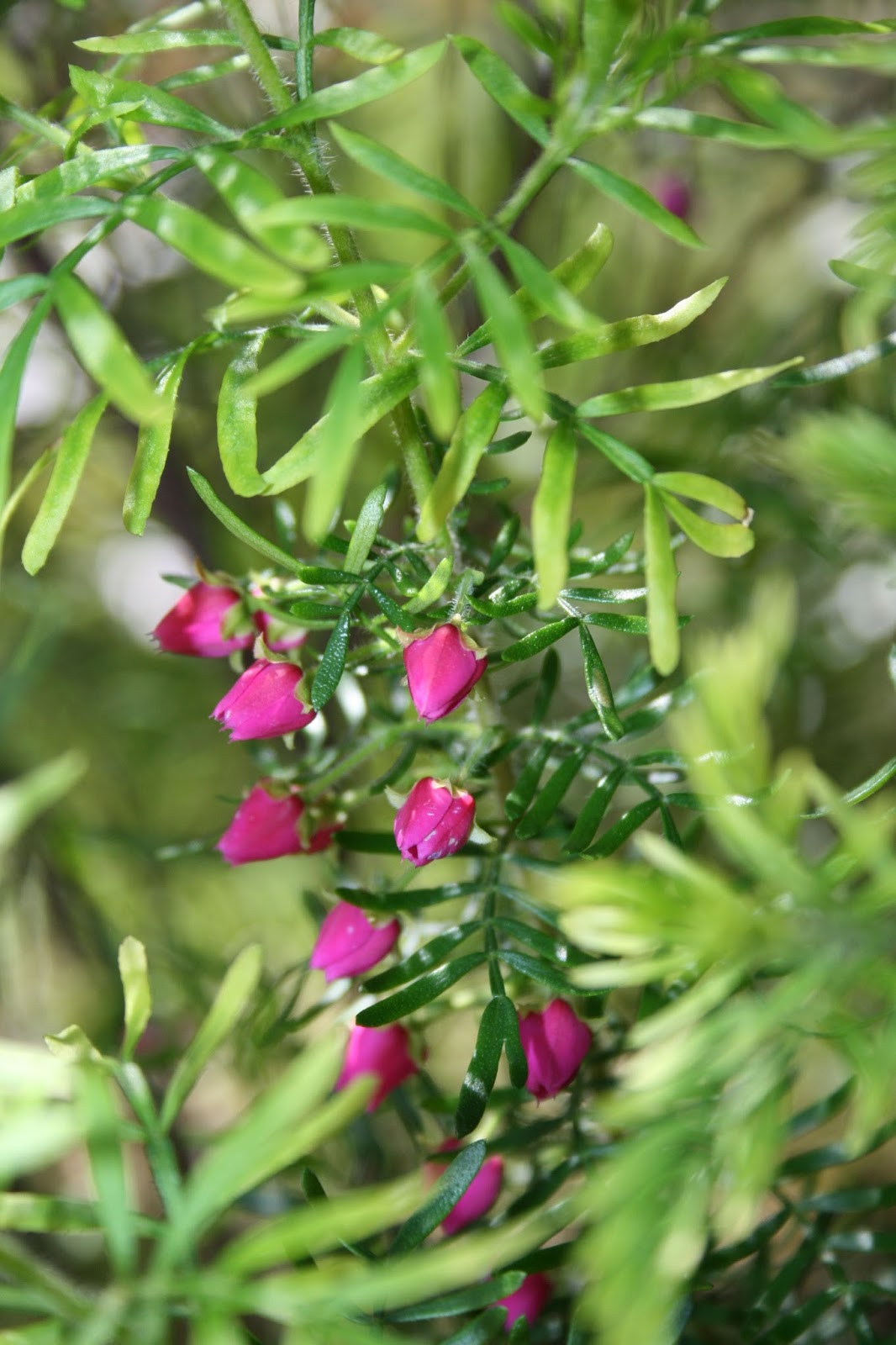 Boronia molloyae © Mike Rumble.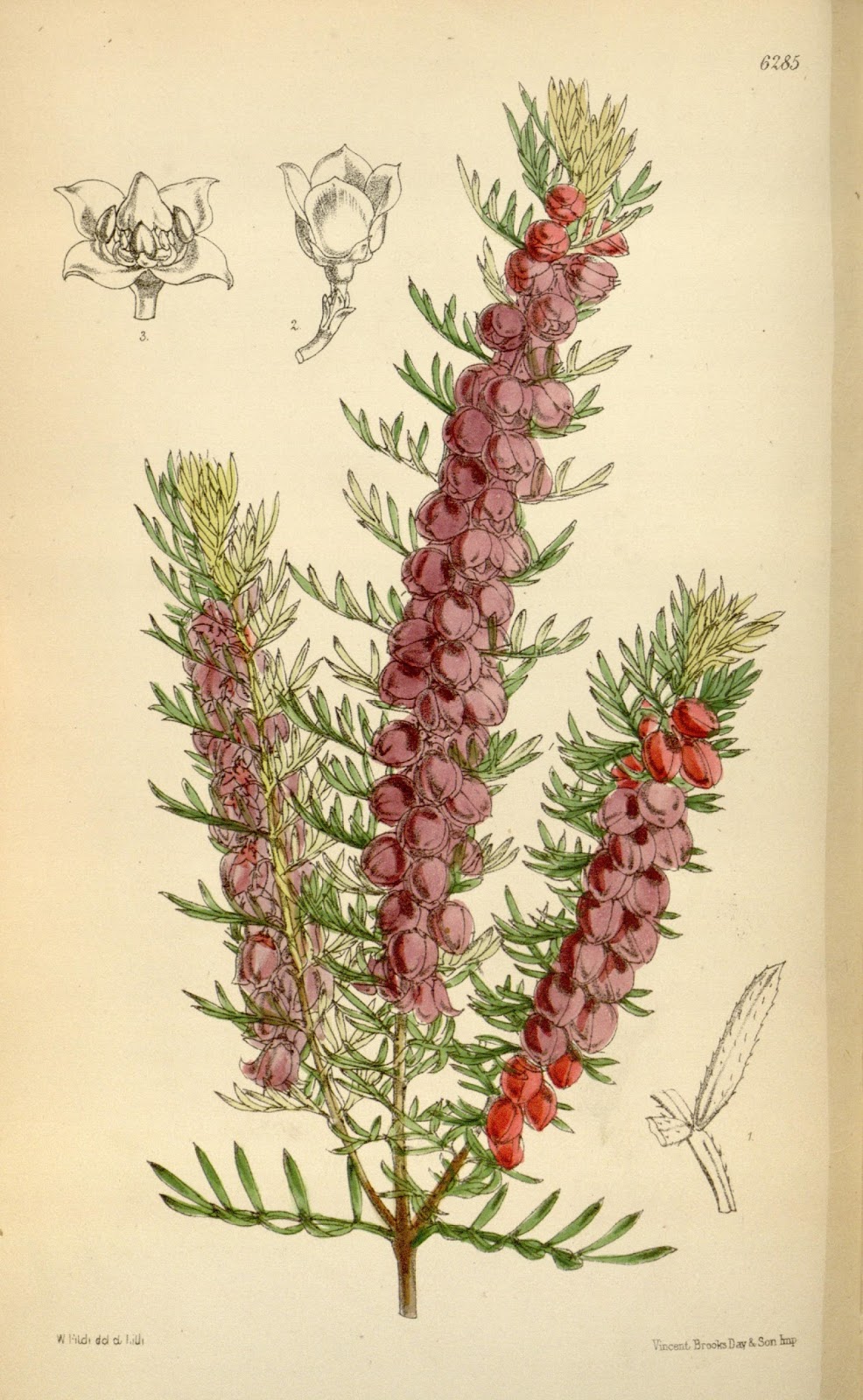 Boronia molloyae. Curtis's botanical magazine. v. 103 (1877). http://biodiversitylibrary.org/page/464860.
You can learn more about Georgiana Molloy on these resources from Bernice Barry:
i.  Letter books of James Mangles. 1839. JS Battye Library ACC 479A
ii.  Ibid.