What Makes a Citizen Science Project Successful?
BHL supports a variety of crowdsourcing, or citizen science, initiatives that allow our community to help enhance our data, making it easier for scientists, researchers, educators, students, and others around the world to discover BHL content and use it to support scientific, conservation, and historical research. These initiatives include Flickr image tagging, transcription, image description via Science Gossip, and games that help improve our OCR.
But what motivates a citizen scientist to volunteer their time on a crowdsourcing project? How do they discover new projects or get support while tackling a challenging question? What can we do to keep our communities engaged and interested in our projects?
These are questions that any institution or organization that supports crowdsourcing activities might ask. Here at BHL, we figured the best way to get some answers was to ask our citizen scientists. We decided to start with one of our most dedicated volunteers, Siobhan Leachman.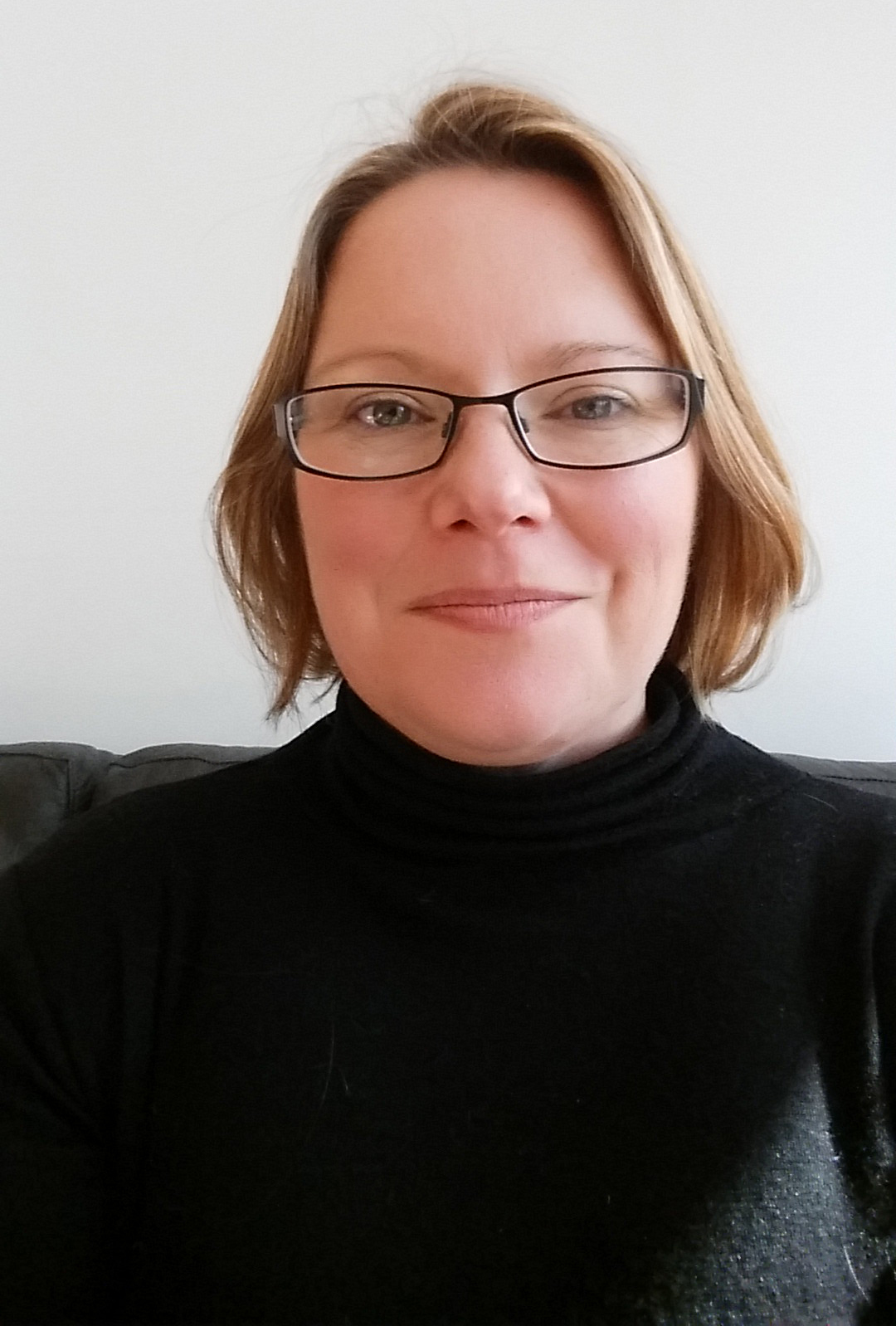 Siobhan Leachman.
Siobhan lives in Wellington, New Zealand. She initially trained as a lawyer, but became interested in crowdsourcing and citizen science after she decided to stay home to raise her children. About two years ago, her sister, who works in a museum, introduced her to the Smithsonian Transcription Center, which offered just the sort of challenge that Siobhan was looking for.
At the time, the Transcription Center was still in its beta phase, and at first, Siobhan's activity in the project was occasional. Then, Vernon Bailey's field books were added to the site, and that all changed.
"I became hooked," Siobhan enthused. "I helped transcribe the field book in about three days. I loved his spare writing style, his drawings and occasional lyrical prose mixed in with unfamiliar North American species names that forced me to investigate further and in turn learn about various birds and animals. His writing was also quite an intellectual puzzle that I found fun to solve."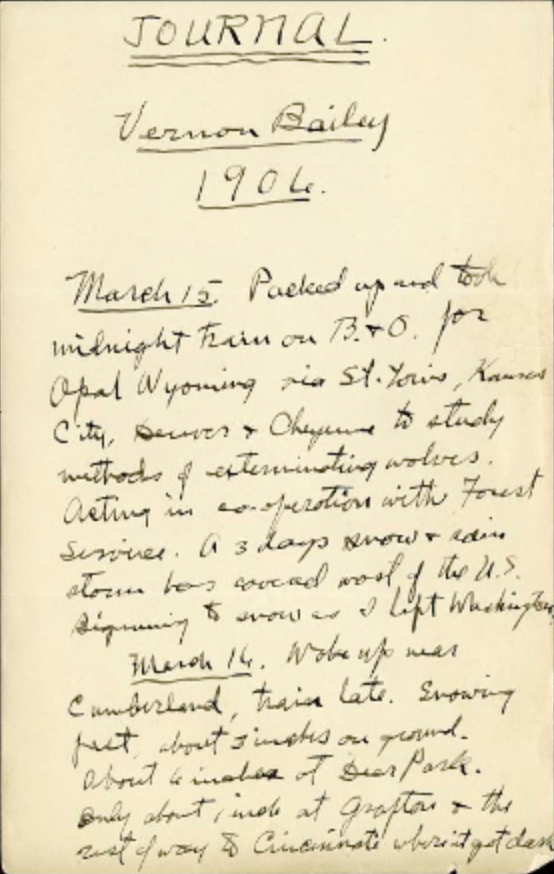 "JOURNAL KEPT BY BAILEY ON FIELD TRIP TO WYOMING AND NEW MEXICO, MARCH 15-JUNE 1906." Smithsonian Institution Archives. Smithsonian Transcription Center. https://transcription.si.edu/project/6656.
For the next six months, Siobhan worked exclusively on the Transcription Center. The variety of projects (including bumblebee labels, field books, and astronomy logbooks), the inviting and lively conversations among participants on social media, and the opportunity to provide input on improvements to the site (which was still in its beta phase), continually sparked her interest and nurtured a sense of community and teamwork.
Then one day, an "unassuming log book on Cacti written by Joseph Nelson Rose," led Siobhan to expand her crowdsourcing activities. The log book included a list of people who collected specimens for Rose, and Siobhan was surprised at how many women were listed. Research on one of them, Charlotte Cortlandt Ellis, led her to the JSTOR Global Plants database, where the record for Ellis was lacking a death date. Siobhan emailed JSTOR with the information, the database was updated, and the Transcription Center, delighted by the links and connections that the transcription projects were inspiring, highlighted the work in a blog post.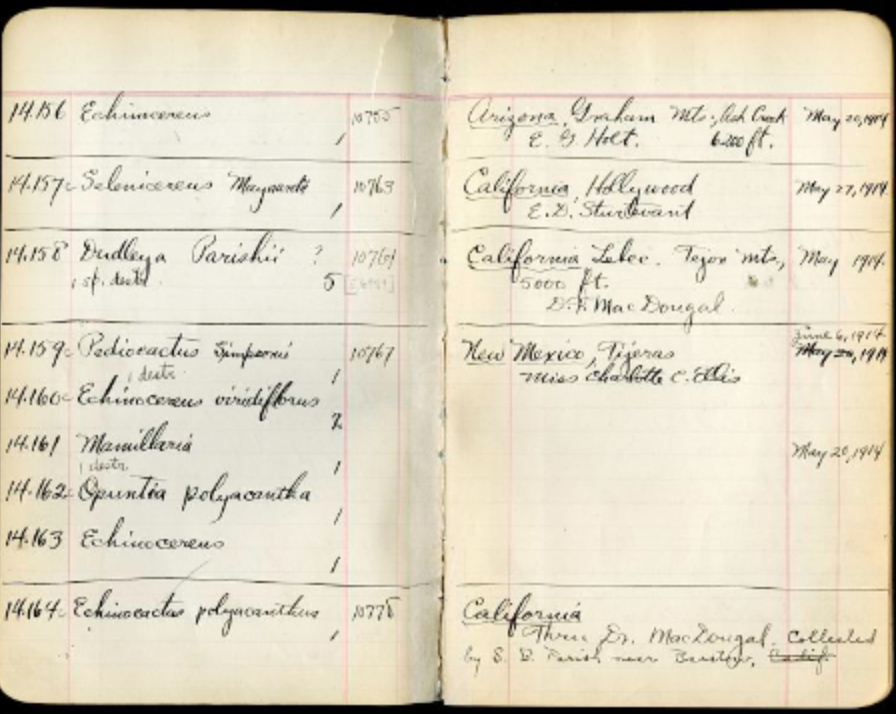 Rose's log book, containing mention of Charlotte Cortlandt Ellis. ROSE, CACTI, 1909 – 1917. Smithsonian Institution Archives. Smithsonian Transcription Center. https://transcription.si.edu/project/6712.
"I found this positive reinforcement very gratifying and inspiring," explains Siobhan. "I continued to research other women listed in the project and in the process started to realize that these amazing botanists were frequently overlooked. I also realized that few if any had a presence or mention in one of my main 'go to' sources of information – Wikipedia. So I began the journey of learning how to edit Wikipedia by focusing on writing articles about women I discovered via this project [see Siobhan's articles on Charlotte Cortlandt Ellis and Rose E Collom]."
It was social media that introduced Siobhan to BHL. By following the Transcription Center on twitter (@TranscribeSI), Siobhan became aware that BHL was seeking volunteers to add species name tags to images in Flickr, and that these tagged images would be added to the Encyclopedia of Life (EOL). She frequently used EOL to research species names when transcribing field books, and she knew that many species pages lacked images. She realized that, by tagging BHL images, should could help enhance one of her go-to sources for species information.
"My sister, Victoria, had been involved in machine tagging of the British Library images on Flickr and was able to get me up to speed as well as give me resources to assist in helping the BHL," explains Siobhan. "I started out being keen about the species shown but expanded my interest in the artists of the images. The quality of the scientific illustrations in these old texts amazed me, and again I fell into a world I knew little about but found absolutely fascinating as well as beautiful."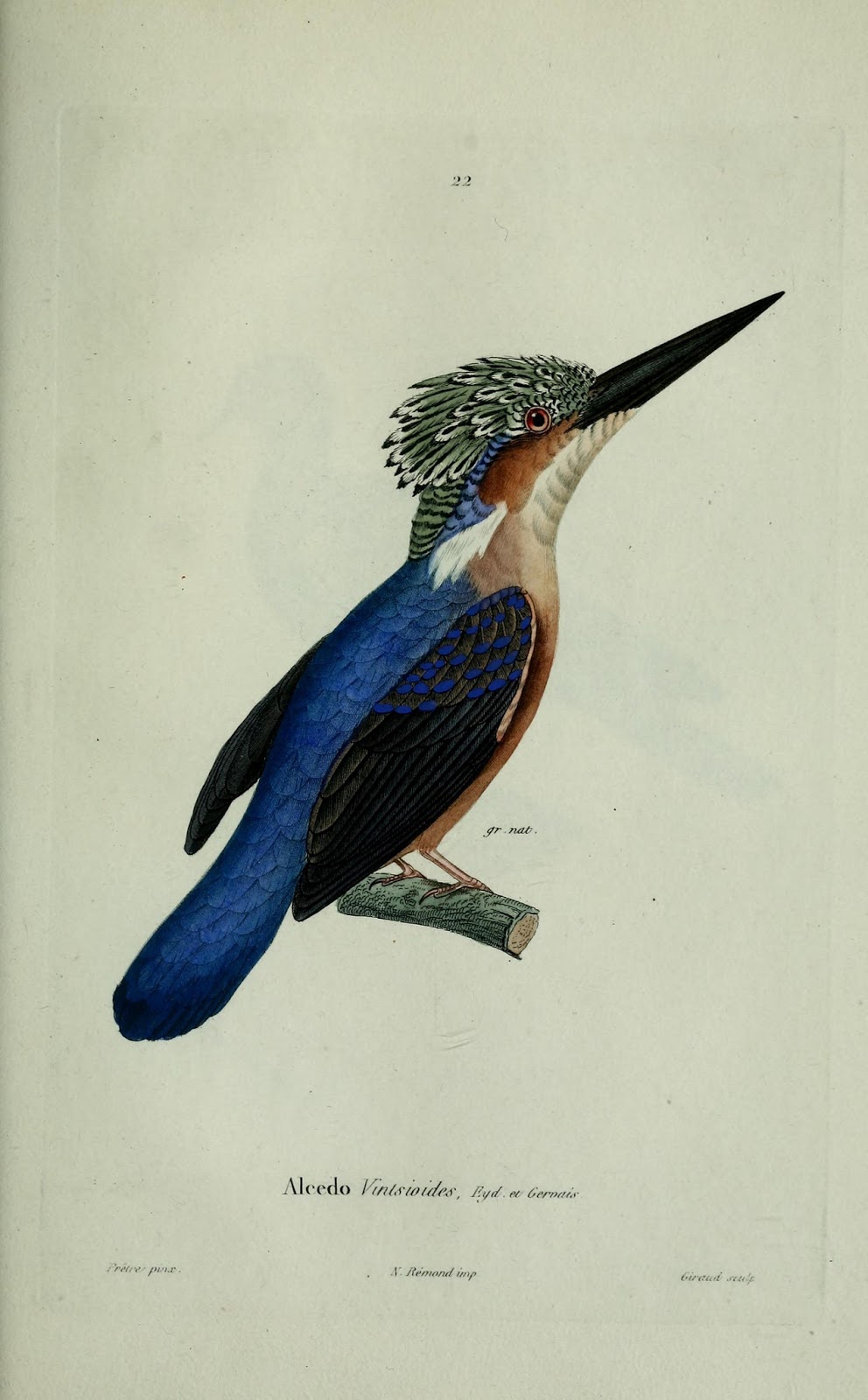 BHL Flickr image tagged by Siobhan. Alecedo vintsioides. Artist: Jean-Gabriel Prêtre. Oiseaux. 1839. http://biodiversitylibrary.org/page/33110158.
In addition to the Transcription Center and BHL Flickr image tagging, Siobhan also participates in several Zooniverse projects, including BHL's Science Gossip, the Atlas of Living Australia's DigiVol transcription site, and several local Wellington initiatives, including Nature Watch, the New Zealand Garden Bird survey and the Great Kereru Count.
Social media is the primary way that Siobhan discovers new projects; she follows a variety of organizations on Twitter and Facebook. She also subscribes to mailing lists for institutions she's interested in, and relies on her network of fellow citizen scientists to alert her to new opportunities and developments.
Social media is also a critical source of support when she has questions. By reaching out to the organizations hosting the citizen science projects on Twitter or via the projects' forums, or asking for help via Twitter from her network of friends, Siobhan is able to get answers to even her toughest questions. As such, she emphasizes that developing a strong social media strategy is important for crowdsourcing success. The strategy should involve easy and frequent communication that encourages input from volunteers, welcomes new participants, and highlights volunteer contributions.  Furthermore, she believes institutions should facilitate community building and encourage conversations amongst participants. Such networks are not only vital sources of support, but can also be very rewarding.
"One of the most beneficial but unforeseen consequences of me volunteering for the Smithsonian Transcription Center are the friends I have made the world over who enjoy the same hobby as I do," affirms Siobhan. "They have and continue to enrich my life in numerous ways."
Forging and fostering friendships with like-minded people is a major motivator for Siobhan. But what else motivates her to participate (and keep contributing to) a particular citizen science project?
"I want to be entertained, interested and learn something new," divulges Siobhan. "I also want to feel like I'm contributing to the greater good and, in my small way, to the progression of science in general. I'll keep working on a project if I believe it is worthwhile and interesting. I tend to be one of those people who finish what they start, so task completion is a motivation in itself.
"I also swap and change what I do depending on how I feel. Variety really is the spice of crowdsourcing. If I really want to concentrate and create, I'll research and write a Wikipedia article. If I'm watching TV and want a relatively easy task, I'll review bumblebee specimens. When I want to do something a bit more visually interesting, I'll machine tag for BHL or contribute to projects like Science Gossip or Snapshot Serengeti on Zooniverse. And if I come across something that interests me such as a new artist or collector, I'll head off researching and emailing organizations to hopefully make connections that aren't easily obtained via a basic Google search."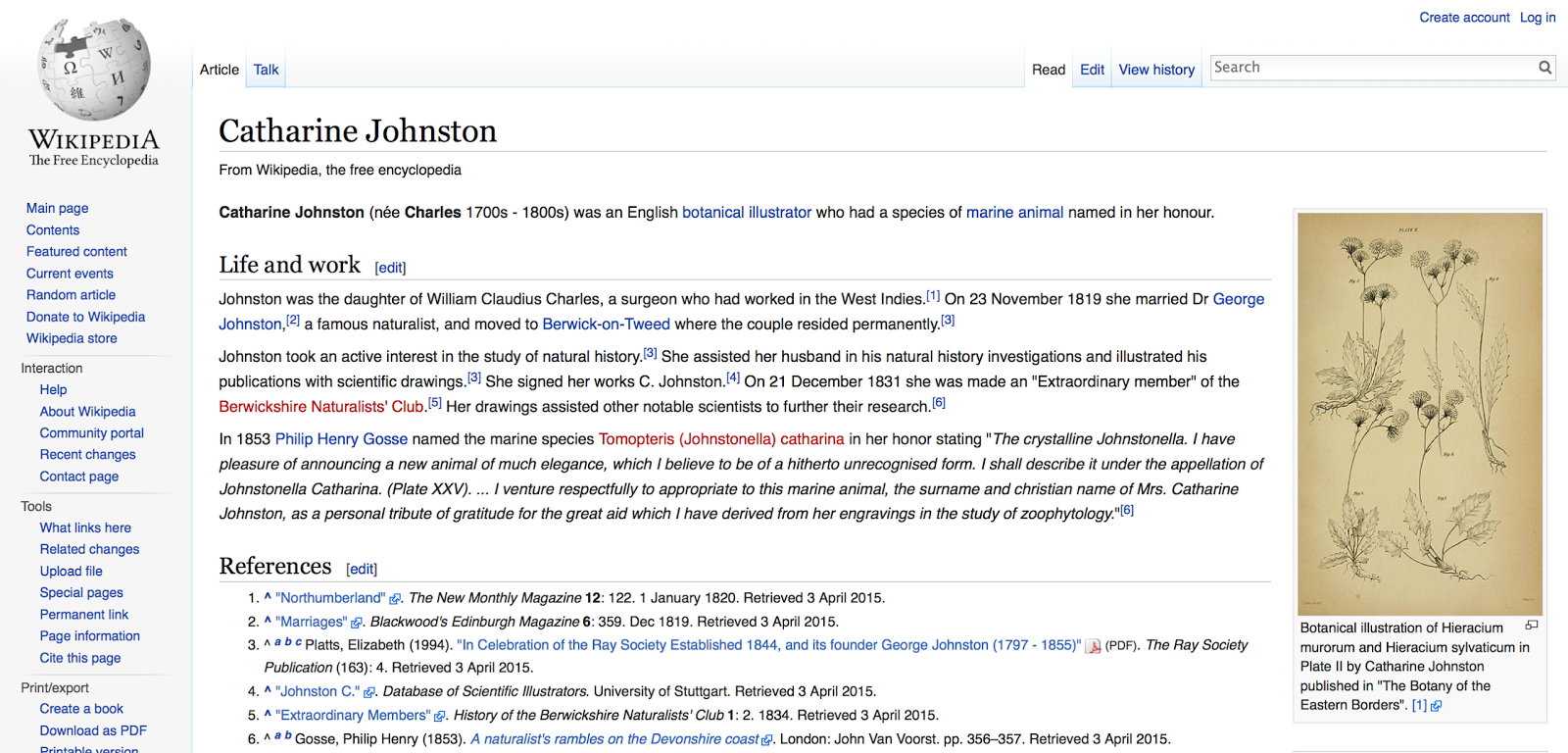 Catharine Johnston. Wikipedia page created by Siobhan. https://en.wikipedia.org/wiki/Catharine_Johnston.
For Siobhan, the biggest challenge to crowdsourcing is the immensity of the task and the limited time she has to commit to projects. While she is energized by the discoveries made possible by unlocking the data contained in field books or specimen labels, and how connecting this often disparate data together allows for powerful new insights into questions related to, for example, extinction or invasive species, the reality of the amount of work to be done is daunting.
"So much to do, so little time, is my mantra," admits Siobhan.
But while there is much to do, the generosity of citizen scientists like Siobhan allows organizations the world over to consistently chip away at the work – work that may not ever get done otherwise.
We figured that someone who had dedicated so much time to citizen science initiatives probably had a pretty good idea of how they would design one if given the opportunity. So we asked Siobhan what her ideal project would be.
"My ideal citizen science project would entail everything that I do already but all in one place," reveals Siobhan. "It would be like a tail to nose (so to speak) project, where people could collect data on a particular subject, link that data, undertake research to obtain further data to link to the subject being crowdsourced, transcribe data relating to the subject, add images, maps etc. so that the end result would be the ability to have access to everything ever collected or known about the subject. And it would all be open access i.e. unrestricted access and unrestricted reuse for anyone, anywhere. This would result in artists, scientists, historians etc. the world over reusing the information to create new and wonderfully unforeseen ways of interacting with that knowledge. Now that I think about it, it sort of sounds similar to my ideal version of the Internet."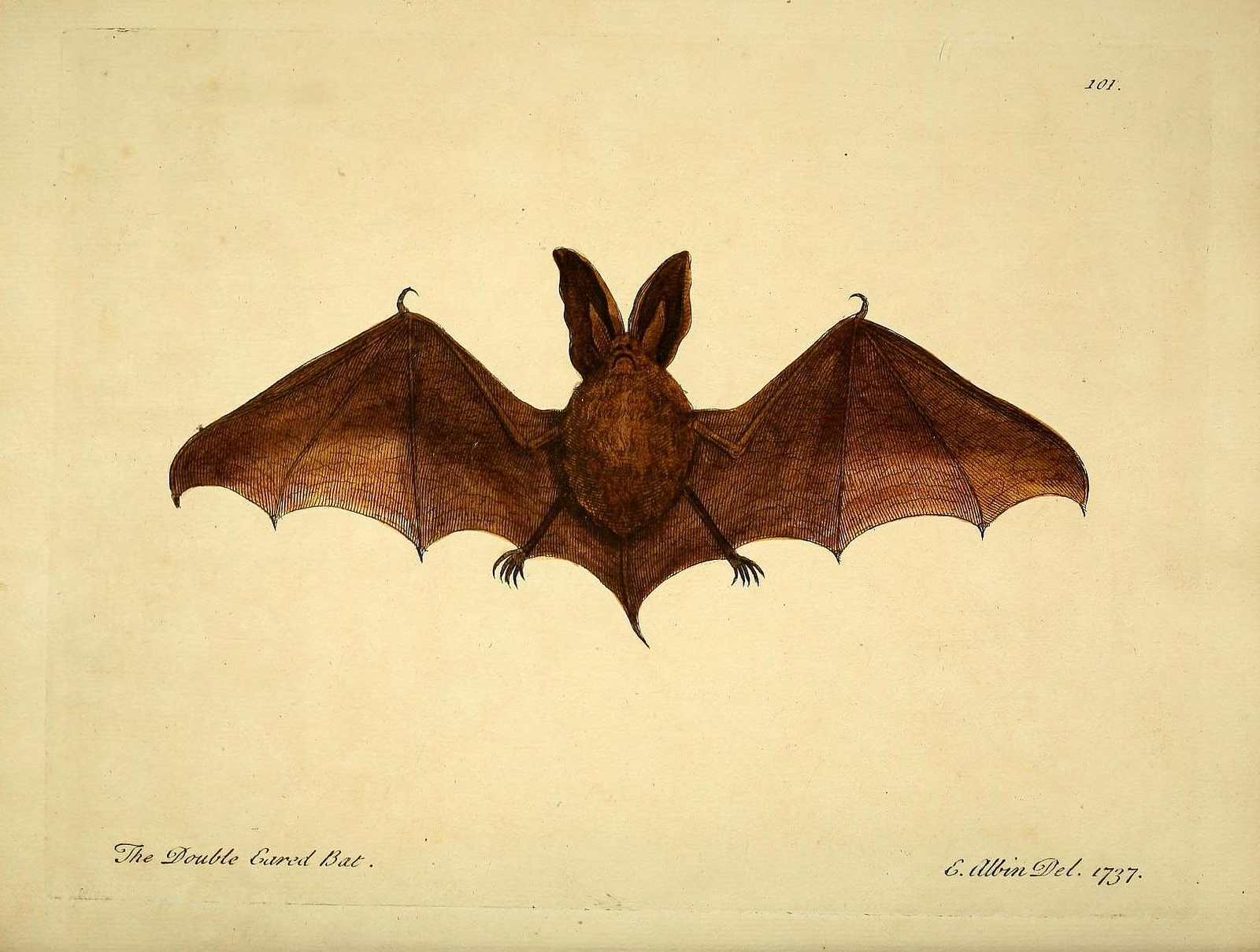 BHL Flickr image tagged by Siobhan. Artist: Plecotus auritus. Eleazar Albin. A natural history of birds. 1731-38. http://biodiversitylibrary.org/page/41131200.
We think that sounds like a pretty awesome aspiration, and hope that, as we continue to forge new partnerships and collaborations, we can all work towards that connected, open, and discovery-inspiring vision. And what will be the key to the success of such a project? An environment that offers a variety of activities, acknowledges and positively reinforcing the work of its participants, and facilitates active communication and community development.
And that's the kind of environment we hope to create.