Supporting Historical Paleontological Research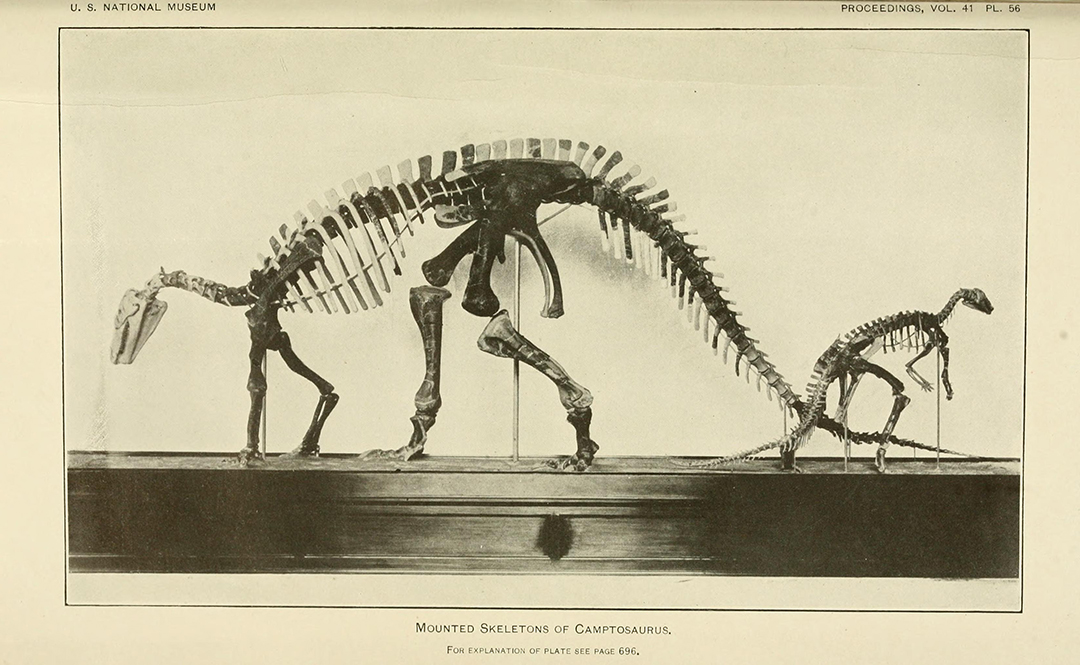 World's first large mounted Camptosaurus skeleton at the National Museum of Natural History. Proceedings of the United States National Museum. v. 41 (1912). Digitized by Smithsonian Libraries. http://biodiversitylibrary.org/page/29866417.
In 1911, the Smithsonian Institution debuted the world's first large mounted Camptosaurus skeleton at its newly-opened Natural History building. The display featured two specimens erected side-by-side, one identified as Camptosaurus nanus and the other as Camptosaurus browni.
Camptosaurus, whose name means "flexible lizard," was a plant-eating, beaked dinosaur that lived during the Late Jurassic period. Both Smithsonian specimens were uncovered at a quarry near Como Bluff, Wyoming. The smaller of the specimens, dubbed C. nanus, was collected in 1882 by William Reed as part of a collecting expedition funded by the United States Geological Survey and under the technical direction of famous paleontologist Othniel Charles Marsh.
Marsh is well-renowned for his many contributions to the field of paleontology, which include discovering a plethora of fossil animals and naming a multitude of dinosaur genera including Camptosaurus. He is also notoriously remembered for his longstanding conflict with fellow paleontologist Edward Drinker Cope – a conflict that came to be known as the Bone Wars. The intense rivalry between the two men spanned decades as each undermined, ridiculed, and even sabotaged the work of the other in a struggle for scientific dominance.
The C. nanus fossil was originally accessioned into the collection of the Yale Peabody Natural History Museum, where Marsh was the Curator of Paleontology, until, after Marsh's death in 1899, it was transferred to the Smithsonian in compliance with legislation regarding objects collected for, or whose collection was funded by, the US government. The fossil, which was cataloged as USNM 2210, was then prepared and mounted by Norman H. Boss in 1911 alongside the larger C. browni specimen. The mounts are detailed in a 1912 publication by Charles W. Gilmore. Interestingly, the specimens are now known to represent the juvenile (previously C. nanus) and mature (previously C. browni) stages of a single species, C. disbar.
Between 2004 and 2008, the Camptosaurus fossils were taken off display to allow for repairs and the creation of casts that may be re-exhibited with the reopening of the Smithsonian's Deep Time Hall in 2019. The authentic fossils will be placed in the museum's collections for research and conservation reasons.
The fascinating history of USNM 2210's journey from rock to museum is detailed by National Museum of Natural History (NMNH) volunteer Mark Lay in the article A Brief History of Camptosaurus, U.S. National Museum Specimen 2210.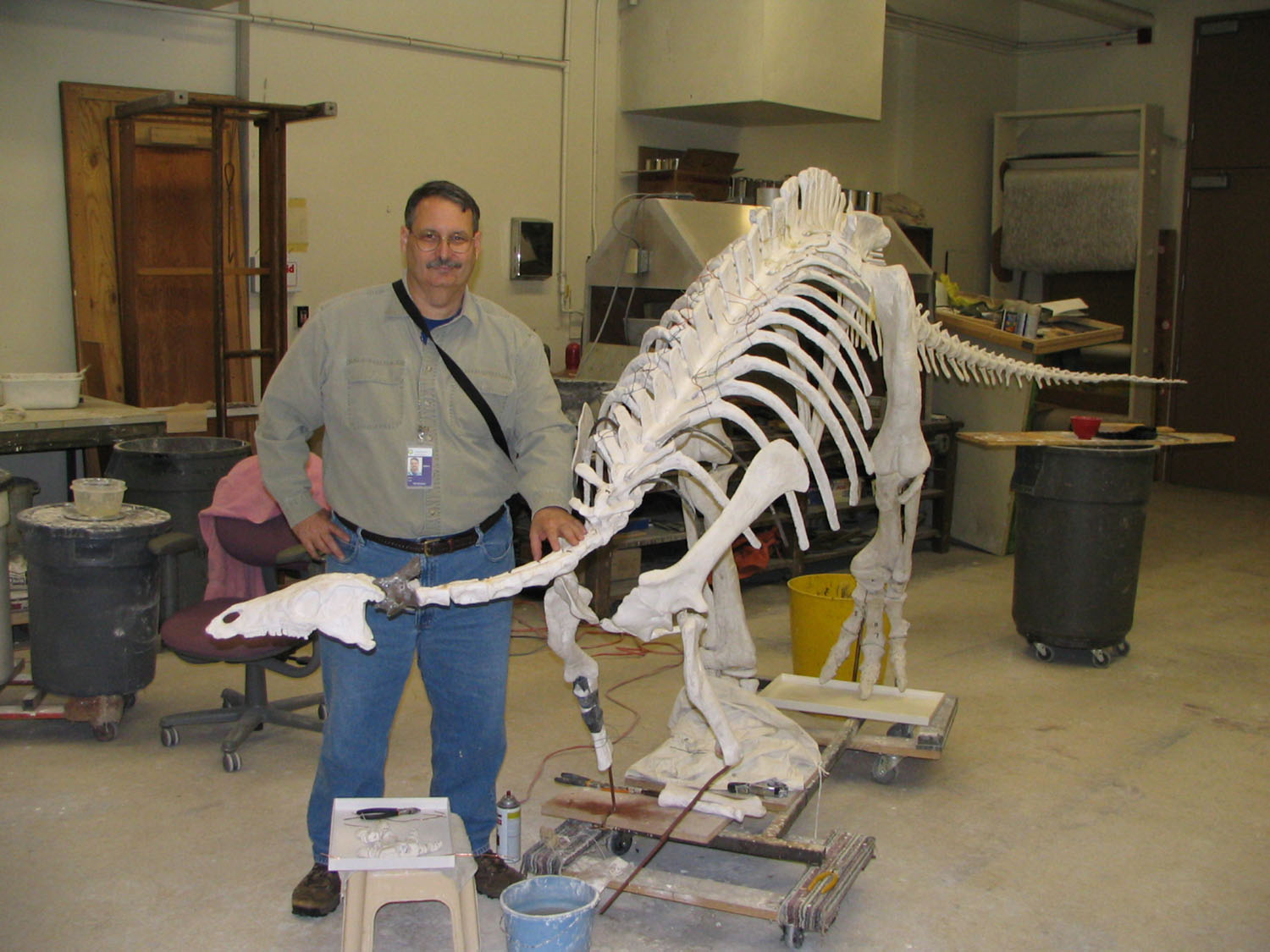 Mark Lay with Camptosaurus cast at the National Museum of Natural History.
Trained as a physicist and nuclear engineer, Mark began volunteering in the Vertebrate Paleontology Preparation Lab at NMNH in 2007 after retirement provided him more time to pursue personal interests like paleontology.
Mark's early volunteer activities in the Preparation Lab involved making molds and casts, primarily of USNM 2210. Since then, after moving to work with Department of Paleobiology Information Officer Tom Jorstad, he has transitioned to providing research support for requests from the public and outside researchers, as well as organizing and developing "who, what, when, where" metadata for paleontology-related photographic images in both Department and Smithsonian Institution Archives files. He also writes articles on various aspects of the Department's history and currently is researching the first 100 years of vertebrate fossil preparation in the Smithsonian.
The Biodiversity Heritage Library has proven to be an important resource for Mark's research, providing information both about items in the collection and historical documents regarding the history of the NMNH and other natural history museums around the US.
"I am a big fan of BHL," lauds Mark, who uses BHL up to 4-5 times a week. "I am able to spend only roughly one day per week in the NMNH. This means I can spend only a limited amount of time examining actual hard copy documents in the museum libraries. The fact that I can access many of the same documents via BHL means that I can also work from home – greatly increasing the amount of time that I can devote to my volunteer research. In addition, BHL's inclusion of documents from other museums and universities enables me to access documents that otherwise would be extremely difficult for me to obtain. BHL doesn't have everything I want, but I would be hard-pressed to do my research without it."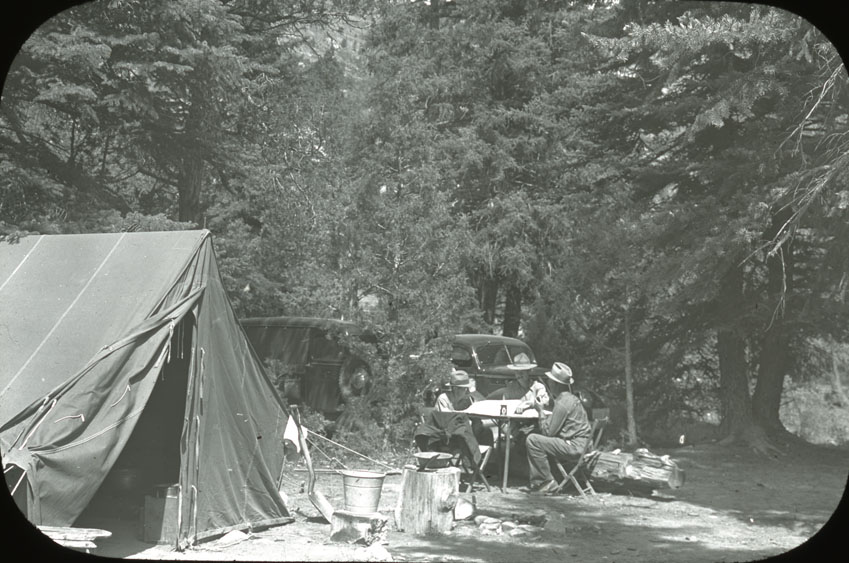 This image, SIA 2011-1418, shows USNM Curator of Vertebrate Paleontology Charles Gilmore's camp site near North Horn Mountain, Utah during his 1937 expedition. It appears as Figure 1 in Gilmore's 1938 publication, "Fossil Hunting in Utah and Arizona", Explorations and Field-work of the Smithsonian Institution in 1937, pp 1-4, available in BHL here: http://biodiversitylibrary.org/page/40734134 (Digitized by Smithsonian Libraries).
Currently, Mark is working on a series of glass lantern slides dating from the mid-1890s through the late 1930s, now being digitized by the Archives and possessing limited metadata. BHL has been a valuable resource for obtaining more information about the slides.
"Some of these slide images were originally used in various Smithsonian publications from that era, making positive identification of the people, fossil localities, and dates much easier," explains Mark. "More challenging have been the slides sent to the Smithsonian from a variety of museums around the U.S. So, our identification process has first concentrated on determining an initial 'guesstimate' of the curator, specimen, or collecting locality involved, then backtracking through relevant Smithsonian publications to see if the image appears. If not, we backtrack our guesstimate to publications from other 'most likely' museums. If all that fails, we dig deeper into the view or geology portrayed to see if we can find something similar and broaden the search to include relevant publications from other sources. Having so many of the Smithsonian and other museum publications from that time period in BHL has greatly sped up this process."
Before using BHL, Mark scoured the physical copies of these publications to find this information – a time consuming and sometimes frustrating process. This all changed when Martha Rosen, a librarian in the NMNH Smithsonian Libraries, introduced him to BHL.
"I discovered BHL 5 or 6 years ago when I was sitting in the museum reference collection reading through some old United States National Museum annual reports, and complaining that my eyes were getting ready to drop out from going through so much text all at once," recalls Mark. "Martha mentioned that I could get the documents on-line and gave me the BHL link. I downloaded a searchable PDF of the documents and went through them that evening, actually finding relevant information faster than I could with the hard copy."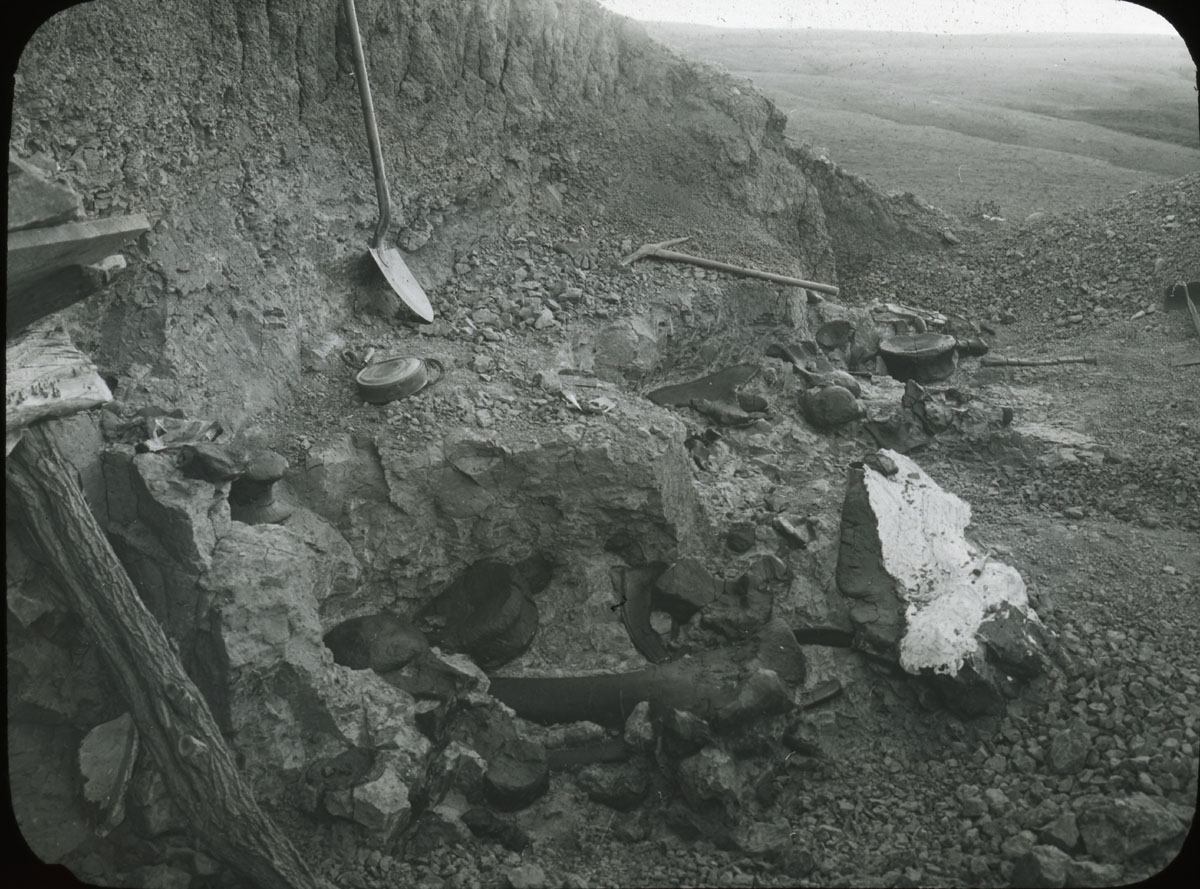 This image, SIA 2011-1429, shows Quarry 6 in the Freezeout Mountains of Wyoming, as worked by the Field Columbian Museum expedition of 1899. It was used as Plate XXX in the Field Columbian Reports, Volume 1, October 1899, included in the Annual Report of the Director to the Board of Trustees for the Years 1894-1900, available in BHL here: http://biodiversitylibrary.org/page/45723188 (Digitized by Smithsonian Libraries).
Mark's volunteer work with the Smithsonian has allowed him to pursue his passions, enhance collection information, and share wonderful insights into the history of the museum and fossil preparation.
"Paleontology has been a long-standing interest," Mark asserts. "To me, there is a fascination with bringing a fossil out of the rock encasing it and learning more about it. My interest in paleontological history is more recent, but the research has turned out to be no less rewarding."
Mark's articles, published through the Department of Paleobiology's website, provide him a means to share the wonderful knowledge and history he is uncovering. For instance, Mark's Camptosaurus article highlights the sometimes tangled path of a fossil from field to museum and provides insight into the changing philosophy of fossil preparation.
As Mark explains in his article, in the early 1900s, "preparators mounted a specimen and expected it to stay mounted forever – no provision was made for repair or reconstruction." So when preparing USNM 2210 back in 1911, "heavy copper wire and iron strapping were used as a support armature, with thinner copper wire used to secure the manus and pes elements. In general, these supports have held up well, with only slight corrosion damage, but some of the bolts and rivets securing the skeleton were drilled through real bone and secured with glue. As we have dismantled the specimen, this mounting technique has occasionally necessitated our cracking bones in order to remove them from the armature, and then making appropriate repairs."
Modern techniques accommodate the possible future need to dismantle specimens and allow for a more-realistic presentation of specimens. "The hard plaster we have used for the casts allows for support connections to be made through the simulated bone, reducing the amount of armature seen by the public and providing a more natural looking display. The philosophy is to make all changes reversible, while also ensuring repairs are both state of the art and long lasting," explains Mark in his article.
We're excited to see the ways that BHL has helped support Mark's valuable work at the Smithsonian. It's a great example of one of the many ways that BHL inspires discovery through free access to biodiversity knowledge.
__________________________
This post may contain the personal opinions of BHL users or affiliated staff and does not necessarily represent the official Biodiversity Heritage Library (BHL) position on these matters.