Early Land Plants and the Global Strategy for Plant Conservation
Bryophytes are green land plants that lack true vascular tissue. They encompass mosses (Bryophyta), hornworts (Anthocerotophyta) and liverworts (Marchantiophyta). Bryophytes form an important component in many ecosystems, offering microhabitats for an abundance of biodiversity including single-celled eukaryotes, protozoa, and many invertebrates (Gerson 1982). They also play an important part in the global carbon budget and can support climate change research by serving as "indicators of past climate change, [validating] climate models, and as potential indicators of global warming" (Söderström et al. 2016).
While bryophytes play such a critical role in their respective ecosystems, and while nomenclatural and auxiliary data for mosses is fairly strong, there has traditionally been a poor understanding of the full diversity and distribution of liverworts and hornworts. In the past, estimates of the number of liverwort species have ranged from 4,500-9,000 (a considerably wide range), while hornwort numbers are estimated to be in the low 200s (Söderström et al. 2016).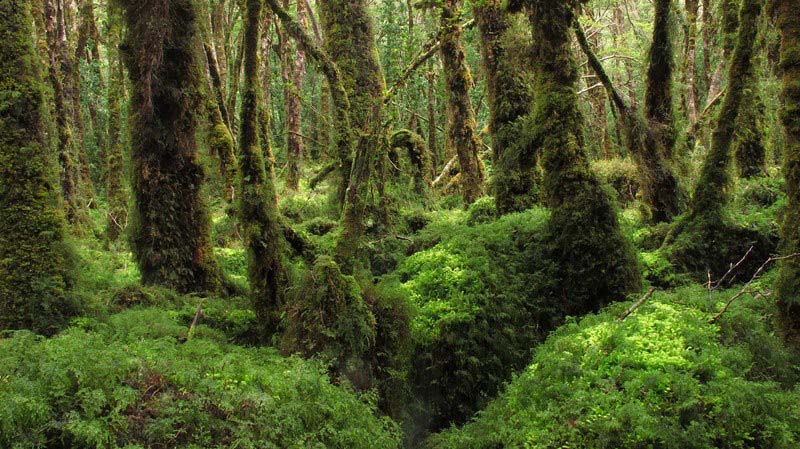 A forest carpet: Bryophytes (mosses, liverworts and hornworts) form a conspicuous component in many ecosystems throughout the world such as this forest in southern Chile. Image Credit: Juan Larrian.
Having a complete picture of the world's biodiversity allows us to understand the complexities of individual ecosystems, identify all of the contributors to those ecosystems and the roles that each plays, and thereby better understand the implications of losing one or more of those species. Such information supports the development of more holistic conservation strategies and provides policy makers with the information necessary to make informed decisions regarding research, development, and sustainability.
Recognizing this need to catalog Earth's biodiversity, in 2002 The Global Strategy for Plant Conservation (GSPC) set a target to develop "a widely accessible working list of all known plant species, as a step towards a complete world Flora" by 2010 (Lughadha 2004). Version 1.0 of The Plant List (http://www.theplantlist.org/), which aimed to be comprehensive for vascular plants and bryophytes, was released in December 2010. That same year, the GSPC's target was revised to include "an online flora of all known plants" by 2020 (Söderström et al. 2016). Although it was Darwin himself who more than a century ago voiced his intention to compile a complete catalog of all known plant species, such is yet to be realized.
To achieve the goal of a comprehensive online flora, working lists of plant taxa worldwide need to be created. The hornworts and liverworts, as described, were in particular need of such a working list, which, if created, could integrate dispersed taxonomic, systematic, and nomenclatural information and enable a better understanding of these plants' "diversity, patterns and processes" (Söderström et al. 2016).
On January 29, 2016, the first worldwide checklist of liverworts and hornworts was published through PhytoKeys, representing the culmination of an extensive effort led by Prof. Lars Söderström from the Norwegian University of Science and Technology. The checklist was produced through a collaboration of 41 taxonomic specialists and regional experts from 18 countries around the world. It provides a list and proposed systematic treatment for all known and currently accepted species of liverworts and hornworts along with citations for the first published scientific description of each. It includes 8,078 taxa (species and below) in 7,486 species representing 398 genera, 92 families, 20 orders and 7 classes from the two phyla. Each taxa is ranked by a three-star system indicating the level of confidence in the taxon's status and validity. The checklist is built on an underlying dataset which includes a "bibliography of 25,000 publications and approximately 39,000 published liverwort names (including "accepted" taxa, synonyms, invalid and illegitimate names)" (Söderström et al. 2016).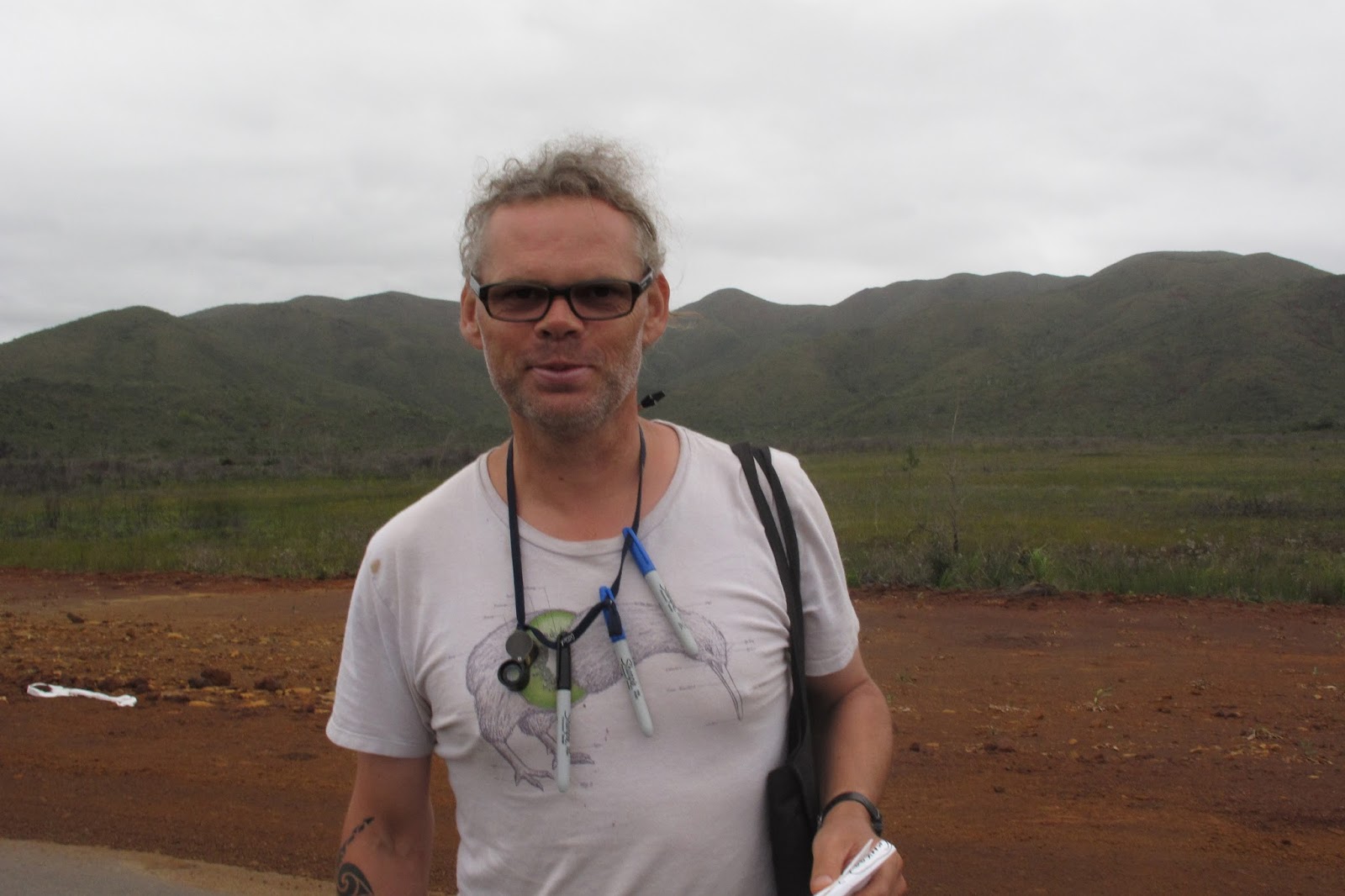 Dr Matt von Konrat, collecting in New Caledonia in 2012. Image Credit: Juan Larrian.
The bibliographic references contained in the checklist are a crucial "resource for liverwort and hornwort systematic and taxonomic research." It's a resource that BHL contributed extensively to. As the authors note, "A fundamental problem common to all nomenclatural indexing projects is the dispersed nature of the biological literature, some of which may date back over 250 years" (Söderström et al. 2016). Wherever possible, the checklist includes links to literature in BHL, which provides a central repository for much of the foundational taxonomic literature. Dr. Matthew von Konrat, co-author of the checklist, emphasized the significant role that BHL played in its development:
"Can I make BHL collectively blush with a list of adjectives describing how amazing BHL has been as a resource? I could write an entire diatribe, but very briefly, BHL has had a fundamental impact to our work and greatly accelerated our research efforts. BHL has saved us, literally, months and months of total hours of labour-intensive work. At the peak of when we were researching for the checklist, we would access BHL dozens of times a day."
Dr. von Konrat is the Head of Botanical Collections, Adjunct Curator, and McCarter Collections Manager (Bryophytes and Pteridophytes) at The Field Museum. His areas of interest include early land plants (bryophytes), plant evolution and taxonomy, outreach and citizen science. While plants have always been a passion of his ("I have early memories of walking through New Zealand rainforests admiring giant trees," he told us), his focused study in the field began with a bachelor's degree in botany in 1989, followed by a Masters studying ferns. "However," Matt confided, "My academic and professional life took a turn when I started my PhD in an enigmatic group of plants called liverworts back in 1996."
While Matt was generally aware of BHL as early as 2007, he became fully aware of its potential and usefulness in 2009, thanks to the passionate outreach efforts of staff at The Field Museum Library, including Christine Giannoni and Diana Duncan. Since then, Matt has become a strong BHL supporter, even speaking at our Open BHL Day during the 2015 Annual Meeting in Chicago at The Field Museum.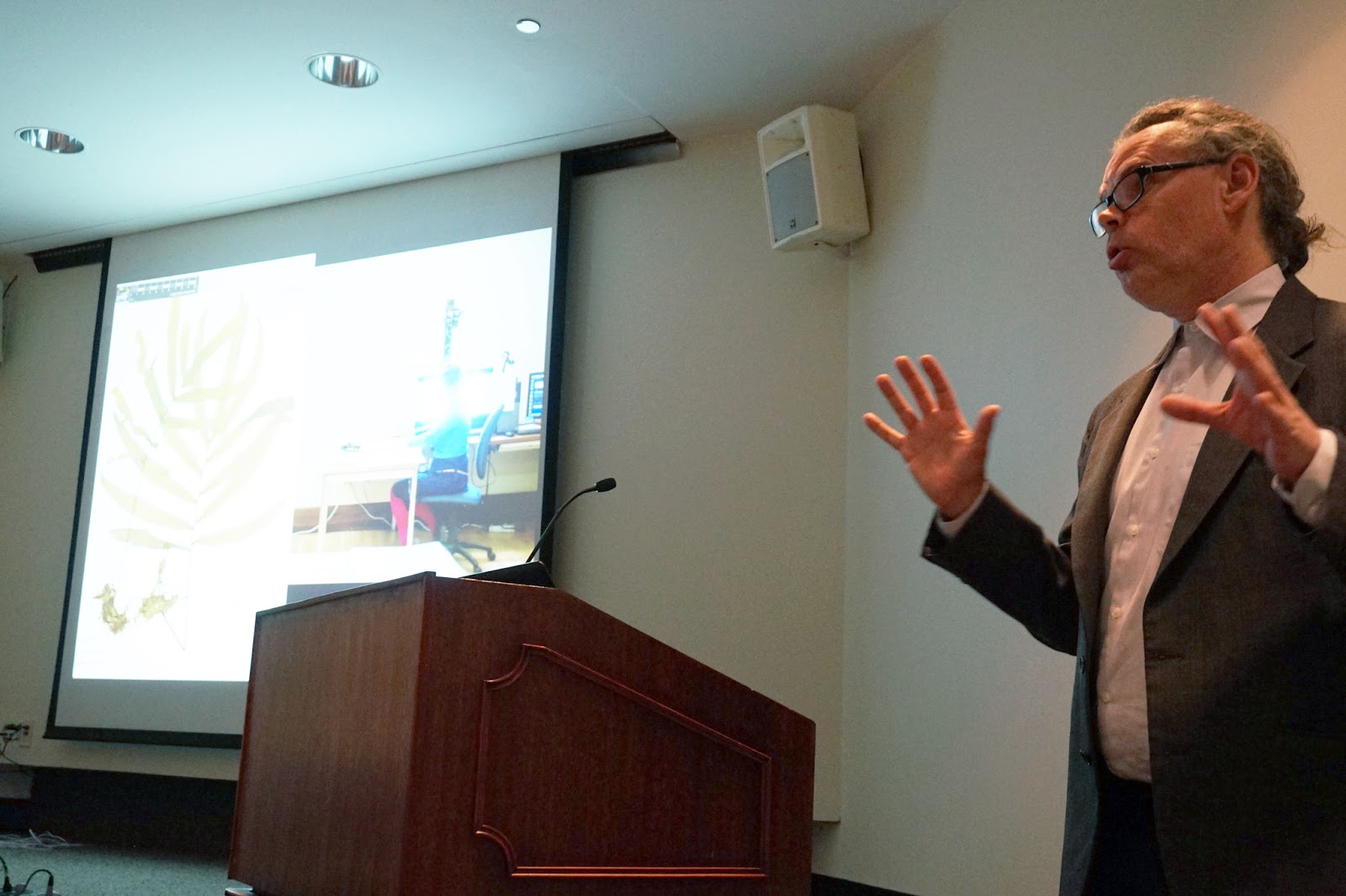 Dr. von Konrat speaking at Open BHL Day during the 2015 Annual Meeting in Chicago at The Field Museum. Image Credit: Martin Kalfatovic.
"People from all over the world have rapid access to publications and journals that otherwise they would never have access to," lauds Matt. "This is critical when we live in an age of a major extinction crisis and there are not enough taxonomists to describe and document biodiversity before many species become extinct."
His enthusiasm extends to a number of the features offered in BHL:
"The fact that this information is free and readily available, having the capacity to search text in PDF's, access OCR/text files, the friendly user interface, the connectivity between taxonomic names and publications, the external accessibility if books or articles have been scanned elsewhere etc. are just a few of [BHL's] outstanding features. I think it is important, in my enthusiasm for the technical elements, to not forget the people behind BHL that make this resource happen. This is everyone from our local librarians to the technological talent behind BHL."
Indeed, it's the dedicated team behind BHL that make it an invaluable tool for scientists like Matt and others around the world working to identify, describe, and perhaps even create checklists for Earth's biodiversity.
The World Checklist of Hornworts and Liverworts "was the first phase in providing a worldwide list of accepted names." Next, the authors plan "to establish a generally recognized online repository to augment the huge underlying informational auxiliary data of over 25,000 publications, almost 39,000 published names, and the over 700,000 geographical observations" (Söderström et al. 2016).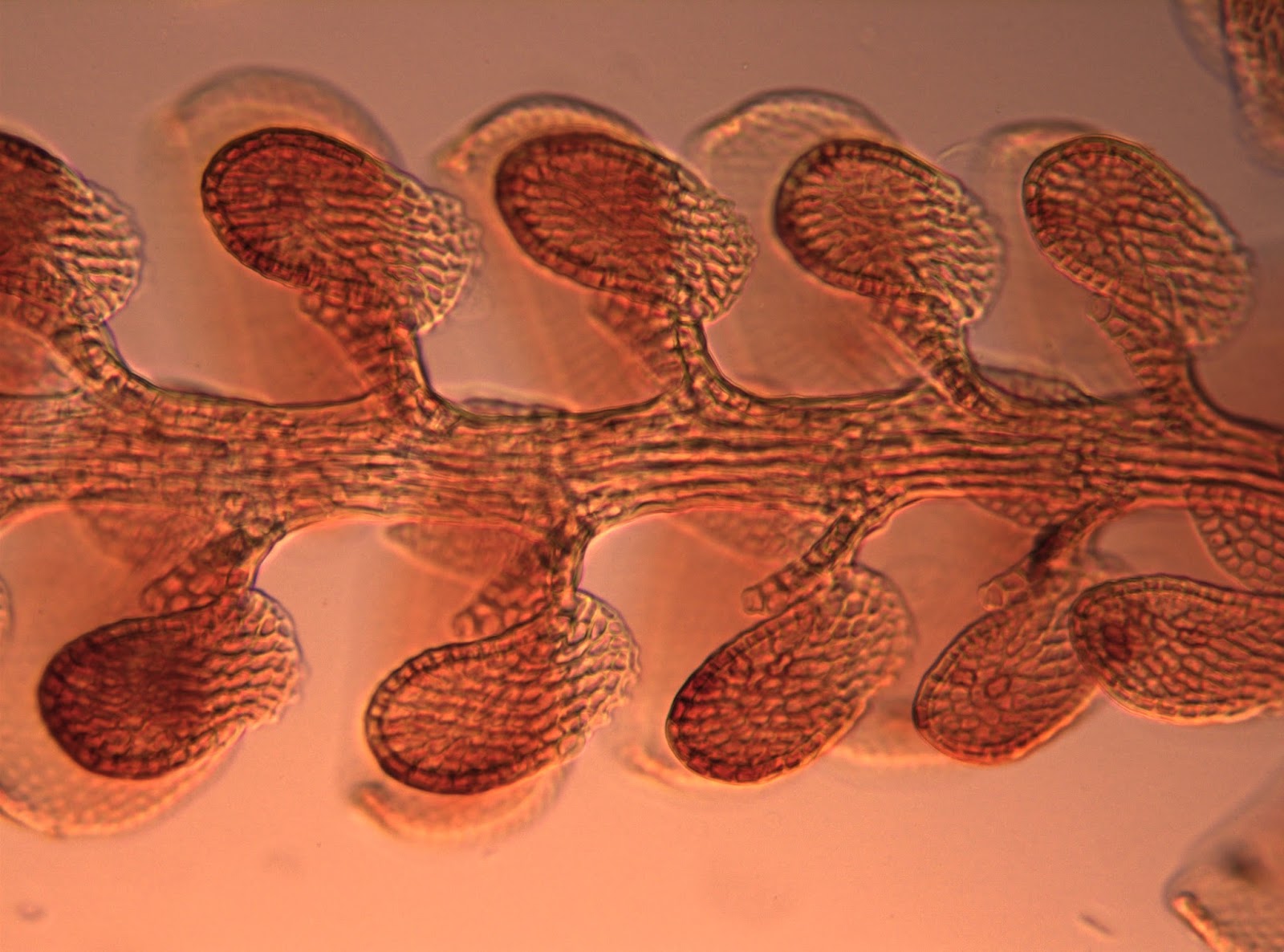 A microscopic image of an undescribed species of the liverwort Frullania collected by Dr. Peter de Lange in New Zealand. Image Credit: Matt von Konrat
While there is still more work to be done, this checklist represents a major milestone for liverwort and hornwort research and is an enormous accomplishment by the bryological community that not only involved the authors themselves, but many of their bryological colleagues, librarians, herbarium curators and staff who helped in countless ways, and many of the institutions that provided logistical or financial support including the Norwegian University of Science and Technology, The Field Museum, The National Science Foundation, and the Encyclopedia of Life. As the authors state in their publication, "The checklist has far reaching implications and applications, including providing a valuable tool for taxonomists and systematists, analyzing phytogeographic and diversity patterns, aiding in the assessment of floristic and taxonomic knowledge, and identifying geographical gaps in our understanding of the global liverwort and hornwort flora."
Furthermore, we're now one step closer to achieving "an online flora of all known plants" by 2020.
How can you help make a difference to the study of early land plants? Try your hand at MicroPlants, a citizen science initiative that asks you to measure microleaves in order to help scientists document and describe new species. The project is led by Matt and other scientists at The Field Museum and is hosted on Zooniverse – the platform which also hosts BHL's Science Gossip project!
References
Gerson U (1982) Bryophytes and invertebrates. In: Smith AJE (Ed.) Bryophyte Ecology. Chapman & Hall, London, 291–332. doi: 10.1007/978-94-009-5891-3_9
Lughadha EN (2004) Towards a working list of all known plant species. Philosophical Transactions of the Royal Society of London. Series B 359 (1444): 681–687. doi: 10.1098/rstb.2003.1446
Söderström L, Hagborg A, von Konrat M, Bartholomew-Began S, Bell D, Briscoe L, Brown E, Cargill DC, Costa DP, Crandall-Stotler BJ, Cooper ED, Dauphin G, Engel JJ, Feldberg K, Glenny D, Gradstein SR, He X, Heinrichs J, Hentschel J, Ilkiu-Borges AL, Katagiri T, Konstantinova NA, Larraín J, Long DG, Nebel M, Pócs T, Felisa Puche F, Reiner-Drehwald E, Renner MAM, Sass-Gyarmati A, Schäfer-Verwimp A, Moragues JGS, Stotler RE, Sukkharak P, Thiers BM, Uribe J, Váňa J, Villarreal JC, Wigginton M, Zhang L, Zhu R-L (2016) World checklist of hornworts and liverworts. PhytoKeys 59: 1-821. doi: 10.3897/phytokeys.59.6261