New Postage Stamps Featuring Images from the NYBG Nursery & Seed Catalog Collection
Today, January 29, 2016, the U.S. Postal Service released 10 new postage stamps featuring images from catalogs in The New York Botanical Garden's nursery and seed catalog collection.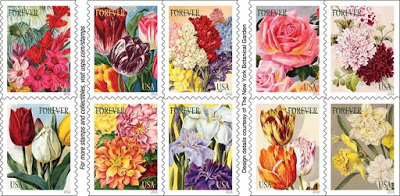 The Botanical Art Forever stamps featuring illustrations from nursery catalogs in The New York Botanical Garden's nursery and seed catalog collection.
The 10 Botanical Art Forever stamps feature illustrations from American nursery catalogs printed between 1891 and 1912. NYBG's nursery and seed catalog collection is one of the largest and most important collections in the United States. The collection and similar collections in other institutions are treasure troves of historical information for scholars and scientists studying a wide range of subjects, including the history of botany, horticulture, commercial agriculture, landscape design, plant exploration, graphic arts and publishing.
The flowers featured on the stamps include corn lilies, tulips, stocks, roses, petunias, dahlias, Japanese Iris, daffodils and jonquils. The artists responsible for the work seen on early nursery catalogs are mostly unknown, but thanks to these stamps, the catalogs, and ongoing work to digitize the catalogs and make them freely available worldwide, the incredible works of these artists live on.
You can find most of the catalogs featured in the stamps in BHL. Below is the list of catalogs featured on the stamps and, where available, the links to them in BHL. The copies in BHL were digitized by the U.S. Department of Agriculture, National Agricultural Library. The remaining catalogs will be uploaded to BHL by NYBG.
We're excited that so many letters will now be adorned with stunning botanical art thanks to the Botanical Art Forever stamps. You can browse over 20,000 seed and nursery catalogs contributed by both NYBG and other BHL partner institutions in BHL. Learn more about the importance of these catalogs in our Garden Stories campaign.