Lloyd Library and Museum
Over the course of the Expanding Access to Biodiversity Literature (EABL) project, contributing organizations have shipped material to Internet Archive scanning centers around the country. A few have scanned their own material, and a few more have used third-party commercial services. One EABL contributor did things a little differently.
Betsy Kruthoffer, Librarian and Rare Books Cataloger at the Lloyd Library and Museum, selected a number of important titles from the library's collection that were not in BHL. After weighing various scanning options, she got in touch with the digital lab at the Public Library of Cincinnati and Hamilton County (PLCH), which had done good work for a Lloyd patron the previous year (and, conveniently, is located right down the street). PLCH agreed to do the scanning, with the understanding that the digitized books would also be made available in a PLCH online collection.
Once the scanning was complete, Betsy considered loading all of the images onto an external hard drive and mailing it to Mariah Lewis, the EABL Metadata Specialist, in order to contribute the scans to BHL. After learning about Macaw (BHL's metadata and upload software), however, she decided to take a stab at the uploading herself–with great success. BHL's collection is richer thanks to her thorough work.
History of the Lloyd Library and Museum
The Lloyd Library began with three brothers: John Uri, Nelson Ashley, and Curtis Gates Lloyd. According to tradition, the first books in the library were Edward Parrish's A Treatise on Pharmacy (1864 edition) and George Fownes' A Manual of Elementary Chemistry, Theoretical and Practical (1864 edition). These books accompanied John Uri Lloyd, the oldest of the three, when he went to Cincinnati to become a pharmacist in 1864. His brothers soon followed after.
Eventually, the brothers joined together to form Lloyd Brothers, Pharmacists, Inc. John Uri's small library grew with the company; in 1901, it got its own building (it would move several times in following years), and in 1919, a trust was established to ensure that the library would continue and be open to the public. A new structure was erected in 1970 adjacent to the one that had housed the library for 75 years. This is where the library remains today.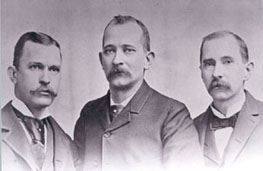 The Lloyd brothers. http://www.lloydlibrary.org/history/lloyd%20pharmacy.html.
The Lloyd Library has one of the preeminent North American collections related to pharmacology and natural products, but it covers many related subjects as well: botany, pharmacognosy, herbal and alternative medicine, horticulture, eclectic medicine (an herbal medicine school), and sectarian medicine (predecessor to homeopathy), among others.
Curtis Gates Lloyd, an avid mycologist, amassed a considerable herbarium, nicknamed the "mushroom museum." After his death in 1926, the botanical specimens were given to the University of Cincinnati, and the mushrooms went to the U.S. Department of Agriculture. A small collection of medicine bottles and pharmacy implements remains; these comprise the Lloyd Museum, which features permanent and rotating exhibits.
For more detailed accounts of the Lloyd brothers, their company, and the history of the Lloyd Library and Museum, visit the Lloyd's website.
Rare Books from the Lloyd Library
Of the titles digitized by PLCH, Betsy Kruthoffer considers one the most important: John Sibthorp's Flora Graeca, published in 10 volumes from 1806 to 1840. This monumental work contains nearly a thousand color plates of the flora of Greece as surveyed in the late 18th century by Sibthorp and Ferdinand Bauer, who illustrated them. Sibthorp himself never lived to see the printed Flora–he died in 1797 of an illness contracted on one of his trips–but he provided for its publication in his will.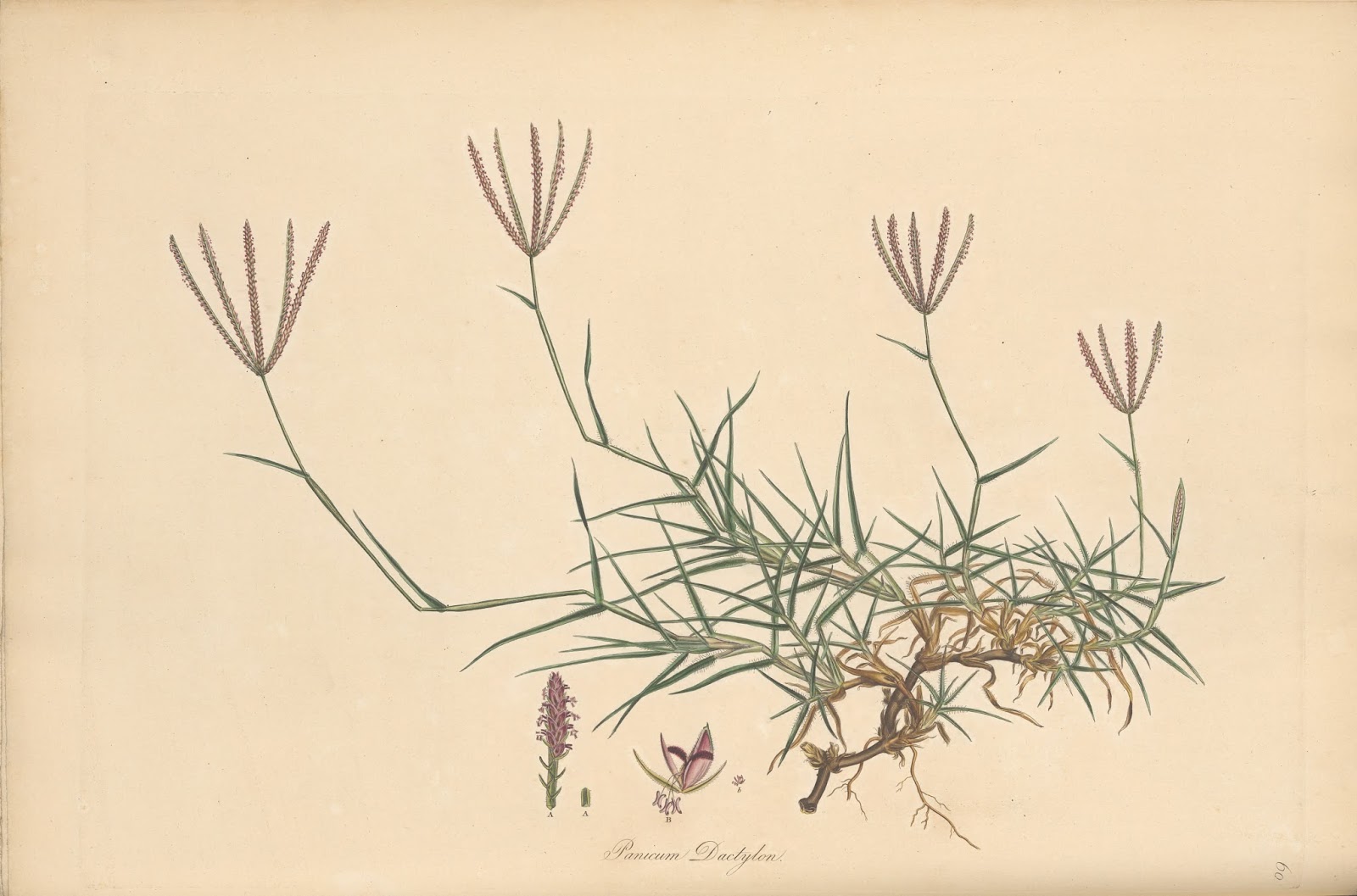 Sibthorp, John. Flora Graeca. v. 1 (1806). Contributed by the
Lloyd Library and Museum. https://biodiversitylibrary.org/page/54016367.
Betsy has recorded the fascinating story of how the Lloyd Library came to possess a first edition of the Flora Graeca, one of only 25 printed.
Another important title is Johann Kniphof's Botanica in originali, published in 12 volumes (1758-1764). The work uses a technique called "nature printing," which involves creating plates or engravings from direct impressions of actual plant specimens and using those plates to print images.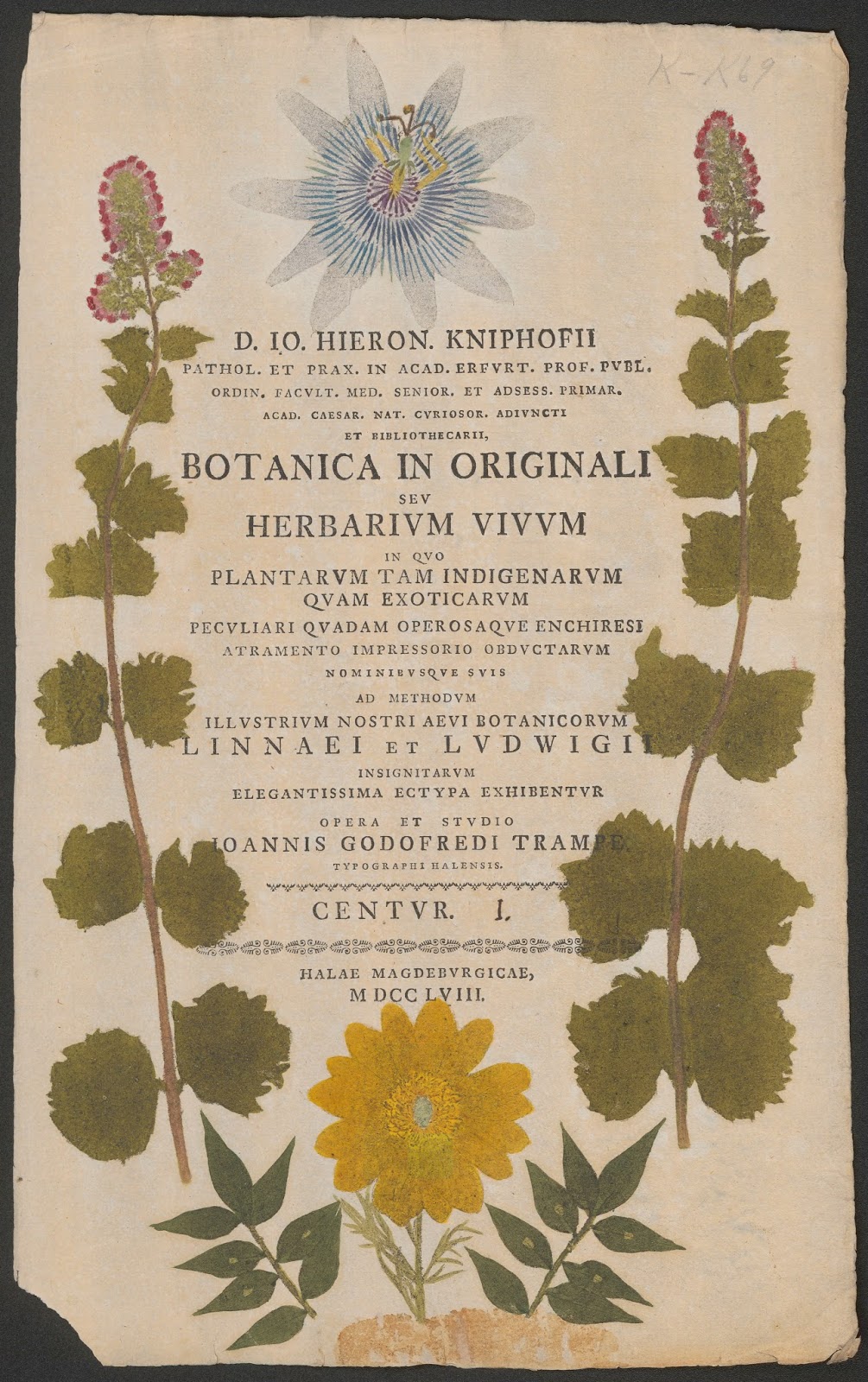 Kniphof, Johannes. Botanica in originali. v. 1 (1758). Contributed by the
Lloyd Library and Museum. https://biodiversitylibrary.org/page/53840216.
A third title, noteworthy for its illustrations (and its very long subtitle), is Timothy Sheldrake's Botanicum medicinale : an herbal of medicinal plants on the College of Physicians list : describing their places of growth, roots, bark, leaves, buds, time of flowering, blossoms, flowers, stiles, chives, embrio's, fruits, farina, colours, seeds, kernels, seed-vessels, parts used in medicine, preparations in the shops, medicinal virtues, names in nine languages : most beautifully engraved on 118 large folio copper-plates from the exquisite drawings of the late ingenious T. Sheldrake ; … To which is now added, his tables for finding the heat and cold in all climates that exotic plants may be raised in summer and preserved in winter (c. 1868).
Less an academic tome and more a physician's quick-reference herbal, the Botanicum medicinale is organized into single-page summaries of each plant, with engraved text around a colored illustration.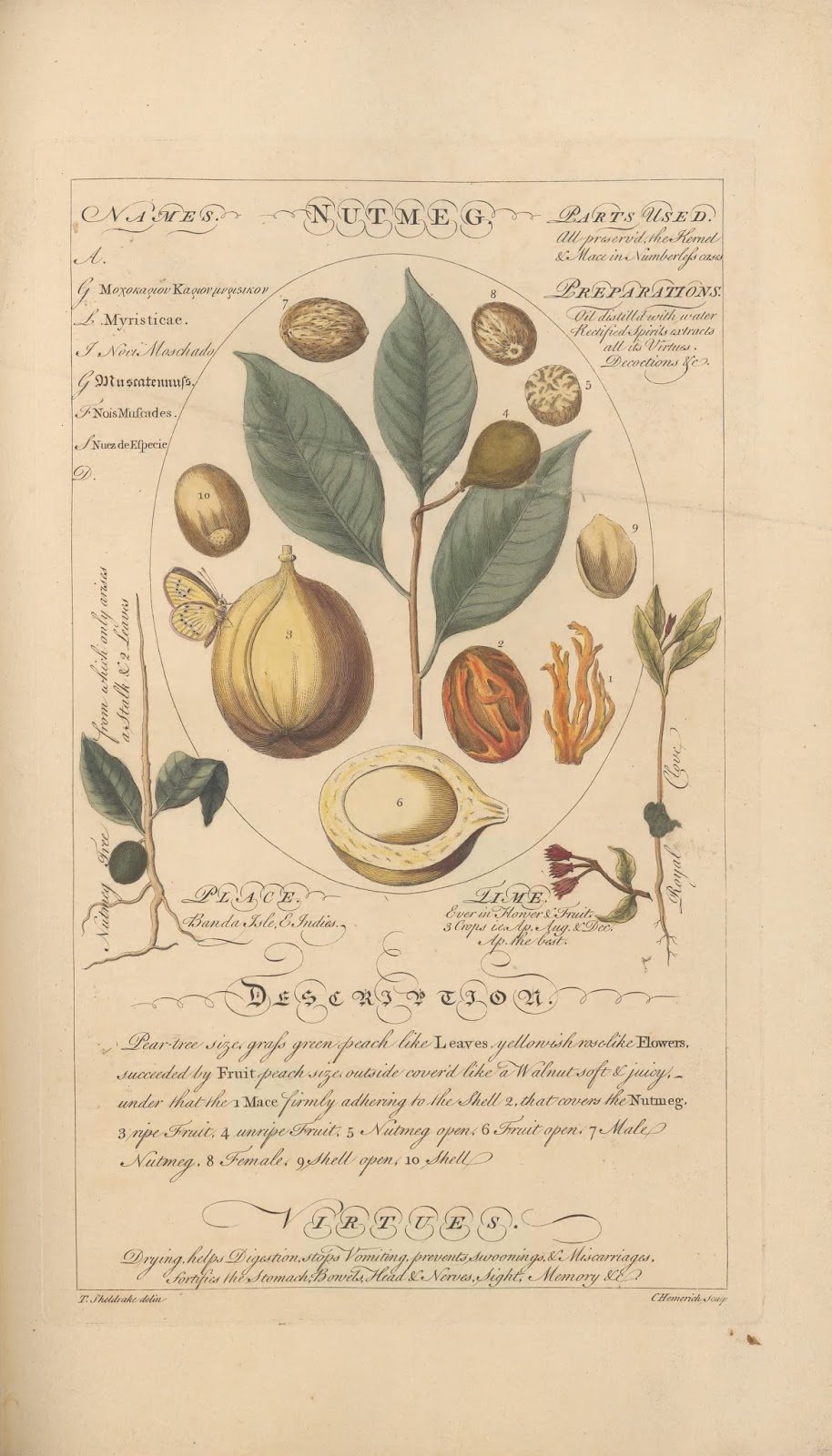 Sheldrake, Timothy. Botanicum medicinale. c. 1868. Contributed by the
Lloyd Library and Museum. https://biodiversitylibrary.org/page/53779797.
The complete list of titles submitted by the Lloyd Library to BHL:
Thank you to Betsy Kruthoffer, the Lloyd Library, and the Public Library of Cincinnati and Hamilton County for working with EABL to make these historic works available to everyone.