The Serendipitous Discovery of Susan Fereday: A Story about the Impact of Citizen Science
I love volunteering for the Biodiversity Heritage Library. I taxo tag images in the BHL Flickr account. This assists the use of these images by BHL as well as other institutions that use BHL content. It is also my favorite way of exploring BHL. I get a real thrill out of the serendipitous discoveries I make while tagging.
My most recent BHL adventure resulted from tagging an album of images from the boringly named but absolutely fabulous Botany of the Antarctic voyage of H. M. discovery ships Erebus and Terror in the years 1839-1843. Amongst the many images in this album was one of a particular species of seaweed – Nemastoma feredayae.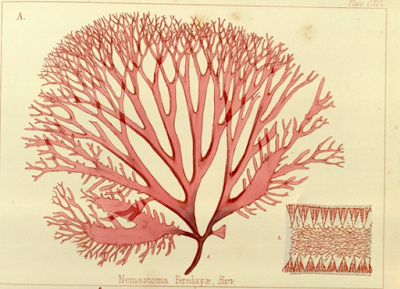 Nemastoma feredayae. Art by William Henry Harvey. The botany of the Antarctic voyage of H.M. discovery ships Erebus and Terror in the Years 1839-1843. http://biodiversitylibrary.org/page/28467702. Digitized by the Missouri Botanical Garden.
I tagged the image with the species name given, and then I attempted to confirm the current name of the seaweed. In doing so, I stumbled across the fact that the seaweed was named in honor of Mrs. Susan Fereday. Who was this mystery woman?
Unable to resist going down that rabbit hole, I googled her. I discovered that Susan Fereday emigrated to Tasmania, Australia from England in 1846. She was a talented artist. So talented, her artwork is now in the collection of the National Library of Australia. She concentrated on painting beautiful images of fauna and flora in and around the area where she lived.
She was also a keen collector of seaweed specimens. She corresponded with and sent specimens to one of the foremost experts in algae of the day, William Henry Harvey. Harvey in turn honored Fereday's contribution to the study of algae by naming two species after her. It was the image of one of those species drawn by Harvey that I had tagged in the BHL Flickr feed.
While researching Fereday, I was disappointed to see she did not have Wikipedia page. Being a keen Wikipedian, I decided to rectify this. While drafting her article, I realized that several sources had different dates as her birth date. I emailed the National Library of Australia via their "Ask a Librarian" service to ask them to help me confirm that their records were correct.
I received a fabulously researched reply from Damien Cole, one of their librarians. He discovered that the birth date confusion was due to Susan Fereday having a sister of the same name, who had died prior to our Susan being born. Fereday was actually born in 1815! As a result of this research, the National Library subsequently edited their records to give Susan Fereday her birth date, and I obtained a reputable citation supporting that information for Fereday's Wikipedia article.
The National Library of Australia has also shared the changes they made to their database with the Australian National Herbarium as well as Design and Art Australia Online. The Library even went so far as to contact the Encyclopedia of Australian Science to inform them of the Wikipedia article in the hope that that organization might also consider including Fereday in their website.
All of this resulted because the MBLWHOI Library (the Marine Biological Laboratory and the Woods Hole Oceanographic Institution Library) scanned the volumes on the Antarctic voyage of H. M. discovery ships Erebus and Terror and made them available to BHL. Because BHL added the images from those volumes to Flickr, I was able to tag them.
It just goes to show that when you mix citizen science with digitization and the ability to freely reuse content, everyone benefits.
I would love it if people joined me in taxotagging BHL Flickr images. Instructions can be found here.
Anyone can create or improve Wikipedia. For a beginner's guide, see this article.
And if you think you can add to and improve Susan Fereday's article, go for it!