Book of the Week: Salad and…Snails?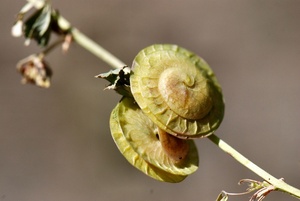 Are those snails in your salad?
Apparently this is the question that our book of the week, The Field and Garden Vegetables of America, suggests that dinner guests will ask their host or hostess should Medicago obicularis be playfully added to the plate. However, rest assured, Medicago obicularis, more commonly known as Button Clover or Button Medick, will not threaten to ooze snail slime all over the salad greens. It is a harmless plant species of the genus Medicago found throughout the Mediterranean basin, though it can also now be found in southern parts of the United States. This "hardy, annual plant has reclining stems, compound or winged leaves, and yellow flowers." However, the "pods, or seed vessels," according to our book of the week, "are smooth, and coiled in a singular and remarkably regular manner," suggesting in their appearance the shell of a snail.
Interestingly, this species forms a symbiotic relationship with the bacterium Sinorhizobium medicae, which is capable of nitrogen fixation. Nitrogen fixation is the process by which "nitrogen in the atmosphere is converted to ammonia," a process crucial for life because "fixed nitrogen is required to biosynthesize the basic building blocks of life." In a study by the U.S. Department of Energy, "the amount of nitrogen fixed annually by the Sinorhizobium–Medicago symbioses is estimated to be worth $250 million."
So, as the holiday season approaches and you begin planning your extravagant dinner parties, consider throwing a little fun into the mix with Medicago obicularis. As our book tells us, the pods can be "placed on dishes of salad for the purpose of exciting curiosity, or for pleasantly surprising the guests at table."
Book of the Week: The field and garden vegetables of America: containing full descriptions of nearly eleven hundred species and varieties; with directions for propagation, culture, and use (1863), by Fearing Burr.