BHL and Our Users: Dr. Toby Musgrave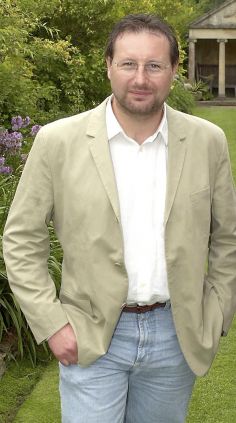 This week we feature another of our faithful BHL users, Dr. Toby Musgrave, whose work in horticulture has benefited greatly by his discovery of BHL. We asked him a few questions about how BHL has impacted his work, and we present them to you here in a traditional question and answer style.
Q: What is your title, institutional affiliation, and area of interest?
A: Independent Scholar, unsalaried Research Associate at Royal Botanic Garden, Edinburgh, UK; and unsalaried Group Member of Interdisciplinary Evolutionary Studies (IES) within the Institute of Philosophy and the History of Ideas at Aarhus University, Denmark.
Q: How long have you been in your field of study?
A: My PhD was in garden history and I have been a freelance/independent scholar since 1994.
Q: When did you first discover BHL?
A: 2009
Q: What is your opinion of BHL and how has it impacted your research?
A: A hugely useful resource that has made my research less time consuming and less expensive/
Q: How often do you use BHL?
A: At least monthly
Q: How do you usually use BHL (read the titles online/download whole PDFs/Select Pages to Download/etc.)
A: Download whole PDFs
Q: What are your favorite features/services on BHL?
A: The range of publications available and the ability to request titles to be scanned.
Q: If you could change one thing about BHL, what would it be, or what developmental aspect would you like the BHL team to focus on next?
A:
To have scanned and available every title listed by Blanch Henrey in her British Botanical and Horticultural Literature before 1800 (Oxford University Press, 1975)
Continue digitizing horticultural periodicals from the 19th century
Q: If you had to choose one title/item in BHL that has most impacted your research, or one item that you prefer above any other in BHL, what would it be and why?
A: Last year I threw down the gauntlet to [BHL staff] and asked if there was any possibility of BHL arranging to have made available the entire run (1841-1955) of the UK periodical The Gardeners' Chronicle. I asked because there is nowhere in my country of residence (Denmark) that holds it, requiring that I make time consuming and expensive research trips to London or Cambridge in the UK should I wish to examine the periodical. I was amazed and delighted that BHL has achieved what I asked. This contribution to the BHL catalogue has been a real boon to my research, with the bonus of being able to keyword search the PDFs of annual volumes that often run to in excess of 800 pages of tiny print. Thank you!
And thank you, Dr. Musgrave, for your faithful use of BHL and for taking the time to communicate with us to tell us how we could improve BHL for you! We will get to work on Blanch Henrey's list of botanical and horticultural works.
For more information about Dr. Musgrave, visit his website at www.TobyMusgrave.com.
And if you have suggestions on how to improve BHL, or if you would like to be featured in our BHL users series on this blog, let us know via our feedback form, send a tweet to @BioDivLibrary, or post on our Facebook wall. We look forward to hearing from our users and continuing to develop BHL in the directions most beneficial to them.