Book of the Week: Happy Groundhog Day!
One of the earliest mentions of Groundhog Day can be found in the diary of a Pennsylvania storekeeper named James Morris, who, on February 4, 1841, wrote:
Last Tuesday, the 2nd, was Candlemas day, the day on which, according to the Germans, the Groundhog peeps out of his winter quarters and if he sees his shadow he pops back for another six weeks nap, but if the day be cloudy he remains out, as weather is to be moderate.
Some one hundred and seventy years later, Groundhog Day, celebrated on February 2nd in the U.S. and Canada, is a spirited, suspenseful day on which we discover our winter fate, or our fate as the groundhog foresees it, anyway. If the groundhog sees his shadow, it's another six weeks of winter.
The largest Groundhog Day celebration occurs in Punxsutawney, Pennsylvania, where it has been a local tradition since at least 1887. The star of the show, a very special, perhaps "immortal" groundhog named Punxsutawney Phil, is purported to be 126 years old – a remarkable feat considering the lifespan of most groundhogs in captivity is 9-14 years. But then again, Phil (in 2012) weighs twenty pounds, as opposed to the more typical thirteen pounds, indicating that he might not be an ordinary groundhog. Maybe. But, in any case, he at least makes a bigger target for producing a shadow easily visible to spectators.
And that's exactly what Phil did today. According to what some deem the only official groundhog weather predictor, there will be six more weeks of winter. Learn more about the Punxsutawney Groundhog Day celebration on the official website.
Long before they found fame and fortune through Groundhog Day, these marmots were well-known within their sciurid family (which includes squirrels, chipmunks and prairie dogs) as the largest member within their geographic range, which incidentally, is North America. They generally grow to between 16-26 inches long, and, with plenty of food and few predators, can weigh up to 31 pounds, though one-third that weight is more typical. Other names for the charismatic creature include woodchuck, whistle-pig, and land-beaver.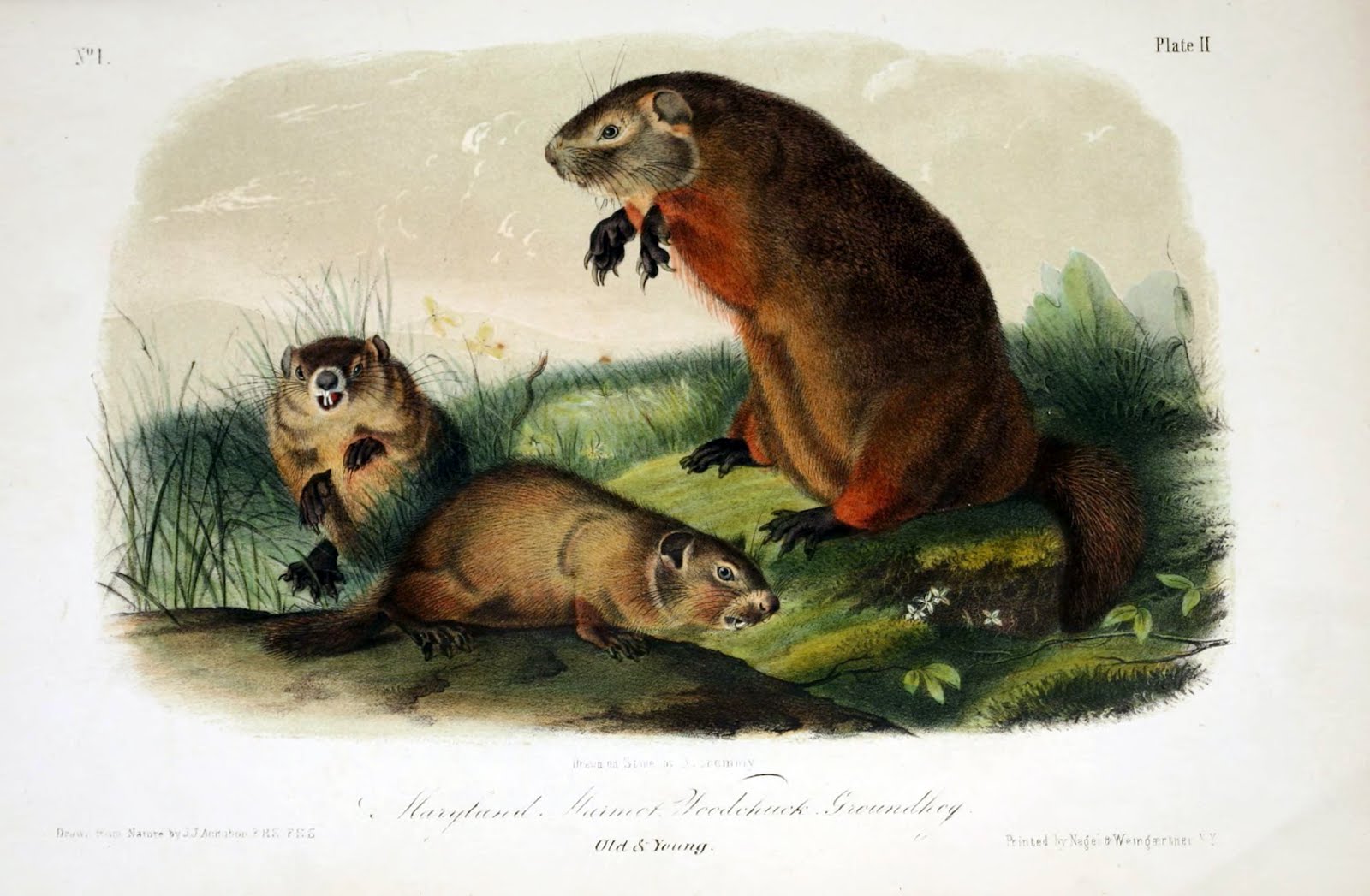 While combing through our collection looking for groundhogs, we came across this marvelous book entitled The Quadrupeds of North America, v. 1 (1851). The three volume work contains 153 colored plates, rendered by John James Audubon and the Rev. John Bachman. Of the illustrations, the authors write,
In our illustrations we have endeavored (we hope not without success) to place before the public a series of plates, which are not only scientifically correct, but interesting to all, from the varied occupations, expressions, and attitudes, we have given to the different species, together with the appropriate accessories, such as trees, plants, landscapes, &c.;, with which the figures of the animals are relieved; and we have sought to describe those represented, so as not only to clear away the obscurity which had gathered over some species, but to make our readers acquainted with their habits, geographical distribution, and all that we could ascertain of interest about them…
The groundhog is presented in this work as a family portrait, with a mother and her young set against the backdrop of their lowland habitat. Several pages of description, including everything from physical appearance to habitat and behavior, then follows. It's a perfect excerpt for Groundhog Day!
Our book of the week is of course filled with beautiful illustrations depicting animals other than groundhogs, and you can view all of them on our Flickr account. For more groundhog and biodiversity fun, follow us on Twitter (@BioDivLibrary) and take our groundhog trivia challenge on our Facebook page today. Learn more about groundhogs on EOL.