Our Little Town
It's almost a year now since we moved to Bloomfield, and I'm still not over my disappointment at our new New Jersey home's failure to honor its most distinguished citizen. Not a statue, not a plaque to be found anywhere; and that short boulevard leading to the cemetery turns out, alas, to be named for Woodrow.
Alexander Wilson, the Father of American Ornithology, served as schoolmaster in our little town for a few months in 1801. Wilson's teaching in Bloomfield was "spirit-sinking, laborious work," and he doesn't seem to have found much intellectual stimulus outside the classroom either, complaining in a poem dated August 7 that:
Here bull-headed Ignorance gapes and is courted,
And pale Superstition with visage distorted.
Sweet Science and Truth, while these monsters they cherish,
Like the Babes of the Wood are abandoned to perish.
Wilson got out as soon as he could, and by February 1802 he was back among the sophisticates of Philadelphia.
-*-*-*-
If only he'd managed to stick around.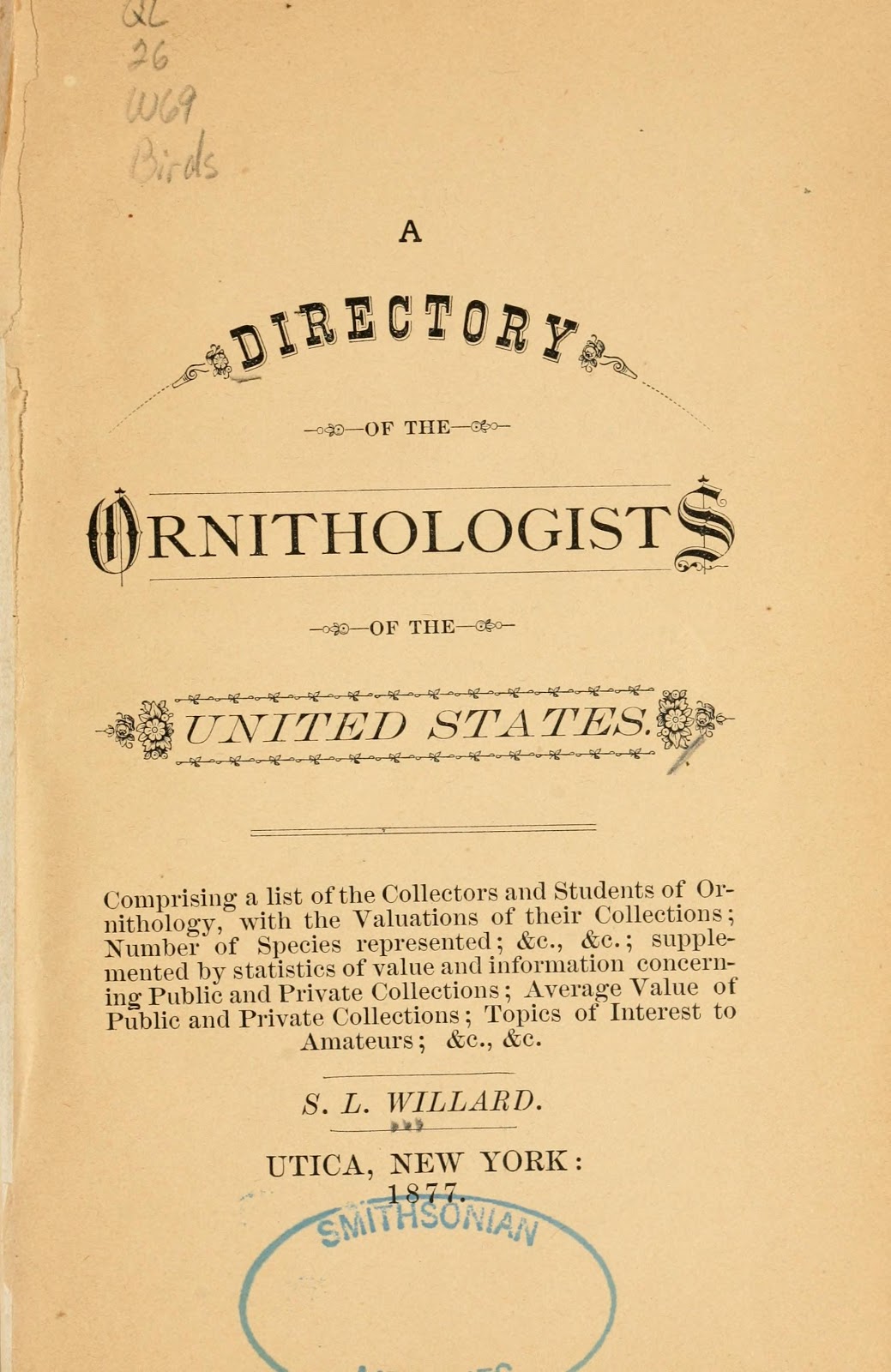 By 1877—sixty-four years after Wilson's untimely death 200 years ago this August—Bloomfield was a veritable hotbed of ornithological activity. Of the 21 New Jersey amateurs listed in Willard's Directory of the Ornithologists of the United States, no fewer than four give Bloomfield as their mailing address.
All four, admittedly, were small-time collectors.
Up in Cambridge, William Brewster's personal holdings that year comprised 6500 specimens, valued at the enormous sum of $5000. Here in Bloomfield, our colleagues had much smaller collections, each of them containing just a few dozen eggs and none of them worth more than $20.
The largest collection in our little town, that belonging to J.L. Adams, held 75 eggs; that makes the average specimen worth a little more than a quarter, the going price a few years later for the shell of a Black Skimmer or a Loggerhead Shrike. The smaller cabinets of Henry D. Davenport, Wm. F. Day, and E.C. Farrand were just as modest, with the average value per egg between twenty and twenty-five cents.
-*-*-*-
None of these Bloomfield Four seems to have left more than a trace in the written record of American birding and ornithology. Their reticence was more than made up for by Bloomfield's leading ornithologist a generation later, Louis Slidell Kohler.
Kohler's family was living in Bloomfield by the early 1890s; he seems to have divided his final years—starting around 1919—between Hawthorne and a farm near Paterson, where he died sometime after 1926.
Kohler began his bird studies in Bloomfield, exploring a twenty-acre farm near his house that he called "The Haunt." He applied for membership in the Cooper Ornithological Club in 1909, and was elected an associate member of the American Ornithologists' Union in 1910. His notes, lists, and essays appeared over the years in the Auk, the Wilson Bulletin, and the Oologist. Unlike the earlier Bloomfieldians, and refreshing for his generation, Kohler does not seem to have been much of a collector; his published articles report on the birds observed—not shot and stuffed—on his "jaunts" and "tramps" through what was still the countryside of northern New Jersey.
Kohler's publications include documentation of range expansions, winter irruptions, and notable migration events. Like most of us, he made the occasional error, as when he reported the nest of a Wilson's Warbler in New Jersey—dismissed, almost certainly correctly, by the editor of the Auk as "a case of mistaken identity."
-*-*-*-
In the spring of 1903, Louis Kohler put Bloomfield firmly on the ornithological map with his sighting of a flock of fifteen European Starlings "in the neighborhood of a refuse pile on a farm"—probably "The Haunt." The birds lingered until July, conspicuous for "their odd gyrations while in the air and methods of alighting on the ground." When the flock returned the following March, it had grown to 200 birds, which soon "broke up into pairs and began seeing nesting places…. in cupolas, on station poles of the telephone companies and in deserted woodpecker nest holes." Soon enough, starlings were ejecting Northern Flickers, Eastern Bluebirds, and other birds from their nests, and Kohler was "almost convinced that the time is not far off when they will become as obnoxious as the omnipresent [House Sparrow] is to us now."
He was right.
In August 1911, Robert Barbour—himself a member of the Cooper Club and of the AOU—described in the pages of the New York Times a flock of 60,000 starlings, House Sparrows, Common Grackles, and American Robins roosting on Bloomfield Avenue just across the Montclair line.
What with the excrement of the birds, the feathers that they shed, and the leaves that they dislodged, sidewalks and piazza steps would be like a poultry yard or worse. The odor, I am told, at times made it unpleasant to use the piazzas in the evening, and those going out in the evening found it desirable to walk in the middle of the street in the interest of personal cleanliness.
Violence was inevitable. On August 30, Peter Stevens, "was arraigned before Justice of the Peace Cadmus of Bloomfield, [for] shooting five starlings" two weeks earlier. The charges had been brought by State Game Warden Frederick J. Hall of Bloomfield, and the City of Montclair wasted no time in issuing a formal denial that it had in any way authorized the shootings. Stevens, "a colored man in the employ of the Montclair Street Department," was fined the exorbitant sum of $100—$20 a bird. Stevens could not pay, and was jailed for two days.
To its great credit, Montclair stepped up at the end of those two days and filed an appeal on Stevens's behalf, arguing that the confession he signed had been obtained in an "irregular" fashion. How the case was concluded, and how the dynamics of race, social standing, and urban rivalry were finally played out, I do not know. Montclair swore to take its defense of Stevens to the Supreme Court if necessary, though public opinion was clearly against him, as shown by the scores of letters from all parts of New Jersey asking that the persons responsible for the killing of the birds be prosecuted to the full extent of the law.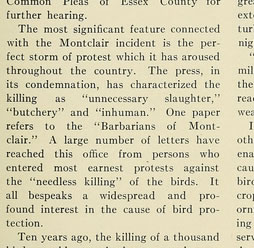 Pearson on Peter Stevens's Starlings
Gilbert Pearson, reviewing the matter in Bird Lore, took satisfaction in the affair as evidence of the rapidly increasing refinement of sentiment that comes with advancing civilization. It is a most positive fact that, the more cultured the community, the greater the esteem in which the wild bird is held.
Even starlings.
-*-*-*-
It's easy to feel like a pioneer in a new place, as if everything new to us is, simply, new. How much richer the experience of novelty, though, when we realize that there is a past behind us, a past inhabited by the rightly famous, the nearly unknown, and the unjustly notorious. That is just the sort of knowledge that can help make any little town into our little town.
We hope you enjoyed this post. Interested in guest-blogging for BHL? We'd love that! Natural history, biodiversity and conservation topics are especially welcomed. Email us your ideas at feedback@biodiversitylibrary.org.