Botanical Research in the Asian Tropics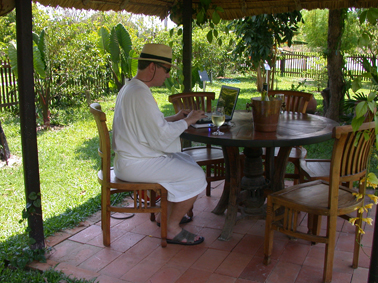 "If you intend to work at 40°C you need a bathrobe, a glass of cold, crispy dry, white wine and WiFi to access BHL." Dr. Eric Danell, Director, Dokmai Garden, Chiang Mai, Thailand.
Nestled within the Hang Dong district, Chiang Mai, Thailand, is a 10 acre botanical garden called Dokmai Garden. Run by the Thai family Seehamongkol, it boasts over 1,000 plant species, including orchids, laurels, banana plants, birds-of-paradise plants, and gingers. The Seehamongkol family, and the garden's biologist and Director, Dr. Eric Danell, have the lucky fortune of not only working in this garden, but also of calling it home.
While living amidst such a paradise is undeniably enchanting, for Dr. Danell, being a botanist in the Asian tropics also has its challenges. Access to taxonomic literature is scarce, and the closest library may still be many days away. Even if a researcher is able to gain access to local library collections, the breadth of these collections are often limited, lacking titles critical to enabling further research. For researchers in these situations, digital, open access projects like the Biodiversity Heritage Library are indispensable.
Dr. Danell began his botanical adventure in Sweden at an early age. "Born a botanist," Eric spent the weekends of his youth at the Museum of Natural History in Stockholm, pursuing a lifelong love of plants that resulted in a PhD in Plant Physiology from Uppsala University in 1994. Following the degree, Danell taught at the Swedish University of Agricultural Sciences as an Associate Professor in Forest Microbiology.
Eric's passion, however, is gardens. "Essentially, I am a gardener," said Dr. Danell when asked about his chief area of interest. It comes as no surprise, then, that he left his teaching position for the opportunity to garden in the Asian Tropics at Dokmai Garden. Caring for over a thousand plant species (not to mention countless other varieties of birds, insects, reptiles and fungi that also call the ecosystem home), and conducting further botanical research, requires access to natural history literature collections, including many rare titles. As discussed, this access is often glaringly absent in developing countries.
Fortunately for Dr. Danell, a few years ago, he stumbled upon BHL via the Kew Gardens/Missouri Botanical Garden joint project,  The Plant List. It was love at first click. "[BHL] is a crucial tool since I am located in the Asian tropics. Although I have a private rare books collection in Sweden, I do not dare bring it here due to termites and moulds. Rare books can hardly be found at local university libraries," articulated Danell.
Since discovering BHL, Eric uses it several times a week, typically verifying plant species descriptions online but occasionally also downloading PDFs. "We have frequent electricity cuts which would otherwise disconnect me from ongoing work," explained Danell. "A laptop with battery keeps you focused in spite of tropical rainstorms!"
The true magic of BHL for Danell, however, is the truly global access it provides. "The fact that I can sit in a remote corner of the world and access rare books is awesome! BHL is my favorite."
Being located in a developing country also provides opportunities for Dr. Danell to suggest improvements specific to users with varying Internet connectivity strengths. He suggests that the development of an interface specifically designed for old computers with poor Internet access would be particularly beneficial. This was a major discussion point at the recent BHL-Africa meetings, as much of Africa also has limited Internet connectivity. The development of a "BHL in a Box" application, which would allow some version of BHL to be installed on a local computer to limit the need for continuous internet availability, or the development of a text-based interface, were some options proposed. BHL and its African colleagues hope to pursue funding in the future to make this ambition a reality.
For many of our users, there is one special title in BHL that makes their knees weak and their hearts beat a little faster. For Dr. Danell, that book is Linnaeus Species Plantarum (1753, volumes 1-2). "This is the origin of plant research and so many important plants, also in the tropics, are described here. [Linnaeus'] spelling, his comments and his references are crucial to botanical research," emphasized Danell.
Thanks to BHL, Eric can access his favorite eighteenth century botanical masterpiece while sitting in a fairy tale garden in the Asian tropics, dressed comfortably in his favorite bathrobe, sipping a glass of crisp white wine. All scientific research should be this perfect!