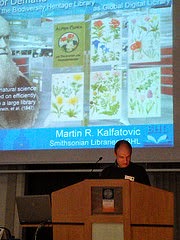 Helge Knuettel
(University of Regensburg)
introducing talk
On 11 April 2014, BHL Program Director Martin Kalfatovic gave a keynote address at the EOD Conference 2014. The conference, "EOD Conference 2014: Sustaining the networked future: use and reuse of digital content", was held at the University of Innsbruck. The talk was attended by about 150 librarians from around the European Union. EOD (eBooks on Demand) is a EU funded project to provide for digitization on demand for consortia members and this conference marked the close of the multi-year project.
The talk, entitled "Building for Demand: The Growth of the Biodiversity Heritage Library as Global Digital Library" can be found online here (and embedded below). More information on the conference.
---