"What a Gem!" BHL Supports Teuthology Research
Here's a word of the day for you: Teuthology.
What does it mean? It's the study of cephalopods. What are cephalopods? Well, they are a class of mollusks that include two extant subclasses: Coleoidea and Nautiloidea.
Still not sure what cephalopods are? You probably know them by their more common monikers: octopuses, squid, cuttlefish, and nautiluses. There are over 800 living species of cephalopods known today.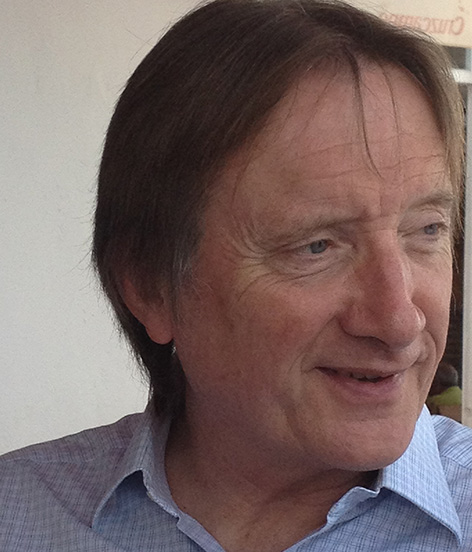 Dr. Ian G. Gleadall, Reader in Marine Biology at the International Fisheries Science Unit of Tohoku University Graduate School of Agricultural Sciences, Sendai, Japan.
Dr. Ian G. Gleadall has been studying the biology of cephalopods (particularly octopuses) for 40 years. Dr. Gleadall (a marine biologist who works in Sendai, Japan) discovered BHL in November, 2014 while visiting the National Museum of Natural History in Paris. It has had a profound impact on his research. As Dr. Gleadall explains:
"[BHL] is a truly wonderful tool. Highly useful, reliable in operation, intuitive and easy to use. I have been writing a complex systematic review of cephalopod taxonomy, with an emphasis on the octopuses of the Indo-Pacific region, particularly centred on the seas of the Japanese Archipelago. Because of many previous errors and unclear references to earlier studies in this field, I had recently decided to go deeper into previous naming systems for the Cephalopoda, particularly as regards the various groups of octopus.
"There are a number of different, rival schemes in taxonomy, so it is necessary to read the original description for each name in order to assess which should be regarded as the most appropriate to use. Many of the earlier works were published in rare and valuable tomes which are now difficult to get hold of. These books are sometimes huge in size and libraries are reluctant to have them inspected at first hand because their condition is often deteriorating and they may be heavy and difficult to handle. Getting copies of such works is in itself often very difficult and the administrative procedures can be frustrating and time consuming. It is also expensive to visit each institution concerned in many different countries.

"However, the BHL online catalogue of works provides access to a large number of such rare works, allowing me to find and study many of the books I need to use from the comfort of my laptop computer and a wireless internet connection. If I want to have copies of relevant sections, it is very easy to mark pages for collation into a customized PDF file, or even to download an entire book. This service has proven to be extremely valuable to me.
"Over recent months I have been able to quickly gain access to many older texts and this has enabled me to achieve my aims far quicker than would otherwise have been possible. For example, often when I read a new work, I find further references to works that I previously was not aware of. I can then quickly look for (and find) those using BHL. Normally, this could involve having to revisit a library in another country that I have already visited once, or I would have to try to get the library staff to send me a copy, neither of which is as fast or convenient as using BHL."
During intensive periods of study, Dr. Gleadall uses BHL daily, sometimes downloading up to four 4 custom PDFs in a day, in addition to studying other materials online. It's not surprising, then, that the ability to download custom PDFs is Dr. Gleadall's favorite feature on BHL.
"About half of the publications that I access on BHL I read online and take notes. Where there is a lot of material and I do not have time to complete my work in a single session (or if there are many data-dense tables, for example), I'll select the pages that I'm interested in and arrange for a custom PDF," explains Dr. Gleadall. "[The custom PDF service] is so easy and intuitive to use (why can't other internet services be so convenient and trouble-free?!)."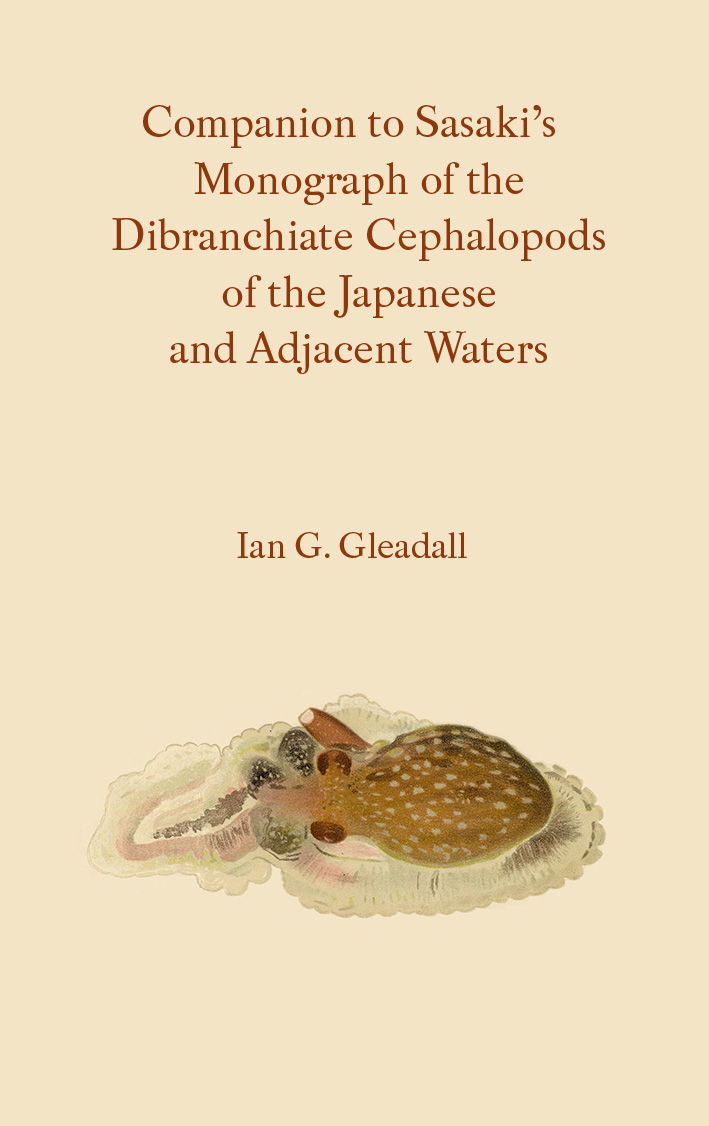 A book by Ian Gleadall (in the final stages of publication) concerning the classic 1929 monograph on the Cephalopoda by Madoka Sasaki. In writing this book, many of the references required to prepare the synonymies of various cephalopod orders, families, genera and species were viewed using the BHL online archive.
A highlight for Dr. Gleadall in his research is the opportunity to explore some of the beautiful works of art that are part of the heritage of biological description, such as the stunning cephalopod lithograph created by Ernst Haeckel as part of his Kunstformen der Natur (1904).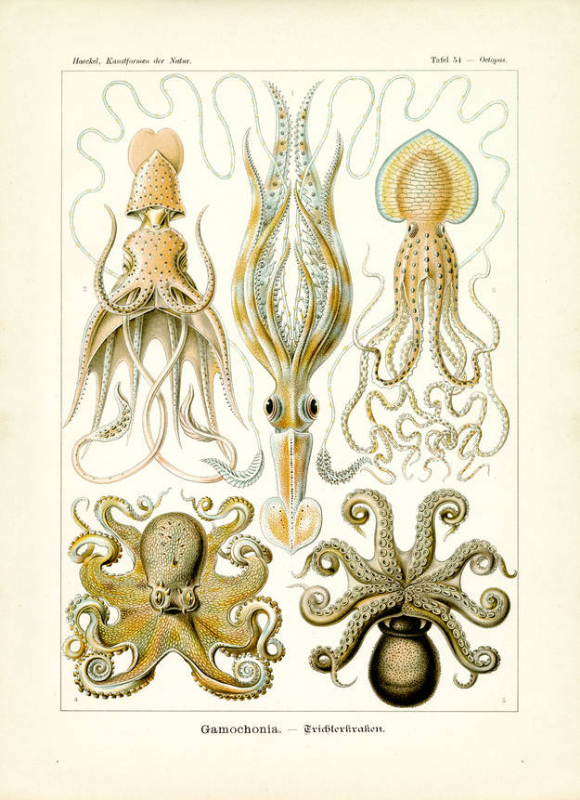 54th plate from Ernst Haeckel's Kunstformen der Natur (1904), depicting squids and octopuses classified as Gamochonia. http://biodiversitylibrary.org/page/47388247.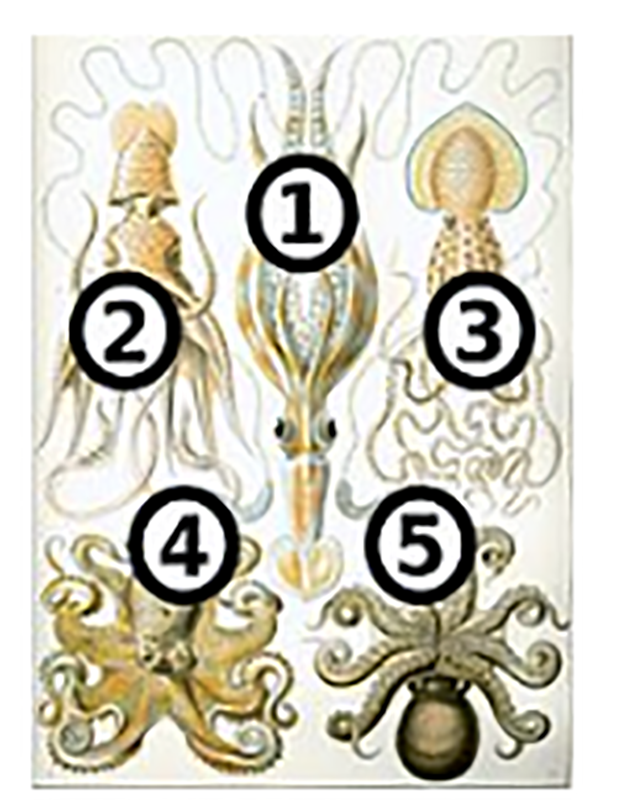 Key to Haeckel's plate, above. 1) Chiroteuthis veranyi (Férussac); 2) Histioteuthis ruppellii (Vérany); 3) Pinnoctopus cordiformis (Quoy and Gaimard); 4) Octopus vulgaris(Lamarck); 5) Octopus granulatus (Lamarck).
"In modern times, there are many artful illustrations and computer graphic images, but many people are unaware of the gorgeous images of more than 100 years ago, where no expense was spared to produce magnificent series of books reporting on the collections from localities far and wide by the early explorers," lauds Dr. Gleadall.
While the experience of seeing these illustrations in person creates an impression that a computer screen cannot quite replicate (as Dr. Gleadall explains, many of the rare volumes containing these artworks are massive in size), it is often difficult to gain access to such works in physical library collections. The availability of these books in BHL, and the artwork on the BHL Flickr, ensures that everyone can see and experience this wonderful biodiversity heritage.
It is this immediate and unrestricted access that has most-impacted Dr. Gleadall's work.
"BHL has considerably smoothed the way for me and speeded up the rate at which I can view a large number of relevant references. I look forward to being able to publish my results far more quickly than would otherwise have been possible without BHL. Many thanks."
Thank you, Dr. Gleadall, for sharing with us the impact that BHL has on your work. Do you use BHL to support your own research? Want to tell us about it? Send an email to feedback@biodiversitylibrary.org!