Live Webcast Today! Behind-the-Scenes Tour of the NHMLA Dino Lab
The Dino Lab at the Natural History Museum, Los Angeles County, is a busy place. The lab is responsible for cleaning and repairing the fossils uncovered by its paleontologists, sculpting missing bones to help fill in fossil gaps, and photographing and archiving the fossils held at the museum. It offers an incredible opportunity for museum visitors to get a true picture of what it takes to prepare a fossil for further research or display in a museum.
How would you like to get a behind-the-scenes tour of the Dino Lab at NHMLA? Well, you're in luck! Tune in today, October 16, 2015, at 3pm EST on the NHMLA Periscope account for a live tour of the Dino Lab as part of our Fossil Stories event. You'll get up close and personal with the specimens being worked on and the people who care for these incredible fossils.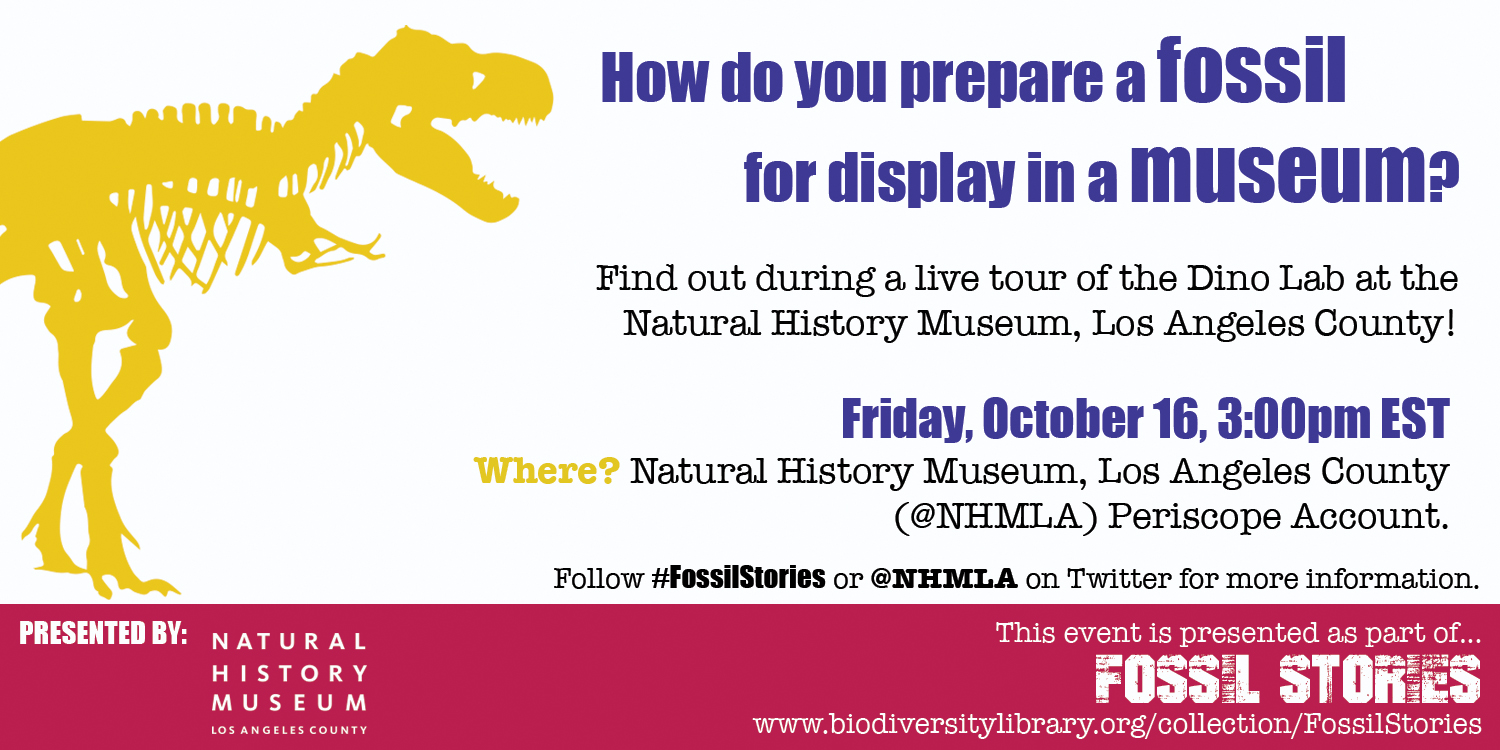 To join, simply follow @NHMLA on Periscope (you'll then receive a notification via Periscope once the event is live) or follow @NHMLA or @BioDivLibrary on Twitter. We'll tweet out the link to the Periscope event on those accounts once it's live.
One of the highlights in the Dino Lab is a real T. rex toe bone that museum visitors can actually touch. The toe bone, approximately eight inches long, was collected in northeastern Montana in the 1960s.
The first partial skeleton of a T. rex was discovered by Barnum Brown, assistant curator of the American Museum of Natural History, in eastern Wyoming in 1900. Brown then found another partial skeleton in the Hell Creek Formation in Montana in 1902. H. F. Osborn described both skeletons in a 1905 paper, originally assigning the 1900 skeleton the name Dynamosaurus imperiosus. Within that same paper, he used the 1902 skeleton as the holotype to describe Tyrannosaurus rex. His paper also included a skeletal restoration of T. rex (by William D. Matthew, vertebrate paleontologists and curator at the American Museum of Natural History), the first reconstruction ever published. In 1906, Osborn realized that the D. imperiosus skeletal actually belonged to the same species as the T. rex, and he selected Tyrannosaurus rex as the valid name for the species.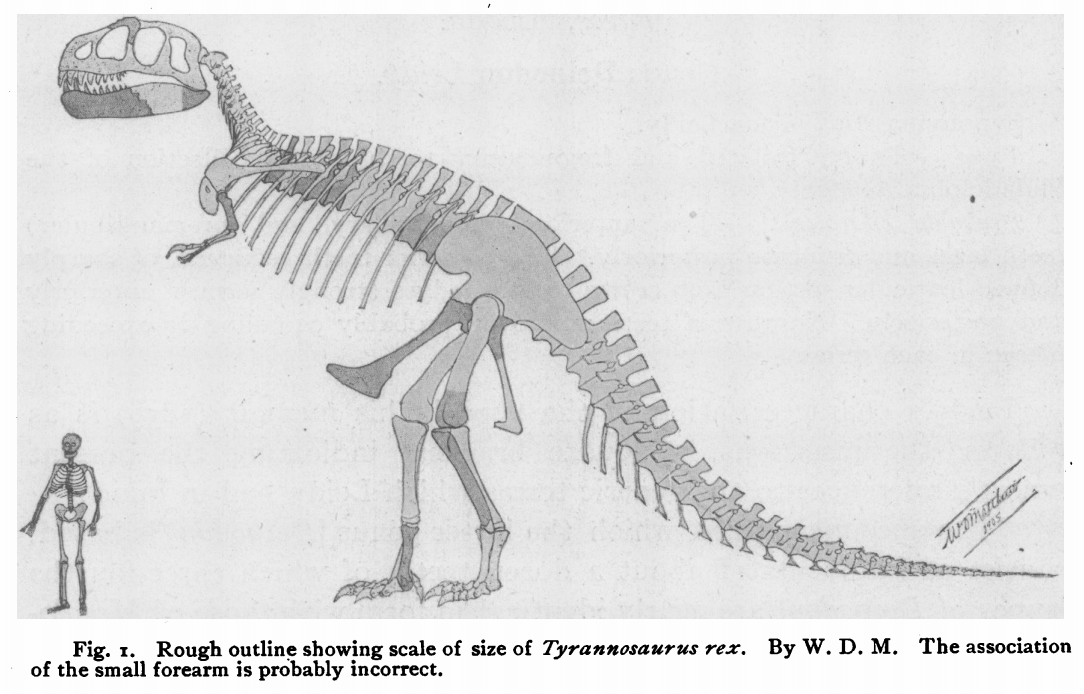 First published reconstruction of the Tyrannosaurus rex.. Tyrannosaurus and other Cretaceous carnivorous dinosaurs. Bulletin of the AMNH ; v. 21, article 14. 1905. http://biodiversitylibrary.org/bibliography/89582.
You can see the first publication about the T. rex in BHL, and be sure to tune in today, October 16, at 3pm EST on the NHMLA Periscope account to see the behind-the-scenes tour of the Dino Lab!