Explore Harvard University's Arnold Arboretum on BHL
The Arnold Arboretum of Harvard University has contributed a century of their publications to BHL as a part of the Expanding Access to Biodiversity Literature project, including: Bulletin of Popular Information (1915-1940) and Arnoldia (1942-2016).Nancy Rose, an arborist with a background in woody plant research and horticulture extension, served as Arnoldia's editor from 2008 to February 2018. Before retiring, she shared with us some reflections on the their contributions to BHL (and recommended some good reads for us to dig into).
"The Arnold Arboretum's first serial publication, started in 1911, was the Bulletin of Popular Information, a newsletter published during the growing season that provided visitors with information on plants with current ornamental interest (e.g., flowers, fruit, fall foliage). It evolved into a magazine with longer articles on a wide range of topics, published regularly throughout the year, and was renamed Arnoldia in 1941. These publications contain a vast wealth of information on topics such as botany, horticulture, forestry, ecology, and landscape history, as well as details about the Arboretum's history and functions including plant exploration, plant propagation, and collections management.
"In 2007, digitization of all past Bulletin and Arnoldia issues was completed and the issues were made available free of charge through the Arboretum's website. Several years ago, with the desire to expand access to a wider audience, we signed an agreement with BHL and these publications are now available on this wonderful publicly accessible platform.
"The Bulletin and Arnoldia are a great resource for researchers in many fields. Some of the information is timeless, for example, the previous praises of royal azalea (Rhododendron schlippenbachii) that I referenced in a 2011 profile of the species. Other articles clearly show how times have changed – recommendations in 1950s articles for using DDT in the landscape now seem horrifying. An interesting narrative on how a plant once promoted in Arboretum publications turned out to be incredibly invasive is told in the article 'Untangling the Twisted Tale of Oriental Bittersweet'. (It's worth noting that scientific names sometimes change over the decades, so plant names in older issues may need to be cross checked with currently accepted nomenclature.)​
"Arnoldia is an eclectic publication and we don't have a rigid format, but for me an ideal Arnoldia article is informative, engaging, and firmly science based yet accessible to a broad audience. Just a few of our interesting stories: what happened to tree species when their megafaunal seed dispersers (think mastadons) went extinct? ('Anachronistic Fruits and the Ghosts who haunt them'); everything you ever wanted to know about bark ('Bark: From Abstract Art to Aspirin'); and how the great man-made environmental changes in the nineteenth century can be seen in art from that era ('Seeing the Landscape in Landscape Art')."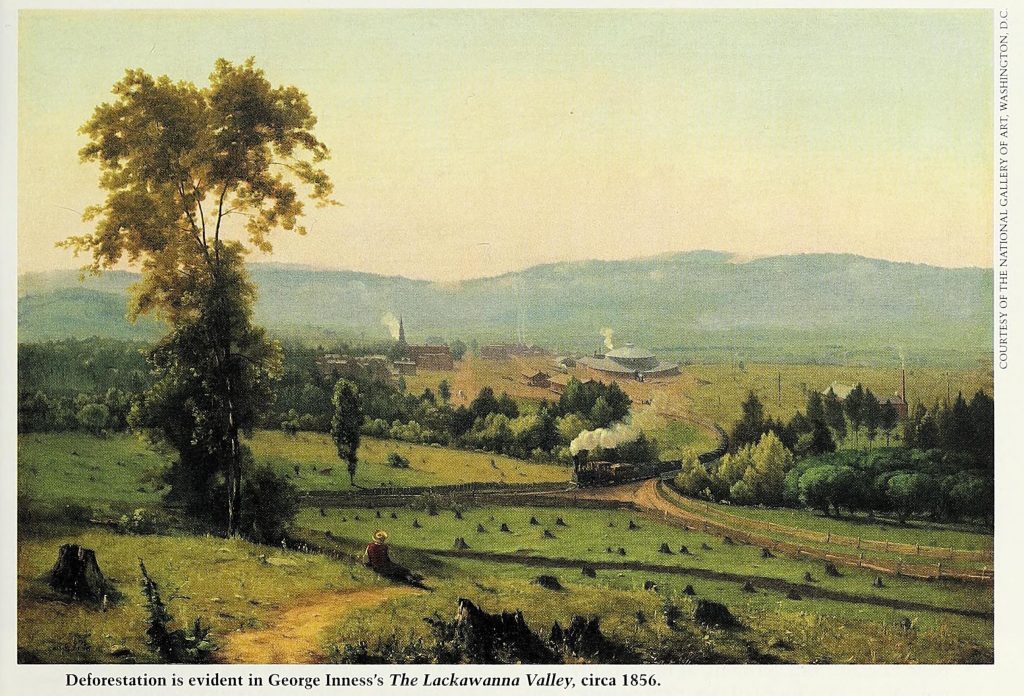 A landscape painting from "Seeing the Landscape in Landscape Art" (Arnoldia 2015, v. 73 no. 2). The caption reads: 'Deforestation is evident in George Inness's The Lackawanna Valley, circa 1856.' Digitized by Smithsonian Libraries.
​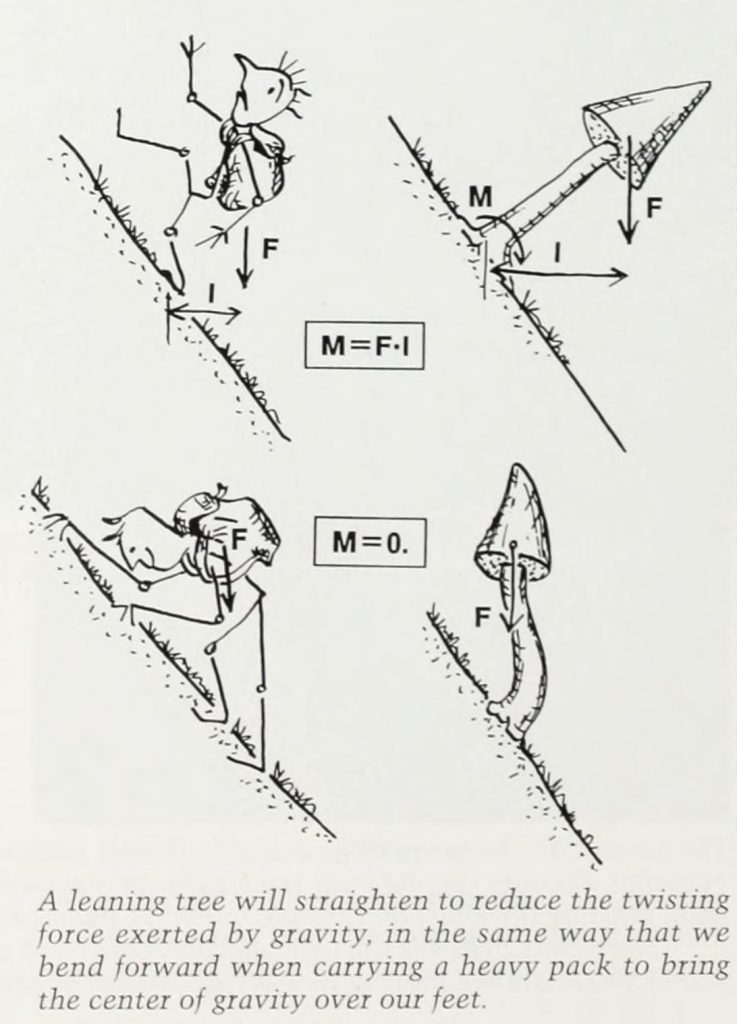 Illustratrions make the physics of tree growth accessible to a wider audience in the 2001 article 'The Shape of Trees: A Matter of Compromise' (Arnoldia v. 61 no. 1). Digitized by Harvard University Botany Libraries.
About the Arnold Arboretum 
The Arnold Arboretum is both a living botanical research collection of Harvard University and a public park for the City of Boston. In its design, the Arboretum's first director, Charles Sprague Sargent, partnered with landscape architect Frederick Law Olmstead (who is known for designing New York City's Central Park and Boston's Emerald Necklace, a seven-mile network of parks and parkways that includes the Arnold Arboretum).
Although land for the project was granted by James Arnold, a New Bedford whaling merchant, and by agriculturalist Benjamin Bussey, the high cost of building infrastructure for the park was a barrier. Sargent found a creative way to solve that problem: in December of 1883, after four years of negotiations, Harvard sold the land to the City of Boston and then signed a 1000-year lease on the property. As a result of this arrangement, the city maintains the park's infrastructure and surveillance, while the University maintains the tree collection and keeps the park open to the general public for free, sunrise to sunset. (The blog of the Arnold Arboretum Horticultural Library has a great post, Maps tell a story, tracking the development of the Arboretum through maps from their archives.)
The Arnold Arboretum's first director, Charles Sprague Sargent (1841-1927), had studied as an apprentice under Harvard botanist Asa Gray, who is known as the "father of modern botany" for his work in taxonomic botany and his defense of Darwinism. (A fun side note: you can read Darwin's copy of Gray's Manual of the botany of the northern United States on BHL.) In 1872, Sargent was appointed Director of Harvard Botanic Garden, which included working as administrator and professor at the Bussey Institution (an undergraduate school of agriculture and horticulture). The following year he became the director of the Arnold Arboretum, which he would lead for 54 years.
(A number of Sargent's published works are available on BHL, including: The Silva of North America, 14 volumes published from 1890-1902, contributed to BHL by Missouri Botanical Garden; The Manual of the Trees of North America, first edition, 1905 and second edition, 1922, contributed to BHL by University of California Libraries / archive.org; and Garden and forest; a journal of horticulture, landscape art and forestry, published weekly 1888-1897, contributed to BHL by Smithsonian Libraries.)​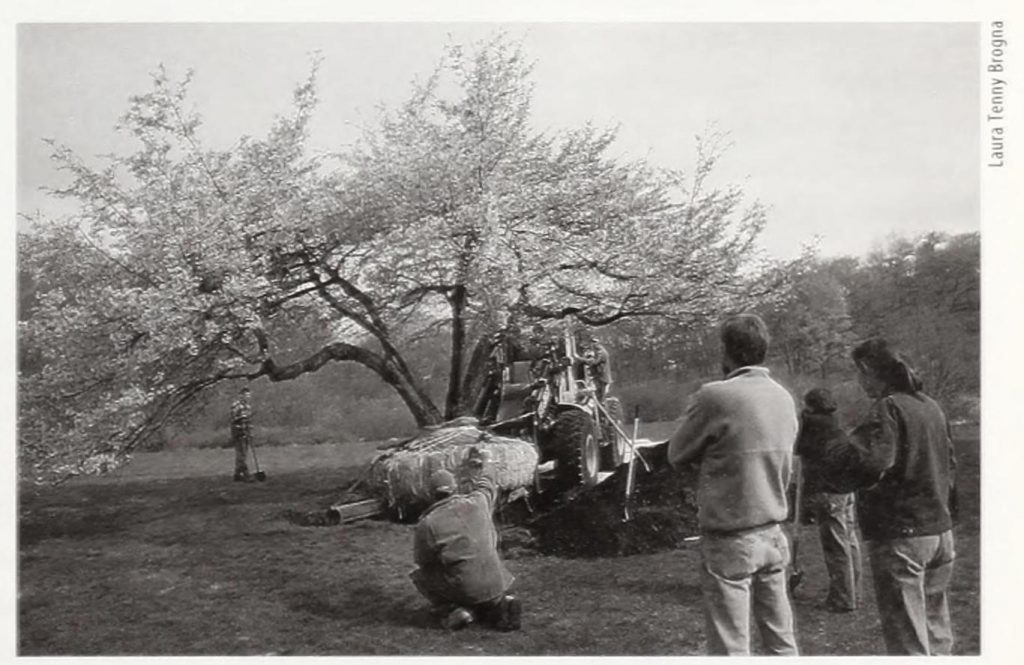 An established 60-year old cherry tree is carefully moved by forklift to a new location in the Arboretum, to join the Eleanor Cabot Bradley Collection of Rosaceous Plants. (Arnoldia 2001, v. 61 no. 1.). Digitized by Harvard University Botany Libraries.
Extensive planting of the Arboretum's trees and shrubs began in 1886. The living collection is organized by family and genus (according to Bentham and Hooker classification system for seed plants) over 281 acres of land. As of June 2015, it includes 14,760 accessioned plants representing 3,800 botanical and horticultural taxa, particularly focused on woody species of North America and eastern Asia. These trees are not only enjoyed by the public, but are also used for research in areas ranging from evolutionary biology to horticultural practice and invasive species management.
The Arboretum's collection also includes preserved specimens (1.3 million, which fall under the collection of 5 million held at the Harvard University Herbaria) and library holdings (over 40,000 volumes, located in both Jamaica Plain and at the Harvard University Herbaria in Cambridge).
Many thanks to the Arnold Arboretum for contributing these resources with BHL, and to Nancy Rose for sharing insights!
References