Announcing Full Text Search on BHL!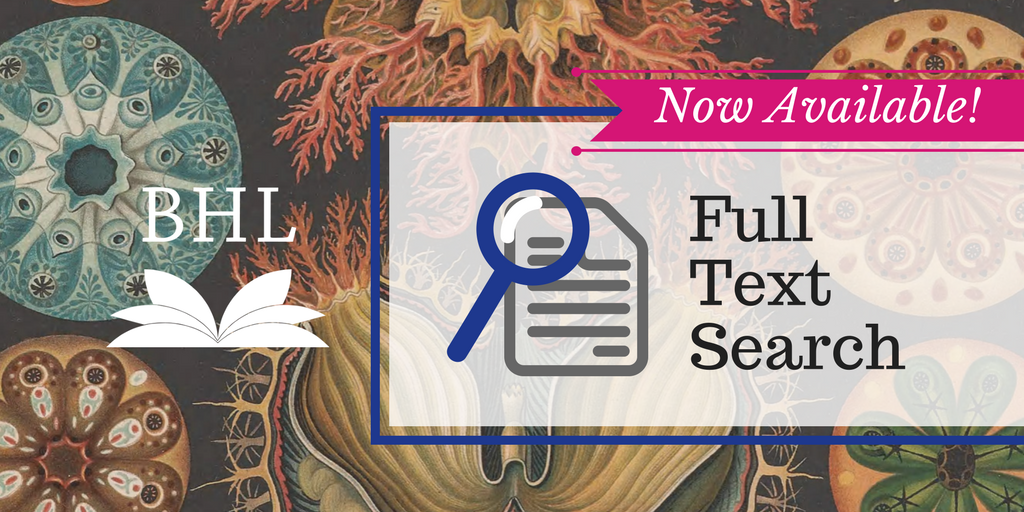 We're thrilled to announce that full text search is now available on the Biodiversity Heritage Library!
With this new functionality, search results in the library will display hits for your term in both the bibliographic information (i.e. title, author, subject, publisher, related titles and series, etc.) as well as the full text of books in BHL.
To start using this functionality, simply visit BHL, type a term into the search box, and use our new interface enhancements to review your results. For each result, expand "Details" to see where your term occurs within each item, be it in the title, keywords, or full text.
Click on a title to view an item from your results list. You can then use the "search inside a book" functionality (discussed below) to navigate to specific pages mentioning your term.
Full text search makes it easier to discover a wider range of relevant content. For example, say you're looking for information related to invasive zebra mussel (Dreissena polymorpha) populations in the Ohio River. A search for "zebra mussel" AND "Ohio River" yields several intriguing results that may not have been easily discoverable without full text search.
Faceted Browsing
We've also enhanced the BHL interface with faceted browsing, making it easier for you to explore your search results by applying filters for content type, publication date, subject, language, and author. To narrow your results by one of the filters, simply check the box next to the desired facet value(s).
Search results will automatically update when you select a value, but for best results, select one value at a time, allowing the results set to update, before selecting an additional facet value if you wish to further limit your results.
Search Inside a Book
We have also added "search inside a book" functionality, allowing you to search for terms within a book you're viewing.
To use this feature, navigate to the top right corner of the book viewer, select the "Search Inside" tab and enter your search terms. In that same panel, results will display the pages where your search terms are found, along with snippets of the surrounding text. Navigate to any of those pages by clicking on the hyperlinked page number.
"Search inside a book" is a powerful way to uncover content of interest within a specific book. For example, say you want to find the passages where Darwin discusses his time at the Galápagos Islands within his Journal of Researches from the H.M.S Beagle voyage. By searching for "Galapagos", you can easily find and navigate to the relevant pages.
Learn More
We're excited to introduce this much-anticipated new functionality to BHL, and we look forward to seeing what further discoveries it enables.
Have questions about full text search or want to learn more about our features and functionality? Visit our "Help" page or explore our FAQ. If you have further questions or suggestions for future enhancements, you can contact us via our webform or feedback@biodiversitylibrary.org.