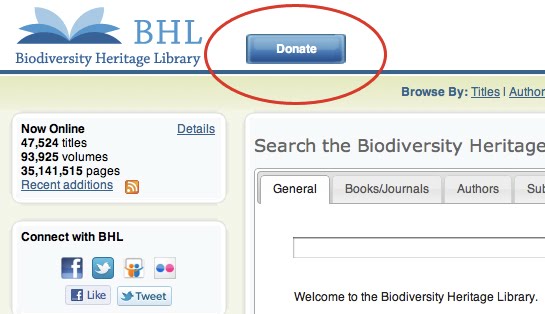 Funding for the Biodiversity Heritage Library (BHL) comes from a number of sources. Over the past few years, we have been reliant on the generous support of a number of different foundations, directly or through grants to individual BHL members. These foundations include the MacArthur Foundation, the Moore Foundation, the Lounsberry Foundation, the Mellon Foundation, and the Keck Foundation. A number of the BHL members have also received grants from the United States government, the Institute of Museum and Library Services, and the National Science Foundation.
2011 marked the fourth year since the BHL portal officially went live, and in that time we've made great strides, just recently reaching 35 million scanned pages. Scientists all over the world use the library to identify and classify new species. The student in her backyard, the forestry manager and ecologist, the museum habitat builder, the artist and the designer – whether the need is for a scientific description of a spider or a beautifully illustrated drawing of an amaryllis, all can benefit from being able to search the biodiversity literature.
As part of the initial redesign of the BHL site, we are now offering the ability for individuals to support the BHL. These transactions are processed through the Smithsonian Institution Libraries' (SIL) financial system. The SIL hosts the BHL Secretariat and program staff. The Smithsonian Institution is a tax-exempt organization and gifts are tax deductible.
Click on the button on any BHL page (or click here now!) to add your donation to your shopping cart. You can donate preset amounts, or, using the "other" option, a custom amount of your choice.
It is our mission to provide free and open access to biodiversity literature for the long term. With demonstrated support from our users, both in terms of financial contributions and praise, we can continue to seek funding from major foundations, government bodies, BHL member libraries, and private donors. Donations from our users, no matter how small, go a long way in showing how important the BHL is to your work. We thank you, in advance, for considering a donation in support of the Biodiversity Heritage Library.