Biographical Minute: Charles Valentine Riley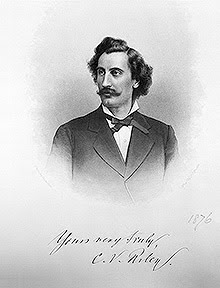 In advance of the upcoming Book of the Week by American entomologist Charles Valentine Riley (our 6th degree as generously provided by Robin Everly, Botany-Horticultural librarian at Smithsonian Libraries), here's a brief primer on his contributions to biodiversity. His resume is long and includes improvements to the French wine industry as well as the citrus crops of the US. Chief among his pursuits was biological pest control. Just before industrial pesticides created their own large scale sets of woes, he was one of the first to successfully practice the introduction of natural predators to pests compromising crops near the end of the 19th century. In 1889, California citrus groves were resuscitated when Charles V. Riley took advantage of Rodolia Cardinalis' appetite for Icerya Purchasi. The vedalia beetle ate the cottony cushion scale who was eating the crops. Riley also figures prominently in the development of the USDA'S Entomological Commission and was the first curator of insects at the Smithsonian Institution. And tragically, his death at an early age was a result of a bicyle accident resulting in a fractured skull.
Click here for some info on organic farming without the use of pesticides! and here for bicycle safety tips!