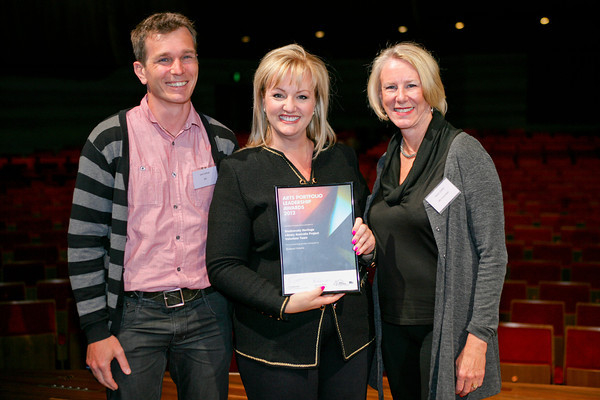 BHL Australia volunteers receive recognition award. Heidi Victoria (Parliamentary Secretary for the Arts portfolio, center) presents the award to Joe Coleman (Digitisation Manager, left) and volunteer Heidi Griffiths (right).
The Australian branch of the BHL relies on the passion of volunteers to help with many aspects of the Australian contribution and their dedication was recognized this month at the annual Victorian government Arts Leadership awards.
Digitization manager Joe Coleman and volunteer Heidi Griffiths received the award from the state secretary to the Arts portfolio on behalf of the team of six volunteers who have collectively donated over 1,500 hours of their time since February 2012 to upload more than 200 books to the BHL.
Although a relatively small operation by global BHL standards, the Australian branch has received praise for the quality of its scans and metadata from users and BHL partners. This could not be achieved without the work of volunteers.  When asked why they are prepared to give up a day per week to work on the project, Heidi replied, "it's about feeling like you're making a contribution to help science and it also brings the amazing collection in the library out of the dark. Also, it's a great team and I enjoy the social interaction."
The volunteers working on the BHL come from diverse backgrounds and experiences and all of them have fascinating stories to tell.  From ocean going yacht racer, to semi-retired economics professor the team are united by their passion for the BHL and the world of ideas and knowledge contained in the books they upload. All six of the team have said they will renew their commitment to the project for 2013 and are looking forward to continuing their contribution to a valuable global project.