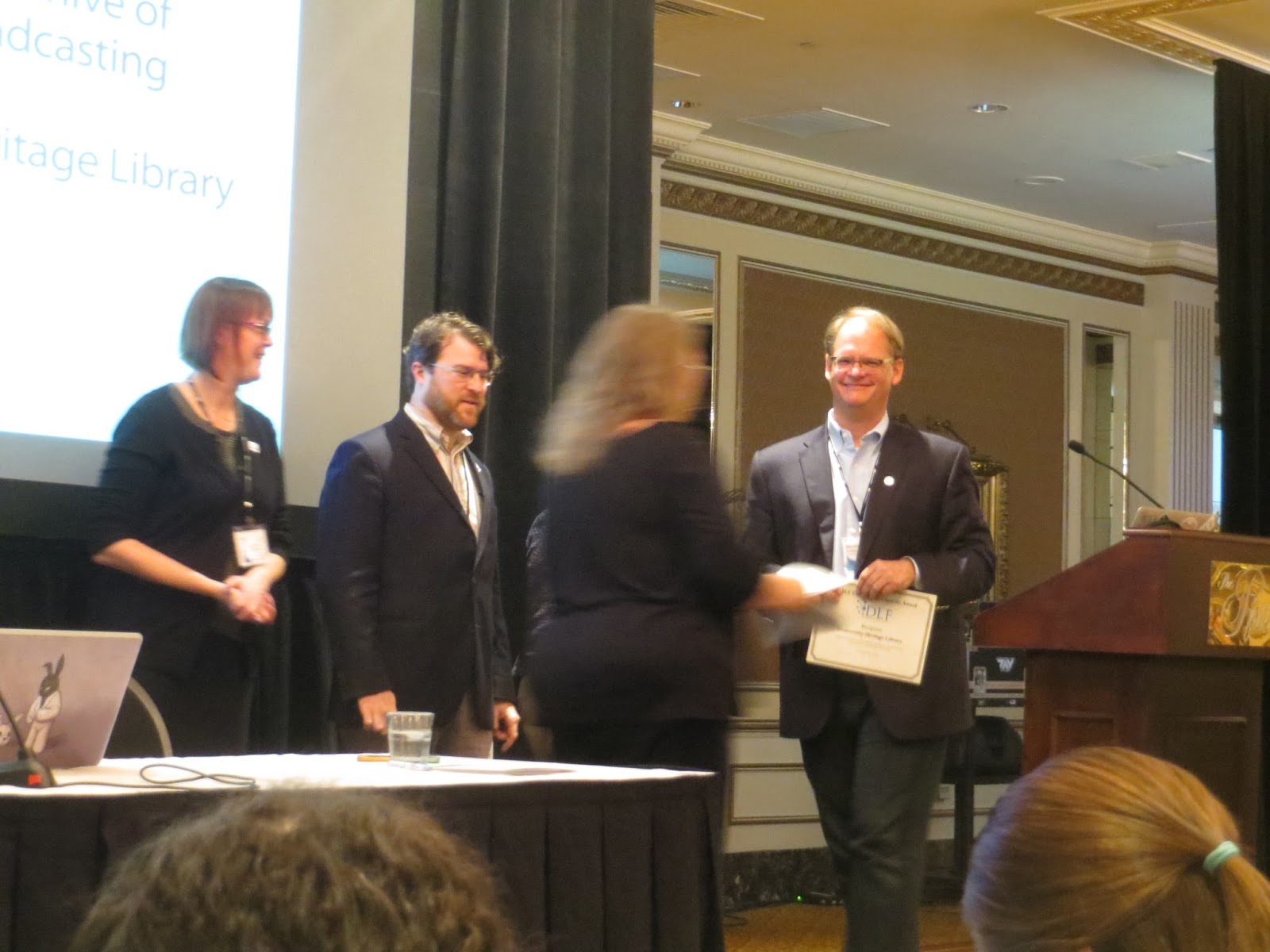 BHL Program Director Martin R. Kalfatovic accepts the Community/Capacity Award on behalf of the BHL consortium at the 2016 DLF Forum in Milwaukee, Wisconsin.
During an award ceremony at the Digital Library Federation (DLF) Forum in Milwaukee, Wisconsin on November 7, the Biodiversity Heritage Library was recognized as a co-recipient of the inaugural DLF Community/Capacity award, along with the American Archive of Public Broadcasting.
The Community/Capacity Award honors cross-institutional collaboration and constructive, community-minded capacity building in digital libraries, archives, and museums. During the month of June, DLF member organizations voted on an impressive list of 16 nominees to determine the award winner. In a tie-vote, the DLF community selected BHL and AAPB as the first-ever winners of the Community/Capacity Award.
The Biodiversity Heritage Library collaborates to build and maximize capacity across its international consortium of over 30 institutions in order to provide free and open online access to library collections from around the world. This highly collaborative approach serves BHL's users with a constantly growing collection of open access biodiversity literature, including materials often physically available in limited locations throughout the world.
The DLF Community/Capacity Award celebrates BHL's commitment to collaboration, openness, and community spirit, which has transformed the way researchers around the world access biodiversity information. As former Smithsonian Secretary G. Wayne Clough stated in Best of Both Worlds, BHL is "an impressive example of what can be accomplished by digitization of library resources through a collaborative approach."
Joining BHL Program Director Martin R. Kalfatovic on stage to accept the award from DLF Director Bethany Nowviskie were BHL Member representative Kelli Trei (University of Illinois, Urbana-Champaign), and Jacqueline Chapman and Joel Richard from Smithsonian Libraries. Additional representatives from BHL included Anne Kenney (University Librarian, Cornell University Library), Keri Thompson (Smithsonian Libraries), and Karl Blumenthal (Internet Archive).
— talytr (@tltroup) November 7, 2016
We are honored to have received this award along with the American Archive of Public Broadcasting. We would like to thank the DLF community for selecting BHL as a co-recipient of the award and to especially recognize the contributions of each and every one of our consortium partners whose dedication, support, and unwavering commitment make BHL a reality.
The 2016 DLF Forum also included a presentation by Trei, "The Impact of the Biodiversity Heritage Library on Scientific Research." The presentation details a study evaluating the scientific impact of the digital Biodiversity Heritage Library (BHL) through topic modeling and analysis of a series of interviews with scientific researchers featured in a BHL blog.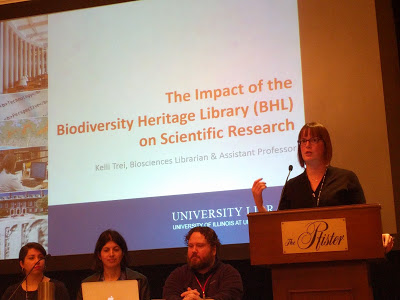 Kelli Trei, BHL Member representative, University of Illinois, Urbana-Champaign, presenting at the 2016 DLF Forum on "The Impact of the Biodiversity Heritage Library on Scientific Research."