Cetaceans and Cephalopods: Supporting the Work of Collections Managers One Specimen at a Time
Have you ever been to a museum and wondered about the history of the specimens on display?
If you have, then you'd probably be interested in talking to the museum's collections managers, as their jobs include not only caring for and improving accessibility to the collections, but also serving as a living knowledge repository for information about the history of the collections.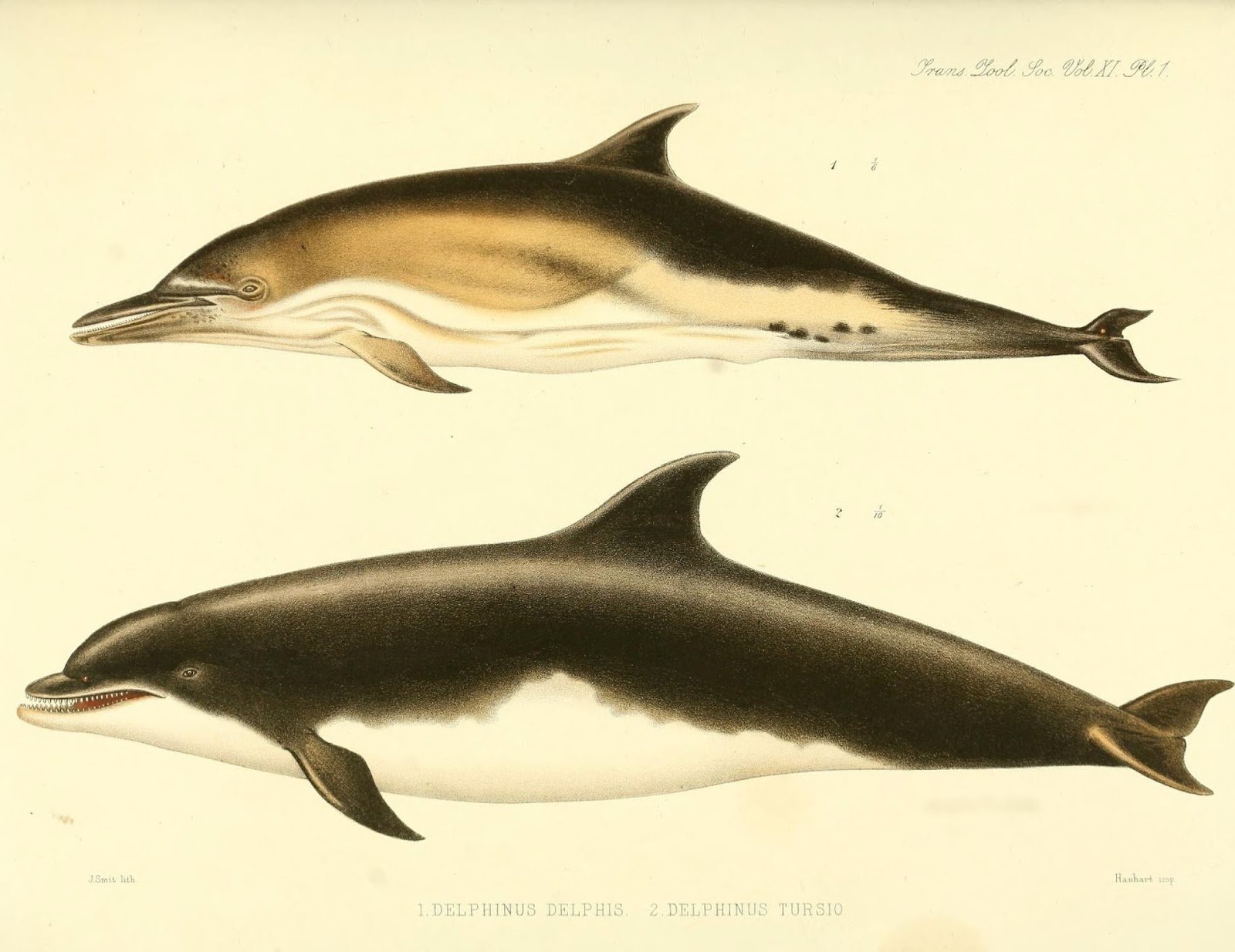 William Flower's drawing of the bottlenose dolphin (lower). The skeleton from this individual is on display in the Oxford University Museum of Natural History. Flower, W. H. (1880), I. On the External Characters of two Species of British Dolphins (Delphinus delphis, Linn., and Delphinus tursio, Fabr.). The Transactions of the Zoological Society of London, 11: no 1. Digitized by the Natural History Museum, London. http://www.biodiversitylibrary.org/page/28725656.
Take the Oxford University Museum of Natural History, for example. Amongst the many treasures on display in that museum are five whale skeletons suspended from the roof. Where did those specimens come from? Mark Carnall, Collections Manager for the Life Collections at the museum, knows that these specimens are linked to some very prestigious individuals in the world of 'whaleologists', including Daniel Frederick Eschricht and William Henry Flower. Curious? Learn more in Mark's blog post for More than a Dodo.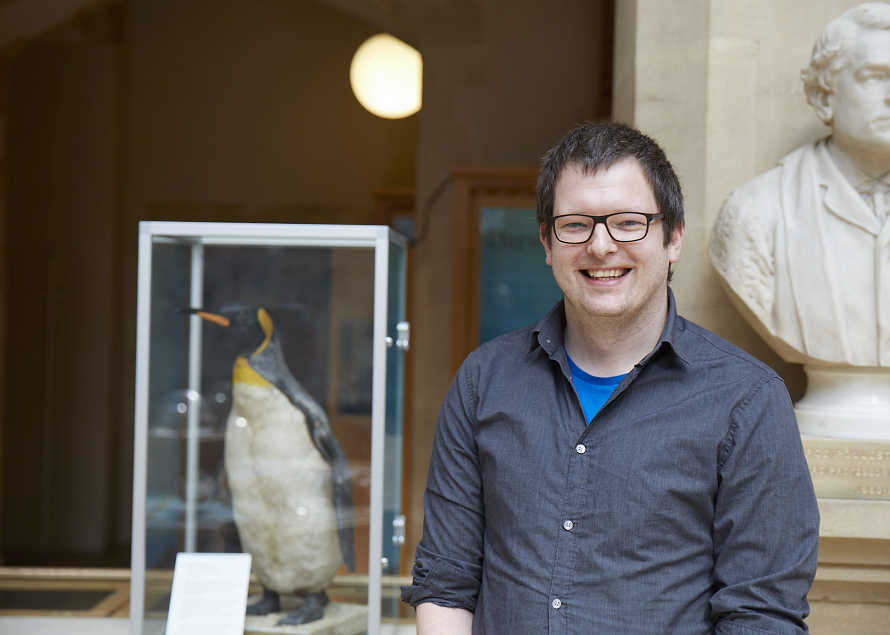 Mark Carnall. Image by John Cardwell courtesy Oxford University Museum of Natural History.
As a collections manager for the Oxford University Museum of Natural History, and during his tenure at other major UK museums, Mark has spent a great deal of time researching the history of the specimens in his care. BHL plays an important role in this research.
"Having worked at some of the older UK natural history museums, including the Grant Museum of Zoology at University College London, the Natural History Museum London and currently the Oxford University Museum of Natural History, I've been very fortunate in that some of the early references to the specimens that I curate are 'THE' original works when it comes to unravelling the physiology, taxonomy and ecology of major groups of animals, and it is rare that these aren't already on BHL," says Mark.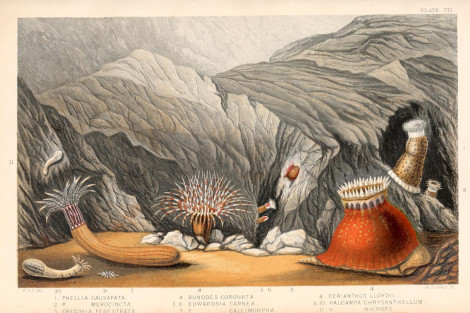 British Sea-Anemones, showing many of the species in the Oxford University Museum of Natural History series. Gosse, Philip Henry. Actinologia britannica (1860). Digitized by Smithsonian Libraries. http://biodiversitylibrary.org/page/12042290.
Mark first discovered BHL when looking for references and citations for specimens during his time at University College London. Today, he uses BHL about once a week as part of his research to answer inquiries about the museum's collections. This research can be very time-intensive, and thus having online access to relevant publications is very important.
"As a collections manager, my role is dictated by priorities in improving accessibility to the collections, so often there isn't much time for going in to depth with the history of specimens," explains Mark. "Some specimens could be researched for weeks or months; however, with easy access to biodiversity heritage publications through BHL, it means that I can do some of this research on the fly rather than earmark it to return to later."
In addition to discovering publications as part of his research process, Mark also discovers additional content of personal interest through BHL's social media activities.
"One of my favourite features of BHL is the 'curated content' such as the blog posts that BHL users and staff write about discoveries or fascinatingly esoteric publications," says Mark. "I am also a huge fan of the Flickr sets. As a collections manager, I'm always thinking about how people can access our specimens and content. A dry item by item database is fine for people who know what they are specifically looking for, but it doesn't facilitate browsing such a vast amount of content or expose people to new knowledge or information. I've spent more than a few evenings starting by browsing a Flickr album I've been directed to by a BHL blog and ending up reading papers completely unrelated because making those fluid connections is so easy. The BHL social media team is also fantastic at raising awareness about the latest content on BHL. Additionally, I really appreciate that it's clear how to reuse and credit resources, be it from reusing an image on Twitter to a bibliographic reference."
When it comes to favorite content, Mark has a soft spot for the cephalopod material.
"I'm a huge cephalopod nerd," admits Mark. "For such an interesting group there's actually a paucity of published material. Browsing through BHL images, however, I've gone from sea monsters to beautifully illustrated plates (see for yourself), which I would have otherwise not stumbled upon or overlooked in the hunt for a taxon description."
Currently, his favorite item on BHL is the poem Spirula spirula by C. W. Johnson in the Nautilus (1926). According to Mark, "It's a quirky (but accurate at the time) poem about the ram's horn squid and formally captures a geekery and whimsy that you just don't see as much in modern formal science publishing."
While the historic collections and curated content on BHL are extremely valuable to Mark, he would love to see the amount of content from the mid-twentieth century expanded. This content, especially that from the 1930s-1970s, can be extremely difficult to access but can contain very valuable information for research.
You can help us obtain permission to include this content in BHL! If you or an organization you work with owns the copyright to a biodiversity-related publication, you can help us broker permission to digitize the work. Learn more on our website.
So, the next time you're at a museum, take a moment to think about the history of the specimens on display and the people who work so hard to care for and preserve knowledge about those pieces. And just maybe, indulge your curiosity by searching for some related publications or browsing related images in BHL. You never know what kind of history you might dig up.
______________________________________

This post may contain the personal opinions of BHL users or affiliated staff and does not necessarily represent the official Biodiversity Heritage Library (BHL) position on these matters.