Book of the Week: Species Highlight – The Eastern Painted Turtle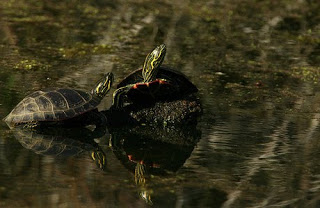 Imagine that you are strolling through the forest on a fine summer morning. The birds are chirping merrily above your head, and an occasional squirrel scurries across the path in front of you. Suddenly, you reach a clearing, in the midst of which is a large pond. As you take a moment to look around, you suddenly notice a log floating carelessly through the water. Except, this is no ordinary log! Indeed, it appears to be moving! On closer inspection, you realize that this is not just a log, but a log covered with as many as 50 painted turtles, all basking in the warm summer sun. While you may never have experienced this yourself, this is indeed a sight which you might see should you find yourself around freshwater anywhere in North America from Southern Canada to northern Mexico. It is the sight of Chrysemys picta, also known as the Eastern Painted Turtle – the most common turtle in North America and one of the featured species this week on EOL.
Chrysemys picta is brightly marked, with a "relatively flat upper shell with red and yellow markings on a black or greenish brown background." Capable of living several decades, they "prefer living in freshwater that is quiet, shallow, and has a thick layer of mud." While relatively common and abundant, some populations are "threatened by the destruction of their habitat," and "in Canada, painted turtles have been placed on the federal blue list, which identifies animals considered vulnerable to human activities or natural events, but not immediately threatened."
Chrysemys picta is very descriptively discussed in this week's book of the week, Amphibia and reptiles (1901), by Hans Gadow. As of 1901, the Eastern Painted Turtle was "one of the few species of which, thanks to L. Agassiz, complete data of growth from the new born to the old age are known." Here, Gadow refers to L. Agassiz's work Contributions to the Natural History of the United States of America, volume 1 (1857), which articulates the growth of this species over time.
Take a moment to peruse Gadow's description of this turtle, as well as many other amphibians and reptiles, in Amphibia and reptiles. And remember, if you're ever out strolling through the forest and come across a pond with a "moving log," be sure to take a closer look, for it might just prove to be a hoard of Eastern Painted Turtles basking in the sun.