New Feature: User-Submitted Requests for Scanning!
So, many of you participated in our BHL User Survey 2010, and we greatly appreciate your contributions! One of the most prevalent themes throughout the range of responses that we received was that our users want to be able to submit requests for scanning. So, you spoke; we listened.
Introducing the new scanning request form on BHL!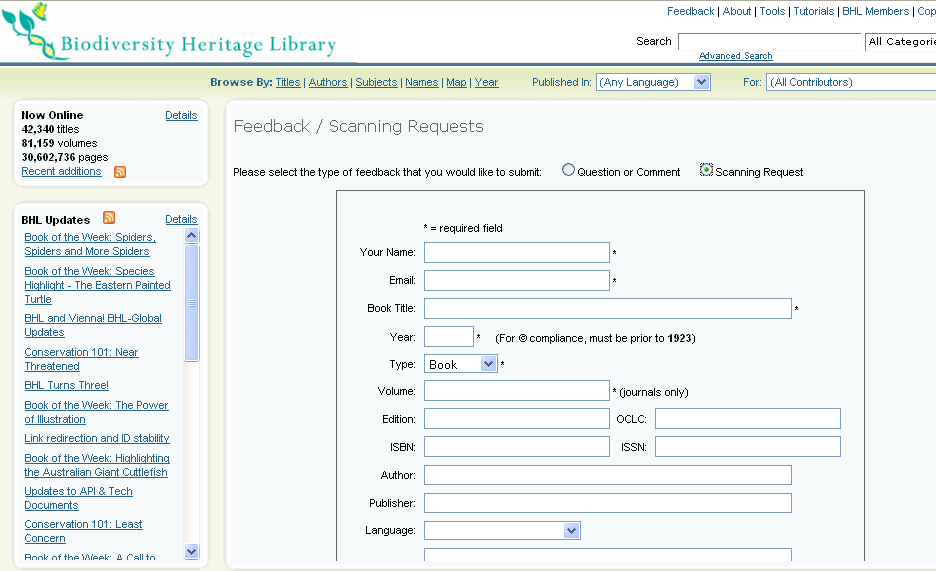 You as a user can now submit requests for items to be scanned and added to the BHL collection, free of charge to you, no less! The process is easy, too. Simply access the "Feedback" form on the BHL website (located in the upper right hand corner of the header through the "Feedback" link, or at the title and item level in BHL by clicking on the "Report an Error" link on the right hand side of the title screen or above the scan images in the book viewer) and choose the option "Scanning Request." You can then fill out and submit the form indicating your request for scanning.
We do ask that you keep a few things in mind. First, due to copyright restrictions, requests for scanning are limited to items published before 1923. Secondly, our ability to scan a request is limited both to the collections of our BHL member institutions and the condition of the volumes they might hold. If we don't have it, we can't scan it. If it's falling apart, we probably won't be able to scan it. Finally, we scan requests in the order they are received, and depending on certain circumstances, such as the rarity or fragility of the item in question, it may take longer to scan certain requests. Nevertheless, we are excited about this new feature and the opportunity it gives you, the user, to contribute to the building of our ever-increasing digital collection. So, pull out those lists of items you wished BHL had and start submitting your requests! We're waiting…