So, you've got an iPad or another eBook reader, and you're thinking, "BHL was just made for this!" It can be a little tricky to determine how best to use BHL on your reader or iPad, so we thought we'd take a few minutes to publish some tips that might help. So…
First off, you always have the option to simply download the PDF from BHL and view your content that way. If you're using an iPad or iPod Touch, you'll need an application that will let you read these PDFs, such as GoodReader. If you go to the BHL website and choose the option to download the PDF on your iPad, your iPad should then give you the option to open the PDF with any one of the eBook reader applications you have installed.
Unfortunately, there is a drawback to viewing BHL downloaded content as PDFs on your eReader device. Depending on the size of the PDF, it may take some time for the pages to render. Thus, you might have to be somewhat patient when viewing your PDF.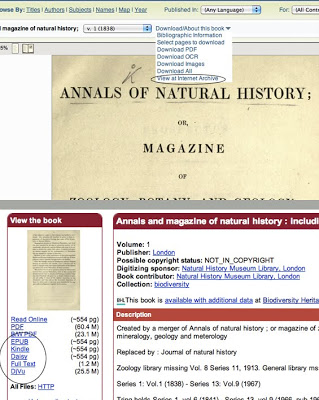 If you do not want to mess with the loading time involved in PDF viewing, you can download an eBook version of the item first and then use one of your eReader applications, such as iBooks, to view it. To download one of these eReader-friendly files, find the item you want to download in BHL, click on the "Download/About this Book" drop down menu on the page turner screen, and choose the option "View at Internet Archive."
Once you are on the Internet Archive site, on the left-hand side of the screen, beneath the thumbnail view of the item, you will see a variety of download options, including ePub and a download for Kindle. Simply choose the eBook friendly file type you want to download. If you downloaded it while on your iPad, your iPad will then give you the option to choose which eReader application you want to use to view the file. If you download it on your computer, you will simply need to transfer the file to whichever eReading device you are using. If you are using an iPad and you download on your computer, simply add the eBook to your iTunes account and sync your iPad with your iTunes.
There is one thing to keep in mind with any eBook-type files you may download. These files are dependent on the quality of the OCR text associated with the item. Thus, due to the limitations of the technology, you may find that there are some strange characters or misspellings throughout your eBook. As OCR technology continues to improve, these kinds of issues will become much less apparent. However, for now, we are at the mercy of the technology.
Hopefully this information will prove helpful to any of our users braving the new frontier of eReaders. Please feel free to send us any questions or comments you might have, or tell us how you are using eReaders to access BHL content by commenting on this post. Happy eReading!