Ever wanted to take a break and scan through some of the cool images of flora and fauna in the BHL collection? With the BHL Flickr account, you can!
Besides being a low-barrier and fun(!) way of displaying our images, Flickr offers us the opportunity to enhance our collections through citizen science in the form of species name tagging.
By tagging the images in our Flickr with the names of the species (and other taxonomic ranks) depicted in the image, it allows anyone to search Flickr to find images of specific organisms. We're asking volunteers to help us add these tags. If you want to jump right in, here are some simple instructions (more details below): http://s.si.edu/BHLTaggingGuide
By volunteering to help us tag images, you'll be helping to transform biodiversity research. Here's how!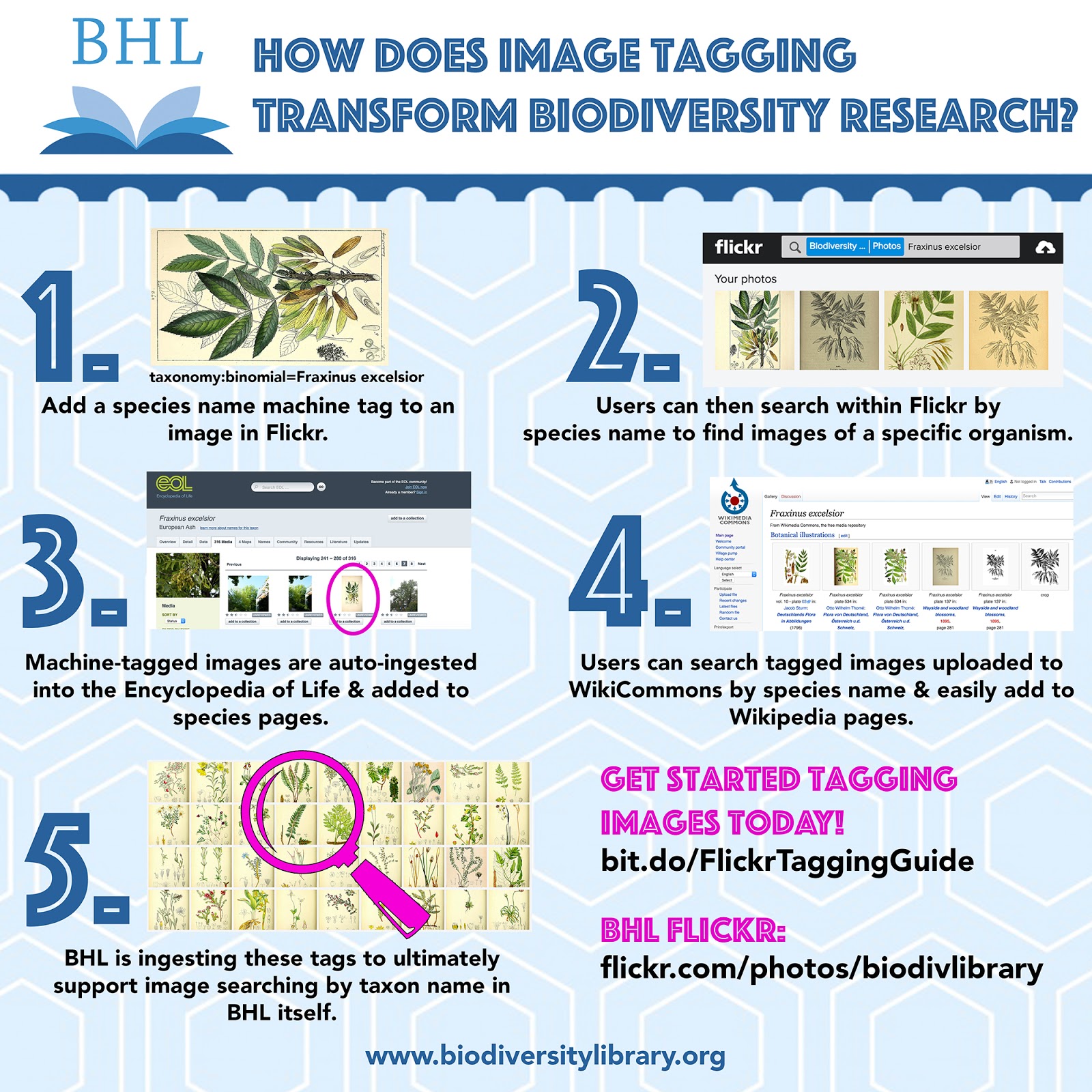 We encourage anyone to help add taxon machine tags to BHL images, especially species name machine tags.
How?
If you're looking at an image in Flickr for which you know the species name, simply click "add a tag" (after you've logged into your own Flickr account) and input the name in the following format:
Taxonomy:Binomial="Genus species"
Replace the "Genus Species" text with the actual binomial for the creature you are identifying and be sure to put quotation marks around the name as shown above.
So, a complete tag would look like: Taxonomy:Binomial="Zea mays"
How can you identify the species if you don't recognize it on sight? Many of our illustrations actually have the species name printed on the image itself. Simply transcribe that name into the machine tag format. If the name isn't printed on the illustration, you may be able to find an identification in BHL. Click on the link below each image to view the book in BHL, then navigate through the text pages surrounding the image to see if the species identification is given. If so, input the name into the machine tag format in Flickr.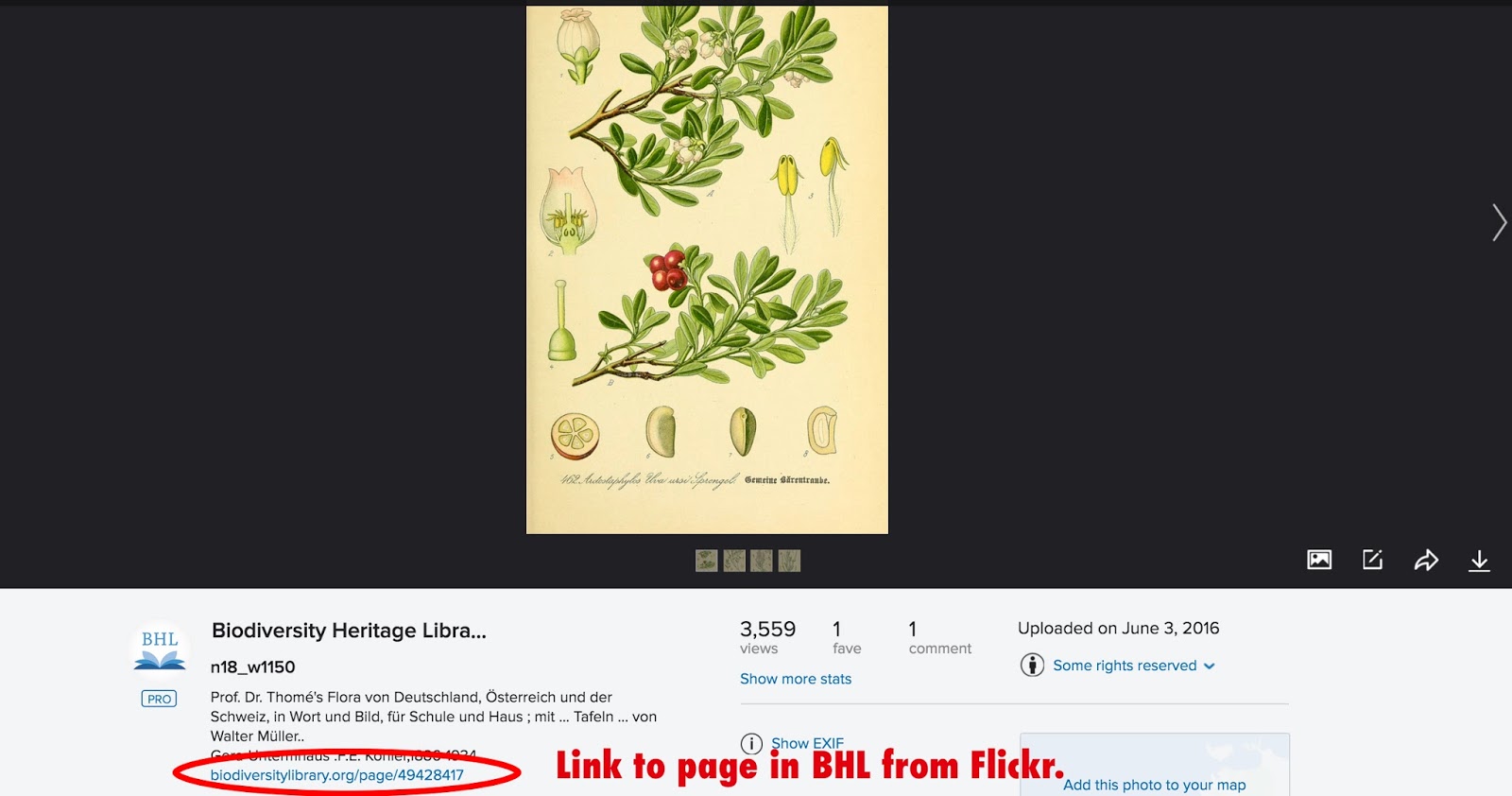 How to navigate to this image in BHL from Flickr.
You can also add machine tags for other taxonomic ranks: The following supra-specific ranks are supported:
taxonomy:kingdom=*
taxonomy:phylum=*
taxonomy:class= *
taxonomy:order=*
taxonomy:family=*
taxonomy:genus=*
Replace the * with the name of the taxon.
Learn more in our Flickr Tagging Guide: http://s.si.edu/BHLTaggingGuide
This tagging also allows us to enhance other biodiversity databases – for example, as a result of these tags, we can supplement Encyclopedia of Life (EOL) species pages with images from the BHL collection. EOL automatically harvests any images in the BHL Flickr that have been species name machine tagged. See this EOL page on the Aegotheles savesi for example, http://www.eol.org/pages/1178114 which features a plate from an Ibis journal volume in BHL http://biodiversitylibrary.org/page/16251388.
Machine tagging is the best-case scenario, but if you would rather simply tag our images with normal tags as you would any other Flickr image, please feel free. We encourage you to help us tag our images with species information, geographic information, color, etc.
As the BioDivLibrary Flickr profile continues to grow we will keep you posted via our
Twitter
account and our blog. If you have found a book in BHL that you think would be a great candidate for our Flickr profile, please let us know by submitting your comments to our feedback form: 
http://www.biodiversitylibrary.org/Feedback.aspx
.
Enjoy!