Book of the Week: Mother Carey's Chickens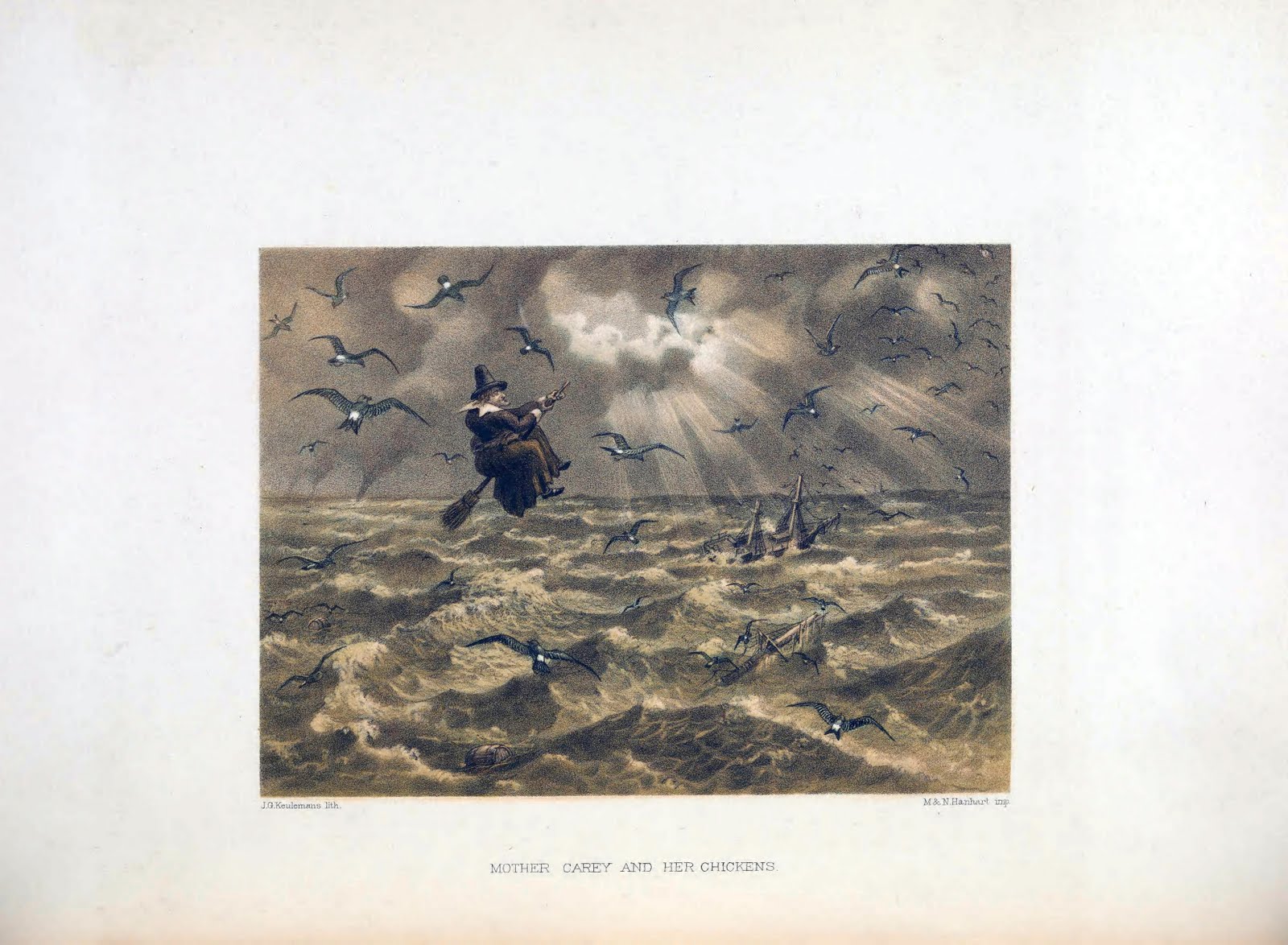 There are some things you just don't expect to find in BHL, and a witch on a broomstick is one of them. So when one of our book scanners sent a few of us here at BHL an image from one of the books he was scanning, we all did a double take. Indeed, smack-dab in the middle of a book on birds was an illustration of the epitome of a Halloween hag soaring over stormy waters, surrounded by birds. So, of course, we had to ask ourselves, why is there a witch in BHL?
To get more answers, naturally, we went to the source material. The illustration can be found in v. 2 of Ornithological Miscellany. According to this volume, Thalassidroma bullockii and Thalassidroma pelagica have both been given the nickname "Mother Carey's Chickens" by sailors, who had also given them the delightful alias of "Devil's Birds." The origin of this epithet is, apparently, in some dispute, at least according to our book of the week. The author writes that, according to Yarrell,
"These birds are supposed to be seen only before stormy weather, and therefore are not welcome visitors to sailors, who call them Devil's birds, witches, and Mother Carey's chickens – the last name said to have been originally bestowed upon them by Captain Carteret's sailors, probably from some celebrated ideal hag of that name."
However, the author points out that Hawksworth has a different story to tell. On his authority, Philip Carteret, Esquire, Commander of His Majesty's sloop the "Swallow," wrote in his journal, "We also saw a great many Pintado birds, which are prettily spotted with black and white, and constantly on the wing, though they frequently appear as if they were walking upon the water, like Peterels, to which sailors have given the name of Mother Carey's chickens."
As the author relates, here Carteret speaks of this nickname as though it is "familiar to them and current in his time." Encountering such inconsistencies and dead ends, the author finished with, "Not being able to trace the pedigree of 'Mother Carey,' the only thing to be done is to have an illustration of herself and her work, with her brood around her." Indeed, our own research into the subject yielded very few additional discoveries.
We did find that Mother Carey is a supernatural figure that "personif[ied] the cruel and threatening sea" in the same way that Davy Jones does. Indeed, some assert that she is his wife. According to myth, she and Davy Jones are responsible for shipwrecks. Some claim that her name is a derivation of the latin name Mater cara, meaning "Precious Mother," but there is no concrete evidence to support this. When and where the name was first used in relation to storm-petrels, no one seems to know.
But, perhaps this enigma makes the phrase, and the corresponding illustration, all the more interesting! True, we cannot tell you why or when Mother Carey came into the picture, but we can still enjoy these little nuggets of fascinating art and contextual tidbits that we uncover in BHL. So, for your enjoyment, ladies and gentlemen, Mother Carey and her Chickens, as featured in v. 2 of Ornithological Miscellany!
This week's book of the week, v. 2 of Ornithological Miscellany, was contributed by the Smithsonian Institution. Love the illustrations and want to see all of them (lots of lovely birds illustrations in addition to witches!) from all volumes of Ornithological Miscellany? Then visit our Flickr site and see the collection on this week's book of the week!