Happy Birthday John James Audubon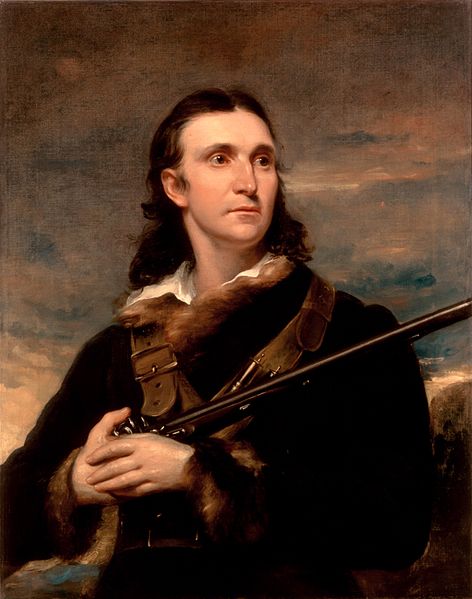 John James Audubon, by John Syme, 1826
Today in 1785, John James Audubon was born. A famous French-American ornithologist, naturalist, and painter, Audubon is responsible for one of the most celebrated ornithological books ever published, Birds of America. Baron Cuvier praised this work as "the most splendid monuments which art has erected in honor of ornithology."
Audubon was born Jean Rabin, the illegitimate son of French naval officer Lieutenant Jean Audubon, in Les Cayes, Saint-Domingue on his father's sugar plantation. In 1803, after living in France with his father for his youth, Audubon immigrated to the United States, changing his name to John James Audubon. During his early years in America, though pursuing several business ventures with his father and other partners, Audubon continuously honed his natural history skills, painstakingly studying nature and drawing his observations, with a particular affinity for birds. Though his business success was tumultuous (he even landed in debtor's prison in 1819 and earned barely enough money to support his family through his sketches), in 1820 Audubon finally started an expedition up the Mississippi in an endeavor to paint all the birds of North America for eventual publication. This ambition later became Birds of America.
Birds of America represents more than 14 years of field observations and drawings by Audubon. In 1826, unable to gain support for publication in America, Audubon traveled to England, where his work was a great success, and he was able to raise enough funds to begin publication. Birds of America contains 435 hand-colored, life-sized prints of 497 bird species and presents a total of more than 700 North American bird species. The cost of printing the entire work was $115,640, the equivalent of more than $2,000,000 today. Published in sections from 1827-38, it includes illustrations of 6 now-extinct birds species, including the Passenger Pigeon and Great Auk. 119 copies of the work are known to survive, and The Economist estimates that 5 of the 10 highest prices ever paid for printed works were paid for copies of this title. The most recent sale of a complete set occurred in 2010 for approximately $11.5 million.
Several titles by Audubon or based on his journals can be found in BHL. One of our favorites, and our book of the week, is The Life of John James Audubon, the Naturalist, a biography of his life, edited by his widow, Lucy Bakewell Audubon. Audubon's memoir, the title consists largely of abstracts from his journals. Today, a century and a half after this great man's death, we salute his accomplishments and the contributions he made to natural history. We hope you'll enjoy learning about him in our book of the week as much as we have. 
You can see digital versions of the 435 elephant folios and the accompanying text in Birds of America from the University of Pittsburgh. Explore the 1840-44 edition of the work, digitized by Smithsonian Libraries, in BHL.