Book of the Week: Hawaii's Natural Treasures
If you didn't already know, we are in the midst of celebrating Asian-Pacific American Heritage month, which asks us to honor the people, culture, history and biodiversity of a broad region which encompasses the entire Asian continent and the Pacific islands of Melanesia, Micronesia and Polynesia. This region includes exciting and exotic locales such as Palau, Guam, Fiji, New Zealand, Hawaiian Islands, Tonga, and Easter Island just to name a few.
Today we are focusing our attention on our 50th state, Hawaii, a place synonymous with paradise. While many of us longingly pine for Hawaii's beaches and temperate weather during the cruel months of midwinter, we should also take care to remember that Hawaii's history is an intimate part of the American experience. Key moments in Hawaii's recent history such as becoming a state in 1959, the bombing of Pearl Harbor, or even Captain Cook's discovery of the "Sandwich Islands," are important but, these events often overshadow Hawaii's natural history which asks us to delve a little deeper into the past. This is a story that begins with the formation of the archipelago chain of eight major islands, followed by the myriad ways in which plants and animals came to these islands and eventually how the native people populated and lived in peace on these islands for hundreds of years prior to European contact.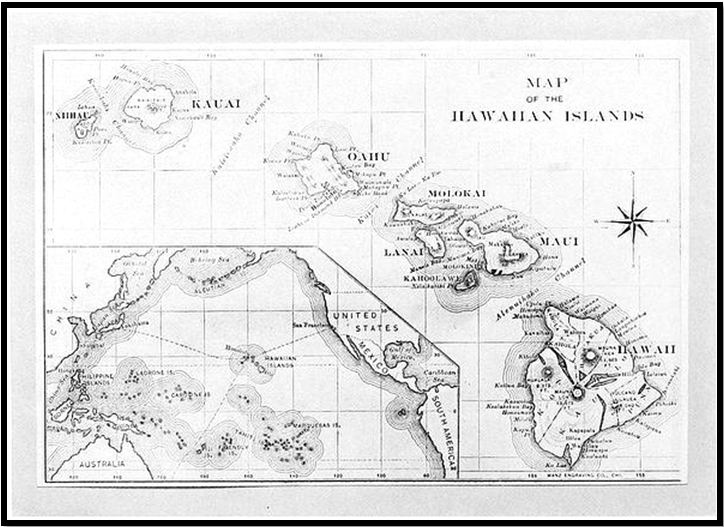 The Hawaiian Island Chain
Enthusiastic naturalist, professor and curator at the Bishop Museum, William Alanson Bryan seeks to tell this story in a tome that he called his "life's work". Bryan's Natural history of Hawaii, being an account of the Hawaiian people, the geology and geography of the islands, and the native and introduced plants and animals of the group is just three years shy of its 100-year publication anniversary yet, the work is still a relevant and comprehensive guide through Hawaii's natural wonders. More importantly it painstakingly documents Hawaii's biodiversity in a central place which provides modern conservationists with a roadmap of Hawaiian species they should be working to preserve –but more on that subject later.
Bryan's tome is as lengthy as the title suggests. However, the 596 page text is sprinkled with 441 photos, mostly shot by Bryan himself. The book is a visual journey. The key to navigating its contents is by consulting the extensive cross-referenced index and glossary at the back of the book which, gives the reader the common, taxonomic and Hawaiian names for various species found throughout the island chain. Furthermore, this book serves as an important access point for budding taxonomists, systematists, zoologists, and even the novice student. In fact, it is the uninterested and unenlightened person that Bryan takes special pains to reach. His book provides the reader with a holistic understanding of Hawaii's natural treasures that is broad enough for the beginner while still providing enough taxonomic depth for specialists. For natural history lovers, particular emphasis should be paid to Part II of the book which, contains chapters on birds, fish, insects (native and invasive), mollusks, and all manner of reef-dwelling creature.
Another reason to highlight this book, beyond this month's celebrations is for a slightly less cheerful reason. As a frequent visitor to the islands myself, I quickly noticed that many of the locals are in the habit of calling their beloved islands "the extinction capital of the United States." Put simply: no where on earth is biodiversity loss happening at such alarming rates as it is in Hawaii. Tourism, invasive species and climate change have created steep challenges for Hawaii's biodiversity task force. Some staggering statistics to wrap your mind around:
 Sea levels will rise by 2.5-6.2 feet by 2050, which will reduce Hawaii's access to fresh water tables dramatically.
Overfishing, sedimentation, land-based pollution, recreational overuse and invasive species jeopardize the health of Hawaii's reefs and have resulted in a 75% decline in near-shore reef fish populations over the past century.
A new pest species arrives in the islands about once every 18 days; these invasive species are decimating Hawaii's delicate ecology and costing the state half a billion dollars annually.
(Statistics provided by the Nature Conservancy. More statistics here.)
Trae Menard, director of the Kauai Program for the Nature Conservancy informs us that "Hawaii is a model for the future of what is going to happen elsewhere around the globe. Who knows what we are really in for….What we learn to make our ecosystems more resilient is going to be valuable globally." We must help Hawaii preserve its natural treasures so that the life forms that Bryan spent his life describing still maintain the right to live, grow, reproduce and be appreciated as valuable members in the chain of life. You can contribute by simply biking or walking to work (reduces greenhouse emissions, and keeps sea levels from rising), participating in global bioblitzes, or if you are feeling really ambitious volunteer with the Nature Conservancy or other local efforts in Hawaii.
Further Reading and Citations
Natural history of Hawaii, being an account of the Hawaiian people, the geology and geography of the islands, and the native and introduced plants and animals of the group
Asian-Pacific American Heritage Month
48 Kaua'i Species Protected Under Endangered Species Act
Kilauea: Mountain of Fire, Hawaii's Vulnerable Biodiversity
Kauai Invasive Species Committee
The Nature Conservancy: Hawaii