We know you love our BHL images, and we love coming up with new ways for you to interact with them. That's why we're announcing BHL on Pinterest!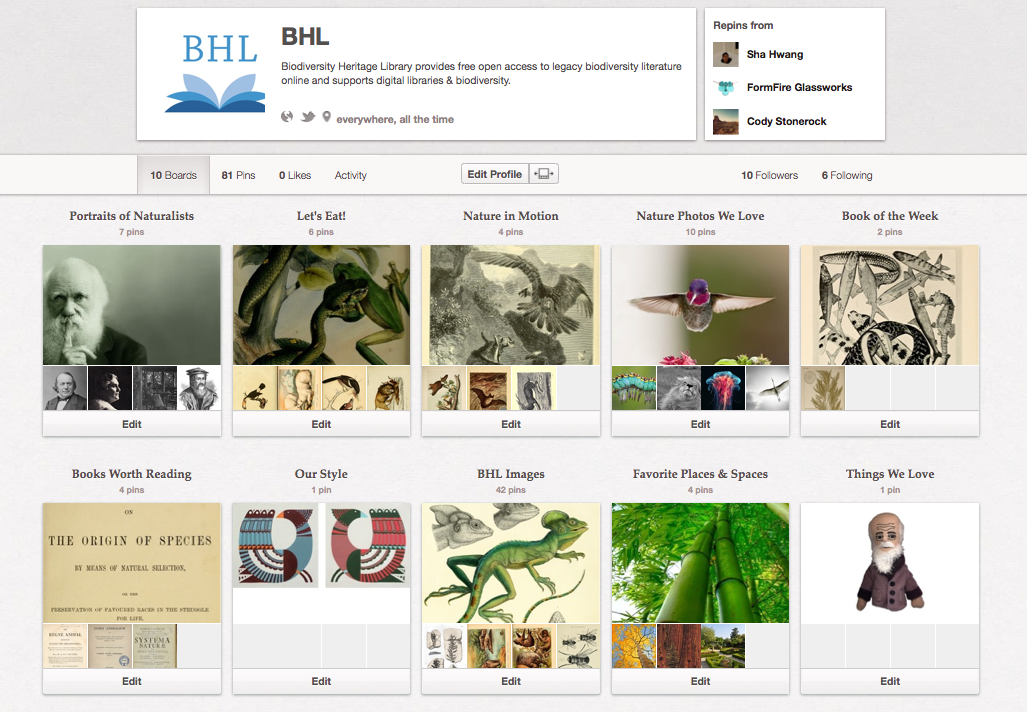 BHL Pinterest Profile
Pinterest is an application that allows you to organize and share images from the web by "pinning" them to your personal Pinterest account. Pinning an image basically means grabbing it from its original website and posting a copy of it to your profile on Pinterest. When you sign up for Pinterest, your computer will automatically download an app that you can use to pin any image on the web to your profile. The source URL stays with the image, so you always know where the original came from. You can organize your "pins" (i.e. images) into "boards" (i.e. collections) within your profile. Anyone who views your profile in Pinterest will see all of the images you've pinned, organized according to the collections you've grouped them in.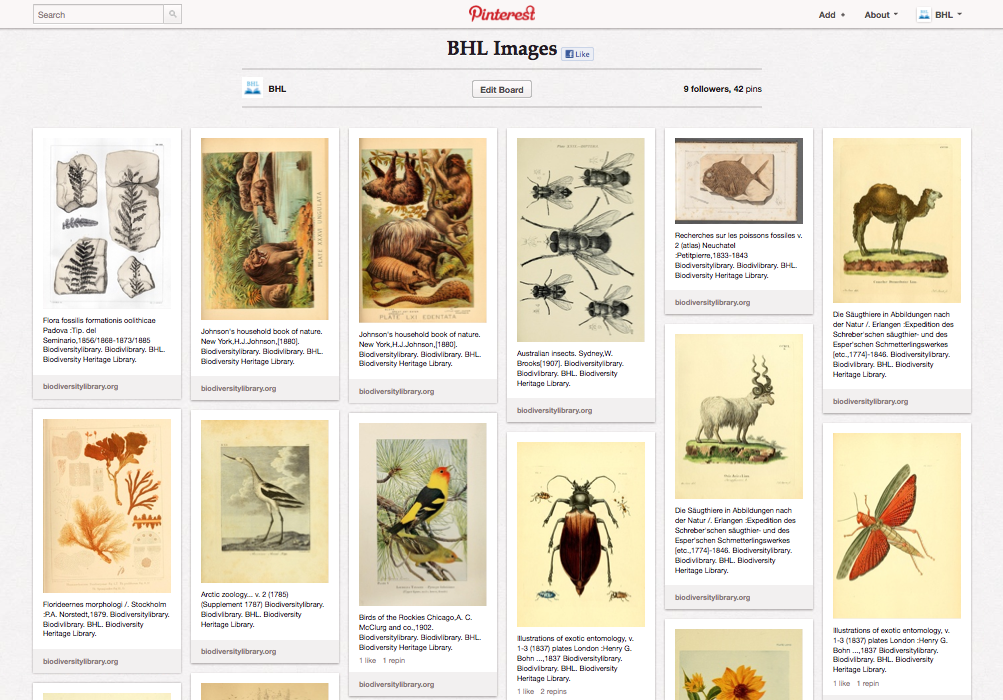 Example of a "Board" or Collection in the BHL Pinterest
As a Pinterest user, you can repin other people's images (i.e. post a copy of another person's image on your own profile), and comment on or like images. Whenever you repin an image from another person's profile, the source URL, as well as the identity of the person who originally pinned the image, remains associated with it. You can also follow people or boards (collections) so that you receive notifications when new images are pinned by that user or added to that board. Pinterest is best utilized if you have an account, as you can only interact with images if you have one. However, even without an account you can still browse Pinterest.
BHL image, pinned by a user, with repins & likes
We've created a BHL Pinterest account, where we're pinning some of our favorite images from BHL. Our images are organized within a variety of boards, including "Portraits of Naturalists" (portraits of famous natural historians and botanists), "Let's Eat!" (dinner dates with members of the animal kingdom), "Nature in Motion" (images of the animal kingdom on the move), "Book of the Week" (images from our Book of the Week series), "Books Worth Reading" (title pages from some of our favorite titles in BHL), and "BHL Images" (a myriad of our favorites from BHL). We're particularly excited about the fact that, not only have we begun pinning our own images, but hundreds of other users have also been pinning BHL images to their accounts! You can find BHL images by searching Pinterest for "BHL," "Biodiversity Heritage Library," or "BioDivLibrary." If you don't have the URL, you can find our profile by doing a "people" search for "BioDivLibrary."
Our Pinterest account is a great way to highlight some of the most incredible images from the 30,000+ currently available in Flickr. We encourage you to browse our account, or create one of your own and repin, comment on, or like our images. Be sure to pin your own favorites from BHL as well. Follow our account or a specific board to stay updated on new additions to our collection. If you have suggestions for boards you'd like us to create, let us know! We're excited about this new opportunity to connect with our user community and showcase the fantastic assets in our collection.